It inaugurates on this weekend Opera, the new permanent public art installation by Edoardo Tresoldi, located under the Falcomatà promenade, in the park at the end of via Giunchi, and promoted by the Municipality and the Metropolitan City. Composed of 46 classical columns, others up to 8 metres tall, the metal sculptures will enliven one of the largest public areas in Europe: the South Linear Park along the Falcomatà waterfront of the Italian city. Opera was born as a celebration of the contemplative relationship between place and human being, through the classical language and the poetics of the 'Absent Matter', expressed through the wire mesh, the characteristic element of the Milanese artist.
On the occasion of the two opening days, September 12 and 13, there will be a series of free events of music, performance and poetry. The sound installation by musician and composer Teho Teardo will tell the fusion between Opera and the place through a sound design articulated in the different moments of the day: morning, sunset and night. In addition, will animate the metal structures poetic incursions by the poet and writer Franco Arminio, the poems of Lara Chiellino, the performance of Daniel Cundari with Jo Di Nardo and Francesco Speciale, the live performances of Guido Maria Grillo with Francesco Loccisano and Fabio Macagnino and Livio and Manfredi.

The construction site began in July, with the goal of outlining, with Opera, a sort of imaginary space, a mental agora that transports visitors into a changing perceptual dimension through games of heights and depths with the park. "Opera was created to emphasize the character of the place through the built environment, thus offering a further key to its interpretation," says Tresoldi. "I have tried to create a place of contemplation and to investigate the role of public art today, which I believe should be able to welcome the present".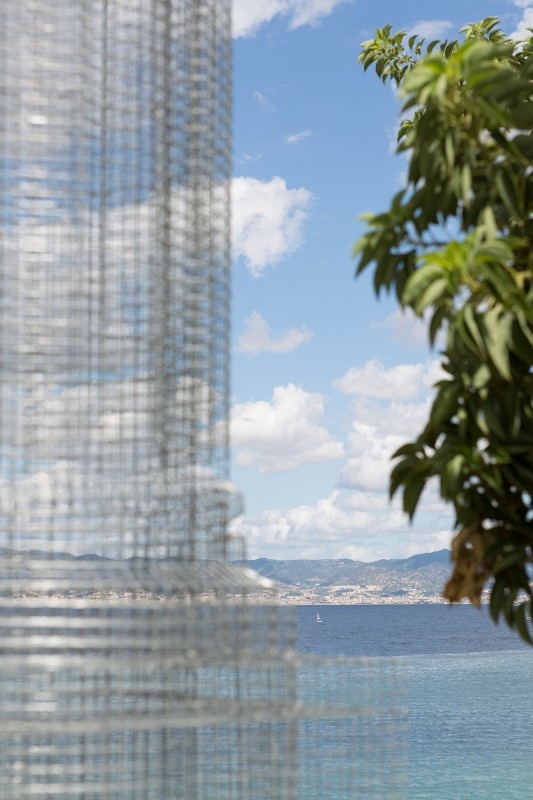 It will be Tresoldi's second installation in Calabria after Il Collezionista di Venti a Pizzo in 2013 and the second major permanent public work in Italy after the Basilica of Siponto in Puglia, commissioned by MiBACT in 2016, an installation awarded the Gold Medal for Italian Architecture in 2018, a prestigious Italian architecture prize established by Triennale Milano.
TItle:

Opera

Artist:

Edoardo Tresoldi

Beginning of work:

july 2020

Planned inauguration:

september 2020

Location:

Falcomatà seafront, Reggio Calabria, Italy