There is an elephant in Times Square, trapped in the reproduction of a corner of the Sistine Chapel. The frescoed ceiling opens up and a cascade of plastic bottles falls on the pachyderm, which breaks through a wall and escapes. A group of androids lined up in a row, bending in front of a gigantic vertebra, creating a strange choreography. A group of scientists works in a laboratory. A whale passes through a DNA spiral. These are just some of the images that welcome visitors to the website of Giuseppe Lo Schiavo, the Italian artist whose work lies at the intersection of digital and real, science and technology, illuminated by a huge theatrical inspiration. Online, he is also known as Glos, a moniker he uses on SuperRare, the most important NFT platform in the world.
All my photos are staged.

Take Sintetica, for instance. This project will be presented at the end of November at MUSE, the Science Museum of Trento. It was developed at the biology lab of Trento, one of the most advanced synthetic biology laboratories in Europe, where the artist created artificial cells. He then filmed them, creating a digital life form that has a life of its own – it reproduces, it dies, it exists based on visits to Lo Schiavo's website, which acts as its habitat. "If someone attacks my website, it will die," explains the artist. The work is constantly evolving, based on data from hedonometer.org, a thermometer that captures real-time data on the happiness level of users on social networks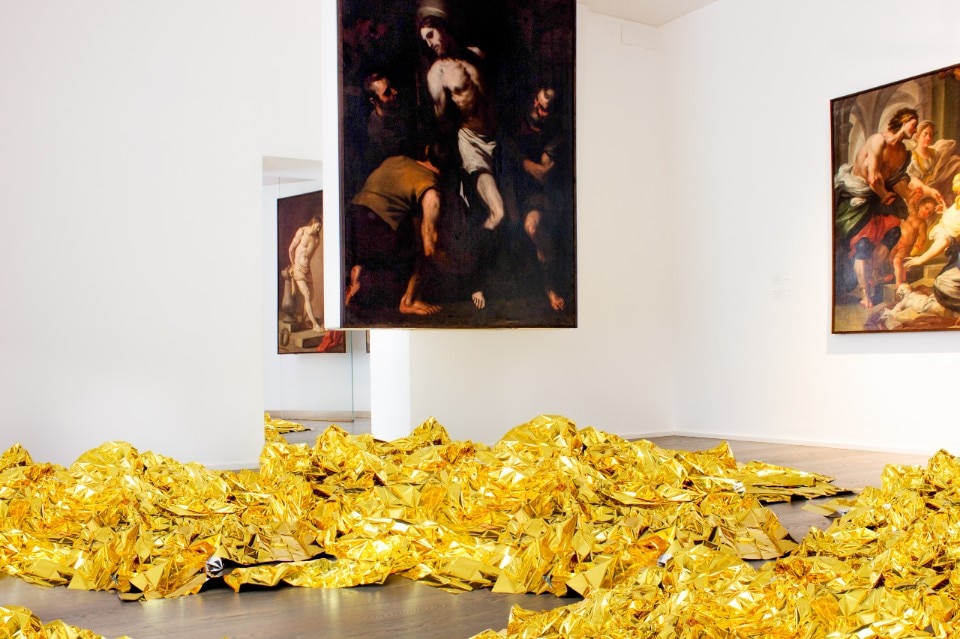 We evolve technology, technology evolves us
Giuseppe Lo Schiavo lives between London and Milan. I meet him at his place in Milan, in one of the most recent towers in the Porta Nuova district, and find him alone in a large, bright meeting room; the huge terrace overlooks a brand-new Milan, which seems almost designed by a computer, the vertical forest standing out like a monolith on the horizon. Lo Schiavo is at work at his laptop, gripping the mouse. He wears a T-shirt that reveals his muscular arms, the result, I imagine, of constant training. On the dark crew-neck T-shirt is written "We evolve technology/Technology evolves us". The artist explains that he created it himself. "I asked myself why I have to wear writings made by others," he smiles. He affably tells me about the upcoming exhibitions, the one in Trento and the important solo exhibition in Rome that will open on 26 November.
Our meeting is facilitated by Lenovo, with whom Lo Schiavo collaborated on the launch of the ultra-thin Yoga Slim 7i Pro X laptop. The result was Henosis, a one-minute long video, "a metaphysical journey between past and present" that is a tribute to the scientific, technological and computational advancement of recent years, a fresco created entirely by computer. NFTs of the video were eventually minted by the American-Chinese tech giant.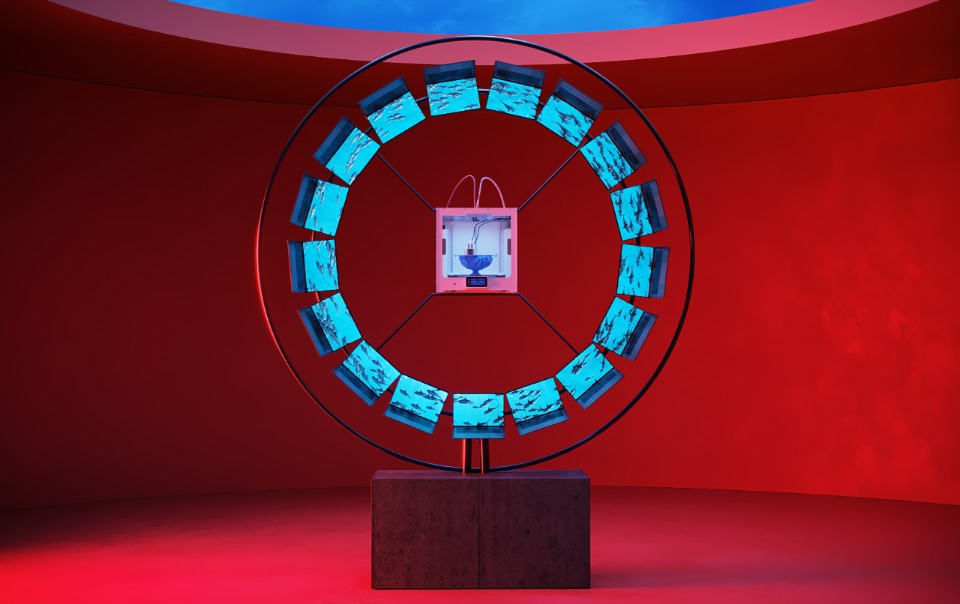 Between real and digital
Giuseppe Lo Schiavo describes how the introduction of NFT technology represented a paradigm shift for digital art. "Before, in order to exhibit and sell, I had to print works created entirely digitally". Non-fungible tokens allow virtual entities to be given a value that is not intermediated by a physical object.
"This is a very recent breakthrough," emphasises Lo Schiavo, one of the very few artists that were selected by curators Serena Tabacchi and Bruno Pitzalis for Cambi Auction House's first NFT auction in collaboration with SuperRare in July 2021, a pioneering event that we will probably remember for a long time. Robotica, Glos's work that was put up for auction, was the one that fetched the highest price (8 ethers, about $17,000) before the still-ongoing crypto winter. "I don't identify myself as a digital artist, or that hideous name of "cryptoartist"," he explains, crossing his mighty arms.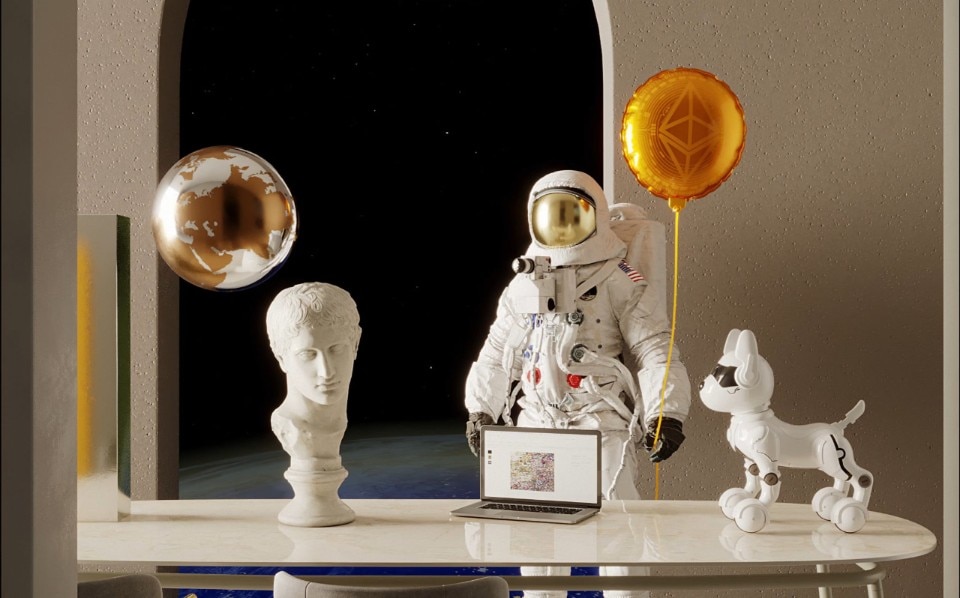 However, it is difficult to separate Lo Schiavo's artistic progress from the establishment of digital as a fundamental segment of the art of our time. His activity is always in balance – indeed, in constant transformation and exchange – between the physical and digital world, and my conversation with Giuseppe Lo Schiavo outlines the figure of a possible prototype of the modern and future artist, a creator who lives in a world in which the paradigm changes caused by technological acceleration, and the penetration of machines into fields that were previously purely human, must be known and governed, or else they'll be wiped away by a tsunami, a bit like the amanuensis at the time of the advent of printing. The most recent example is artificial intelligence used as a creative tool, tools such as Midjourney or Dall-E that generate images (and imagery) from a few precise text descriptions.
"It's impressive how they are improving day by day," says Glos. "And they will allow those who have an idea but lack the technical skills to develop it to become artists. AI will probably replace the many creative people – illustrators and photographers – who do not know how to exploit its potential. Paradoxically, they are the very same creators from whom the machines learned to do what they do, after being fed millions of their images, in the process of machine learning that has made them so powerful today.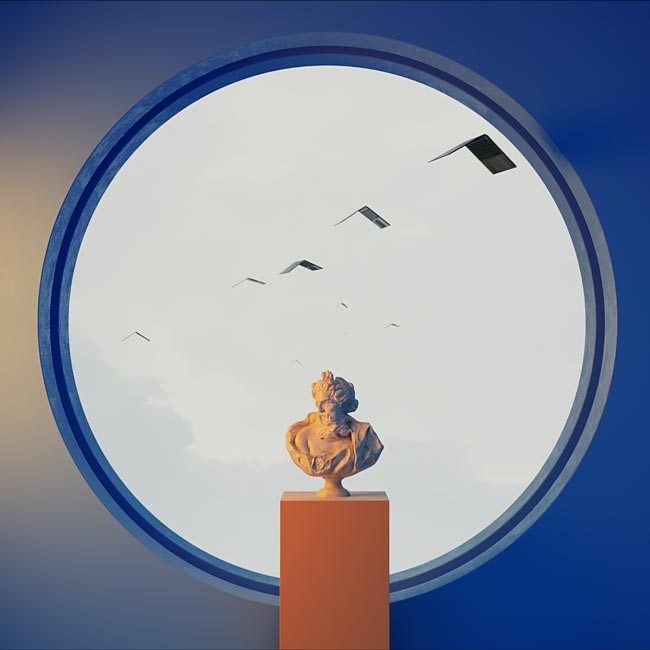 Architecture and photography, the ABC of the new digital world
A fervent reader who has always been attracted to science and technology, Giuseppe Lo Schiavo, born in 1986, says that evolutionary biology has given "a lot of clarity" to his artistic identity. An identity in which two other disciplines have played a fundamental role – architecture and photography.
After graduating from Valle Giulia, thanks to design software, Lo Schiavo realised that photography could also be virtual. The parameters, which are the same as those of real-world photography, allowed him to practice in the virtual world the kind of photography he liked the most, the one he uses as a "pictorial medium". This is how, in 2013, he created the Levitation series, in which he experiments with the possibility "of making staged photography of things that do not exist". The result mixes Magritte-like suggestions and monuments – living in Rome during his student years had a strong influence on his imagination – and portrays floating architecture that struck Rebecca Wilson, curator of the Saatchi Gallery in London at the time. "That was 10 years ago, we still used to print stuff," he points out, as if talking about the distant past.
People think that digital reality goes against physical reality, but they are two simply different things.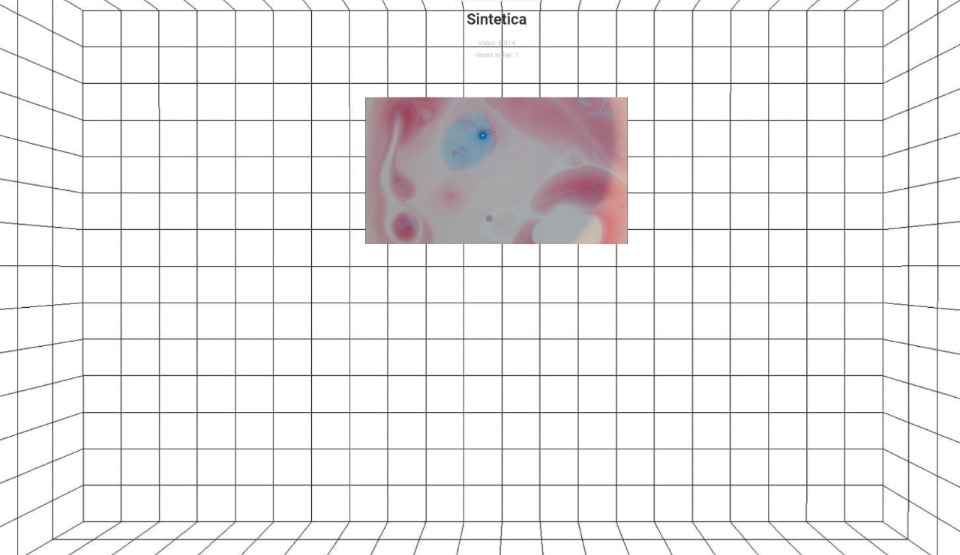 Is photography the truth?
From then on, Lo Schiavo has been seamlessly alternating between real-world and digital photography, although the physical works he made for galleries, remained essential until the NFT boom. A turning point was the Wind Sculptures series, in which he used space blankets to create ephemeral sculptures by playing with camera exposure times.
"All my photos are staged," says the artist, emphasising that photography "is not the reality", although we are inclined to believe so, especially when it comes to analogue photography. "But film is still a medium, it doesn't capture reality as it is. Perhaps a photo imprinted on the sensor of my iPhone is more real," he comments, recounting an experiment he did recently.
"I transformed some digital images into medium format film shots, sending them to a specialised lab" – probably the only one on the planet that do it in colour, in New Mexico. From the film, the photo was then printed. "People think that digital reality goes against physical reality, but they are two simply different things," comments Lo Schiavo. "Virtual reality does not discredit physical reality". Of course, at that point, we could only start talking about the Metaverse.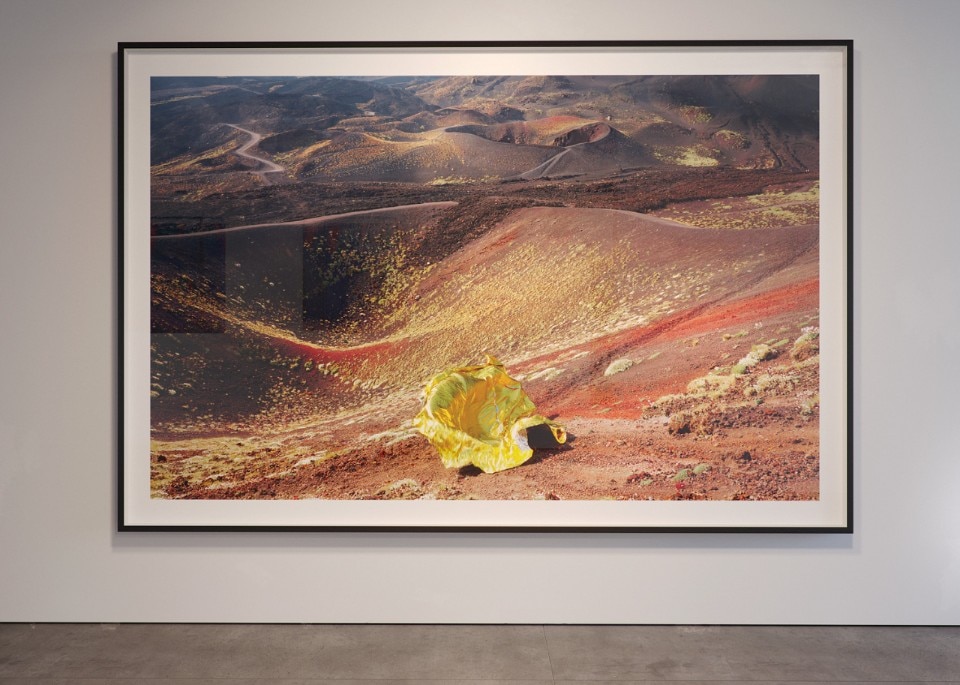 The Metaverse stage
To Giuseppe Lo Schiavo, the metaverse is "a technology we talk about more than it is real". The artist speaks of its enormous potential, but at the moment "everything is missing". from the infrastructure to the right device to access it. "In Meta's adverts they show you these very light goggles, but then the Quest VR headset is like putting a washing machine on your head", so that "maybe you explore the Metaverse for a few minutes, then come out and never want to do it again".
However, he admits that the idea fascinates him. "I'm not against it, of course" he notes, having created a virtual exhibition on his site, developed in London during the Covid lockdown, "which when seen with the Quest is a whole different thing". In the creation of the three installations at the centre of his "Virtual Exhibition", – Streptohumans, Oxygen is toxic and Collection Point – Glos started from a basic assumption, namely that the concept of an exhibition in the virtual world should not be tied to the physical constraints we know in the real world.
Contemporary art is always on the move. And so am I.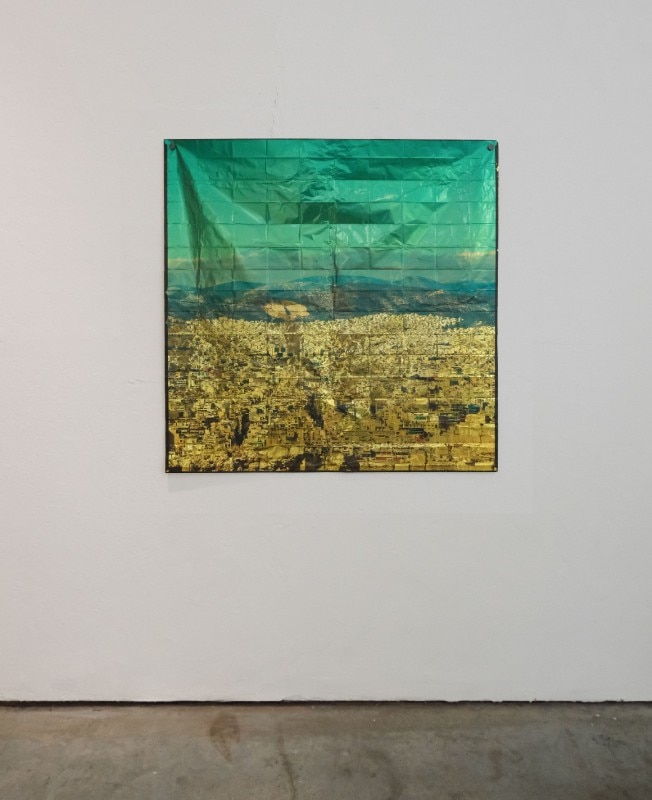 Does the artist have any plans for the future of the metaverse? Giuseppe Lo Schiavo has a clear idea: a theatre show. The artist is (also) passionate about theatre, experimental theatre above all, he explains, and is a big fan of the director Dimitris Papaioannou, the Greek master choreographer famous for having signed the opening of the Olympic Games in Athens. After all, theatre brings together the two pillars of Lo Schiavo's training, architecture on the one hand, and the use of light to narrate, i.e. photography, on the other – the translated meaning of photography is "writing with light", after all.
What will the theatre be like in the metaverse? "We definitely won't remake La Scala," smiles Lo Schiavo. He already has a script in hand, he explains, it is a story he wrote for the cinema, but it would work much better in a virtual context, "where you don't know who the public and who the actors are". Creator and photographer in both the digital and real worlds, science and technology enthusiast, and – why not – filmmaker: Giuseppe Lo Schiavo perfectly interprets a splendid paradox of the contemporary artist, namely the fact that any truth about artistic identity is fluid, any attempt to pigeonhole it is in vain. Or as he explains it perfectly, sealing our conversation: "Contemporary art is always on the move. And so am I".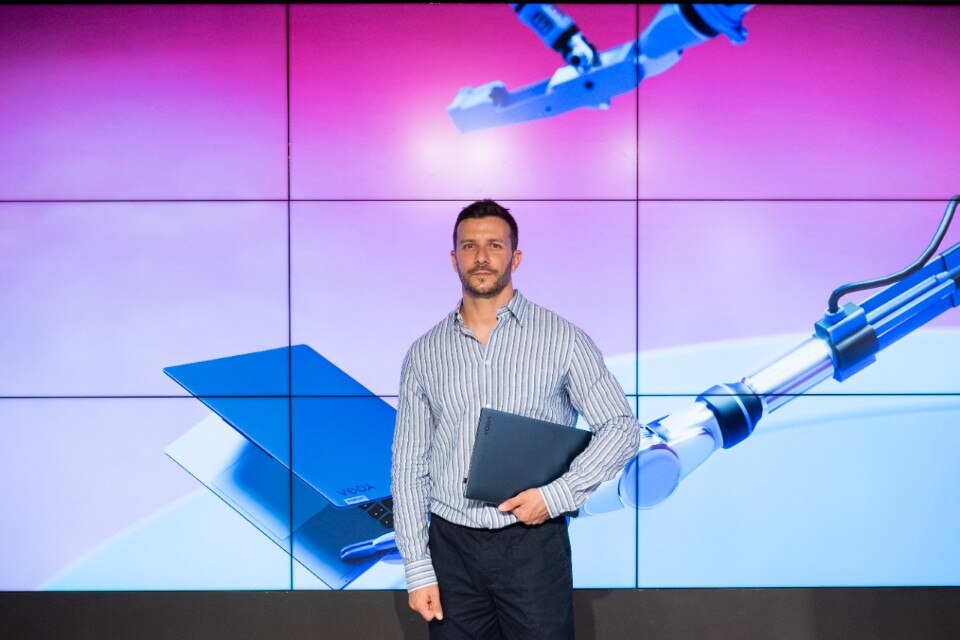 Exhibition:

Fragile - A New Fluid Reality

Location:

Spazio Nuovo, Rome

Author:

Giuseppe Lo Schiavo

Curators:

Guillame Maitre, Paulo Pérez Mouriz

Opening:

Until 14 January 2023