Take a solitary space emptied of all the glorious paintings, objects, and decorative furniture, add a chamber organ from the 18th century at the center of the room and a solo performer singing and playing one of the most famous Italian love songs of all times. It's "The Sky in a Room", the fantastic new site-specific durational performance by Icelandic artist Ragnar Kjartansson presented at National Museum Cardiff until March 11, 2018.

Known for live performances in which music and repetition play an important role, attaining a quasi-hypnotic quality, Kjartansson also incorporates film, installation, and painting into his practice. For his brand-new performance the artist draws inspiration from "Il Cielo In Una Stanza" (The Sky in a Room), a 1959 hit song by Gino Paoli, a young struggling songwriter whose love for a prostitute has the power of transforming the lilac ceiling of a brothel in Genoa into sky.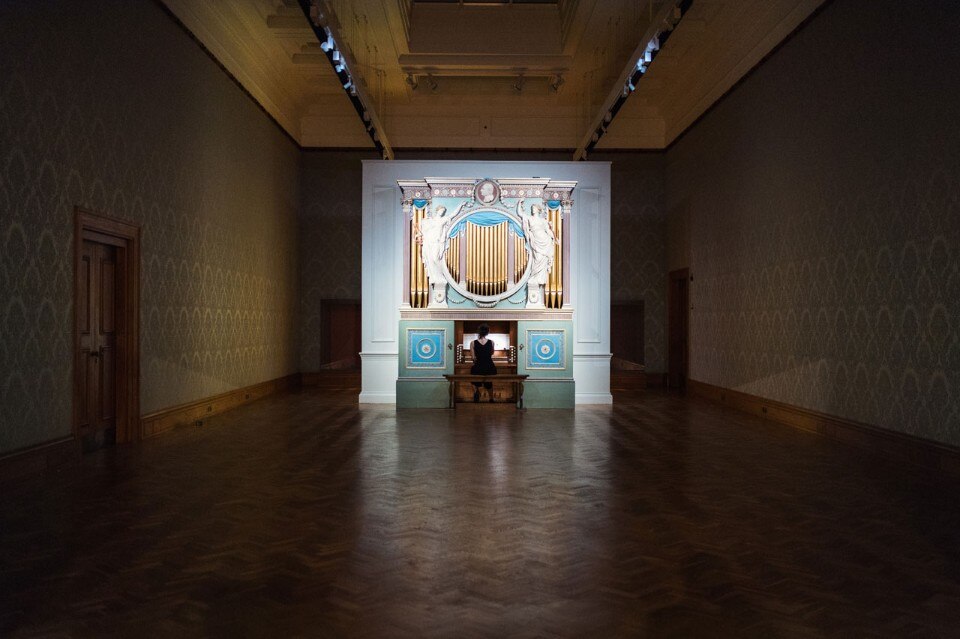 Surrounded by the ornately patterned turquoise wall fabric of the National Museum Cardiff's Art in Britain 1700–1800 gallery, the visitor experiences the isolated performer seated at the organ, which was originally commissioned by the Welsh patron of the arts Sir Watkins Williams Wynn in 1774.  Evoking Paoli's hopeless romanticism and his attempt to arrest and put into words a moment of ephemeral beauty, Kjartansson similarly transforms the Museum, dissolving space and time and creating a dreamlike, surreal environment.

Title:

The Sky in a Room

Artist:

Ragnar Kjartansson

Museum:

National Museum Cardiff

Opening dates:

3 February – 11 March

Address:

Cathays Park, Cardiff