Electronic composer and visual artist Ryoji Ikeda investigates sound, time and space based on mathematical methods. Engaged in a complex dialogue with leading mathematicians — principally in an aesthetic quest to achieve works of spare and sublime beauty — he explores notions of the infinite and the transcendental. Composing with sounds, time, objects and light, Ikeda reveals the vast and infinitely divisible substratum of information in the form of data — the smallest particles of encoded knowledge that circulate endlessly in our mediated world. This information flood is both his material and his subject matter: his achievement as an artist is his ability to confront us with this overwhelming reality and to help us navigate through the rising waters.

Ikeda's otherworldly, minimalist, techno compositions of muted, barely perceptible machinic melodies and glitchy beats — punctuated by piercing white noise — reduce music to the physical phenomenon of sound. A song of bleeps, blips, drones, tones, thrums and sine waves courses just beneath our comprehension, simultaneously creating both a thrilling celebration and a moving lament. As a visual artist, he identifies and magnifies mathematical beauty, abstraction and the seemingly impenetrable inner machinations of computer code: bits, bytes, flows of electrical impulses, unspeakable computations and numbers.



Reaching from the microscopic to the infinite, the inaudible to the ear-splitting, Ikeda's performances, installations and artworks explore the basic, spectral building blocks that constitute the flow of data that increasingly permeates our world — sine waves, sound pulses, pixels of light, binary digits and numerical data — while pulling apart their physical properties. He applies a profound reflexivity and medium specificity to data and software.

The exhibit proposes a conceptual counterpoint between DHC/ART's two buildings: the main space displays framed works, light boxes, sculptural works and works on paper under the rubric systematics , whereas the serial dimension of the datamatics project is on full display in the Satellite space, which offers three very interrelated installations, orchestrated as a symphonic whole.
A restrained elegance and minimalism reigns throughout the systematics display, but the monochromatic surfaces belie the furious richness and staggering detail within. Several works on paper such as the transcendental (p) [no 1-e] (pi approximately equal to 3.14159265), the transcendental (e) [no 2-b] (approximately equal to 2.71828) or the irrational (?) [no 1-a] (phi, the golden ratio, 1.61803399) — all mathematical constants, or numbers that are significantly interesting in some way — are exhaustively visualized in decimal expressions reaching 1.25 million digits apiece. These signs are beyond the limits of human comprehension or experience, and must be taken for wonders — apparitions of ominous and numinous beauty.
The main building displays an ambiguous archeology of encoded knowledge. Punched computer cards, punched computer tapes and piano rolls in light boxes are all painted black to emphasize the complex patterned beauty of light coming through the holes. These "primitive" systems, cultural artifacts and remnants of earlier technologies belong to a technological continuum beginning with the earliest stirrings of coded communication: from African talking drums, to Native American smoke signals, Morse code, Telegraphy and so on. Once code driving computers, data, or patterns of intentionality and purpose — full of potential meaning to be decoded at the end of their journeys — the punched holes are like waning stars, dissociated from their previous utilitarian use and offered here for their formal, cosmic beauty. A distant memory of a beautiful song, long forgotten in the piano roll, is now only silence, absence, nothingness.
As an immersive installation, datamatics conjures a fire of much greater magnitude and of historical significance, like the great blaze that destroyed the ancient Library of Alexandria
More silent epiphanies are present in two related works that elegantly visualize silence and time. 0'10" shows the numerical countdown from 10 to 0 that precedes films, making physically manifest the immaterial and temporal notion of ten seconds of 16mm film. Similarly, a work called 4'33' , which consists of the physical equivalent of four minutes and thirty-three seconds of blank 16mm film with time code, clearly references John Cage's hugely philosophical meditation on the impossibility of silence. Cage's silent piece 4'33" , a composition conceived in the late 1940s, instructed players not to play their instruments (pianists, for example, covered their keyboards) for exactly four minutes and thirty-three seconds — this was then divided into three formal movements. The piece was the result of an important experience in an anechoic chamber at Harvard (a completely soundproofed environment), where Cage was hoping to "hear" silence, but instead heard two sounds: the faint hum of his nervous system and the coursing of blood in his body. He declared that silence did not exist, and that music could consequently never die.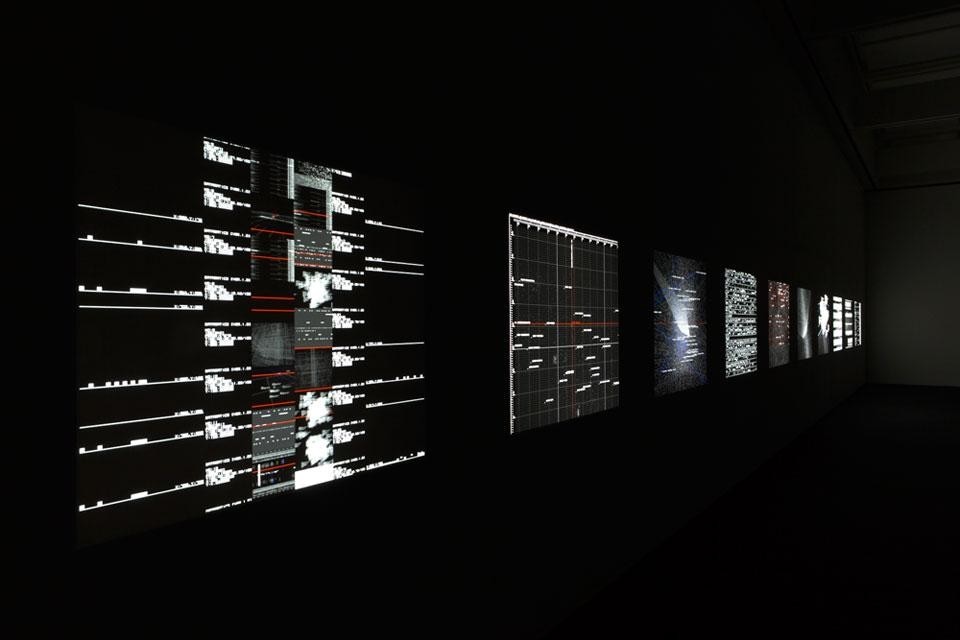 The hyper-kinetic data deluge that awaits the visitor in the Satellite space is foreshadowed on the top floor of the main building in static and archival form — but no less beautifully. The display consists of ten 35 mm microfilm light boxes arranged on a very long and narrow plinth, containing images of the full data.matrix installation. Trapped in microfilm, the staggering, multilayered, multi-directional intricacy comes to glorious life under a magnifying glass. Examined like specimens in Petri dishes, the information potentially encodes vast tracts of knowledge: everything from DNA charts, to maps of the heavenly spheres, to what may be the laws of nature and, for all we know, the moral laws within. Ikeda sees this as Meta-data — data about data. Ontology and Self-reflexivity are recurring themes in his work, and here also suggest a way to materially preserve, for posterity, the ephemerality and obsolescence of digital media.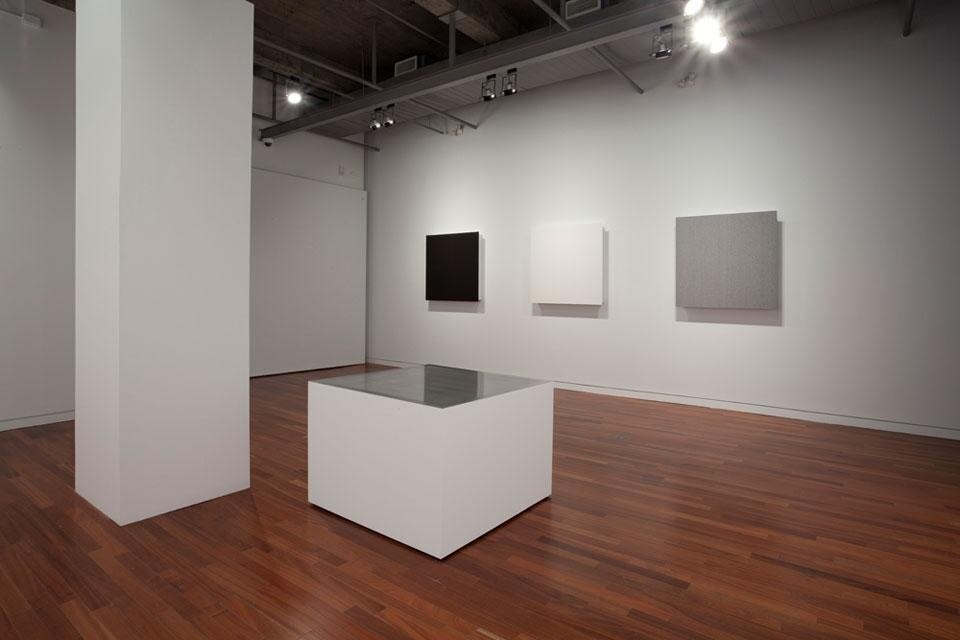 The three installations in the Satellite space test the limits of perception by, paradoxically, making visible the invisible data streams which undergird representation and reality. Using pure data as a source for visuals and sounds — refracted through filters, synthesizers and conversion software — a barrage of eerily beautiful, astonishingly complex computer generated black and white images, flecked with occasional colour, pours fourth. Contrasting time signatures pit dizzying frame rates with slower, more lyrical, movements. Ikeda's subjects are infinity and the poetics of the spectral, unknowable world we have fabricated ourselves.
The operational form of the digital age is an endless oscillation of 1s and 0s, on and offs, or +'s and –'s, which this vast project exploits with somber majesty. Consisting of moving images and sounds, data.tron , data.matrix and data.scan all explore, with mesmeric force, how abstracted views of reality are used to encode, decipher and control the world. All the works exceed—by design—the limits of human rationality, intelligibility and cognition, yet are utterly beguiling in their mysterious and troubling evocations. The horizontal, monitor-based data.scan is positioned in intimate relation to the viewer's body and features sets of data from two recent meta-scientific investigations mapping the human body and the astronomical universe. data.matrix consists of ten projections with specific programming, while data.tron towers over the viewer — and the exhibition — in a monumental, tumultuous, single screen monologue.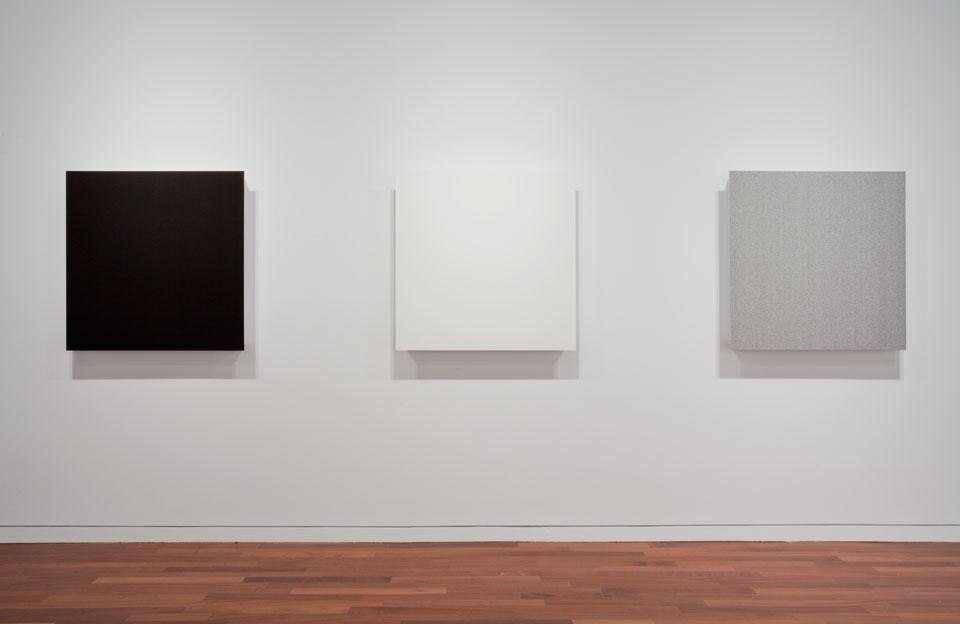 While riveted to a monitor showing datamatics in a darkened room at Harvard, the mathematician Benedict Gross remarked, "I could sit here forever; it's like watching a fire of numbers." As an immersive installation, datamatics conjures a fire of much greater magnitude and of historical significance, like the great blaze that destroyed the ancient Library of Alexandria. The library was the greatest repository of encoded culture of its time, an institution charged with collecting all the world's knowledge by any means necessary. This included the confiscation, painstaking copying and eventual return of all the scrolls that entered the city's port. The surviving cultural record from the ancient world is lamentably miniscule, in large part due to this fire. With datamatics, and the rest of his life's work, Ikeda both obliterates the cumulative record and rebuilds the edifice of culture. John Zeppetelli, curator