The owners of this house surrounded by greenery, in the Colombian municipality of Pereira, chose to move from the city to the countryside in the wake of the pandemic. The home they commissioned is characterized by a concrete exterior and a privileged location: situated on a slope in fact, ita views embrace the lush nature of the place. 
The architecture, designed by Vélez Valencia Arquitectos, seems to consist of several elements that sit or appear suspended on the hillside, showing a rhythm of solids and voids in the facade that becomes the very essence of the project. A patio with a swimming pool, a staircase following the contours of the land, different openings emerging from the house's exterior envelope, a cantilevered portion apparently suspended in the void: these are the main aspects on which the studio has focused, developing the structure in harmony with the surrounding landscape.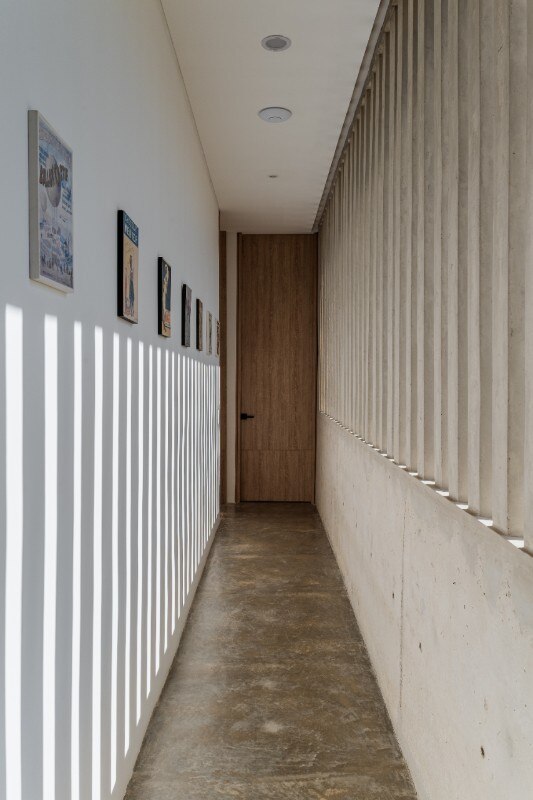 The house also employs a number of devices and strategies aimed at guaranteeing an increased sustainability of the intervention, such as the installation of solar panels and a rainwater reuse system for the garden and bathrooms. Large windows allow cross-ventilation of spaces, thus minimising the use of mechanical cooling and the waste of energy.
If concrete is the protagonist on the outside, it also plays a prominent role in the rooms together with dark metal, wood and glass, describing intimate spaces with clear geometries. 
Lead architects :

Jaime Vélez, Oscar Valencia

Project coordinator :

Claudia González

Design team :

Daniel Valencia, Camilo Jaramillo, Ana Osorio, Sebastián Betancourt

Structures :

Guillermo Ramírez Cattaneo