Despite the differences related to the various traditions and geographical areas, in Asia the cult of gardens has deep roots and a common denominator: amidst pools of water, flowers, rocks and rich vegetation, the garden is not so much an ornamental space for recreation and rest as a "cathartic" and spiritual place that allows humans to come into contact with the divinities, enclosed in a leaf or in the gurgling of a stream, and to achieve purification and inner peace.
This cultural heritage is well interpreted by ra.atelier and ngo + pasierbinski's project for a house in north-east Vietnam. The house is designed as an integral part of the garden, for decades the "beating heart" of family life and here re-interpreted coherently with the owners' lifestyle. The old garden, which originally consisted of a pond with a miniature mountain, numerous bonsai trees, a flowering area to the south and a vegetable garden to the north, is redesigned by two new crescent-shaped curves that intersect, delimiting the building's site in the centre of the plot: to the south, the front half of the crescent, bordered by the path leading to the entrance, includes a pond overlooked by a flower garden; to the north, the rear half of the crescent accommodates a courtyard that serves as a continuation of the kitchen, in connection with the vegetable garden.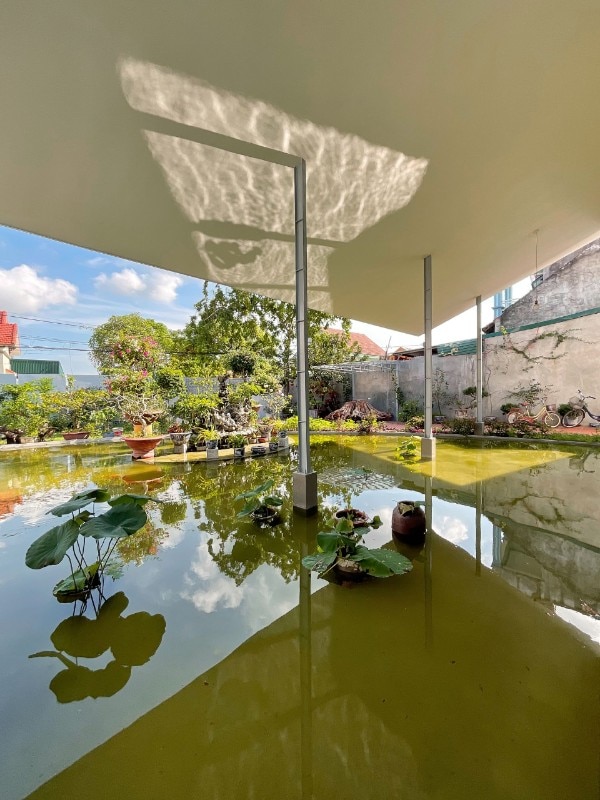 Between the two "souls" of the garden – the contemplative one with the pond and flowers, to the south, and the functional one with the vegetable garden, to the north – the square-plan house, articulated on two floors, hinges: on the ground floor there is a full-height communal space overlooking the pond, the kitchen and the bedrooms; on the first floor, another communal room and a worship hall. A circular opening visually connects the worship room on the first floor and the communal space on the ground floor, creating an uninterrupted perspective axis that, from the bottom upwards in a longitudinal direction, crosses the dwelling and connects the water landscape to the south with the sky filtering through the window onto the courtyard to the north.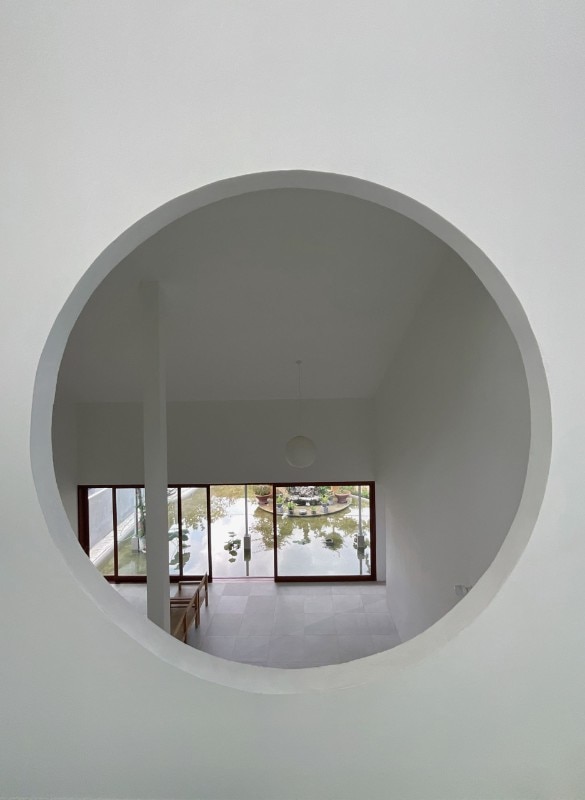 The interior, with its white surfaces and essential furnishings, is characterised by a monastic simplicity and a luminous atmosphere. Each main space has, at its centre, a pillar evoking in abstract form the trunks of the trees in the garden, as if the family lived under the branches.
Project:

House in Quang Yen

Architectural project:

ra.atelier and ngo + pasierbinski

Project team:

Gia Thang Pham, Piotr Pasierbinski, Duc Ngo