This article was originally published on Domus 1057, May 2021. 
The relationship between cities and Japanese gardens goes back to the very origins of the Japanese garden itself. During the eighth century, gardens using Chinese landscaping techniques to innovate original Japanese features occupied the heart of the ancient capital of Nara. Documents and excavational surveys tell us that Kyoto also had many gardens after the capital was moved there in the Heian period (794-1185). In addition, there are several gardens dating back to the Kamakura period (1185-1333) that still exist in Kyoto City today. That gardens have an interdependent relationship with architecture goes without saying. As architectural styles and cities have changed, so too have gardens changed alongside them. While many Japanese gardens have been in cities, there were also those built in Zen temples at the foot of mountains. Nevertheless, Japanese gardens have all shared a common spirit. 
The Sakuteiki ("Records of Garden Making") is Japan's oldest garden creation manual. It is thought to have been written between the late 11th and early 12th centuries. It states that "No stone set by men could ever surpass the landscape of nature", and also that "Gardens must be made by setting one's thoughts firmly upon the natural landscape". The Sakuteiki considers these to be the most important principles of garden creation. It is an instruction manual containing abundant descriptions of detailed techniques – such as how to arrange stones or plant trees – many of which have been passed down to the present day. Japanese gardens come in a wide variety of styles. They range from the vast and magnificent "daimyo" gardens once owned by Japan's domanial lords to intimate and subtle tea gardens and the dry landscape (karesansui) gardens of Zen temples. Yet the spirit they all have in common is their reverence for nature. The essence of the Japanese garden lies precisely in being moved by wondrous scenery not seen in any manmade work and giving expression to it in various forms. One example of the urban garden in Japan is the "mountain residence in the city" (or shichū no sankyo). Shichū no sankyo is the idea of building a space in an urban home that inspires the feeling of being secluded in the mountains. At its foundation lies a Japanese fondness for the Chinese legend of a wise sage who retired from the world to live in the mountains and drink liquor, play music and live life as he pleased. 
When a Japanese garden is built, it has not been completed, but rather born. After a garden is built, what is most important is to foster it by thinking about what it will look like ten years or one hundred years from now.
Joao Rodrigues, a Jesuit missionary living in Japan between the late 16th and early 17th centuries, wrote about this notion in his History of the Church in Japan, calling it "xichu no sankio". Rodrigues writes: "In this [small teahouse], a house in the style of a country hermitage is evoked in a confined space as much as is possible. That is, it is modelled upon the hut of a hermit who has left behind the human world to reflect upon nature and its primary cause. The people of this town consider that this compensates for the town's lack of refreshing spaces. Or rather, in the etiquette of the tea ceremony, this style is seen to be superior to a purely secluded retreat." This shows that, rather than actually retreating into the mountains, urban tea connoisseurs considered it more precious to be able to enjoy that same sort of environment in the city. Japanese gardens once occupied a place set apart from the city. But with urban development today, they have been absorbed into metropolitan areas. Kyoto especially has many gardens like this. For example, the garden of Nanzen-in Temple was built as a detached palace by a retired emperor during the 13th century, but nowadays it is surrounded by a residential zone.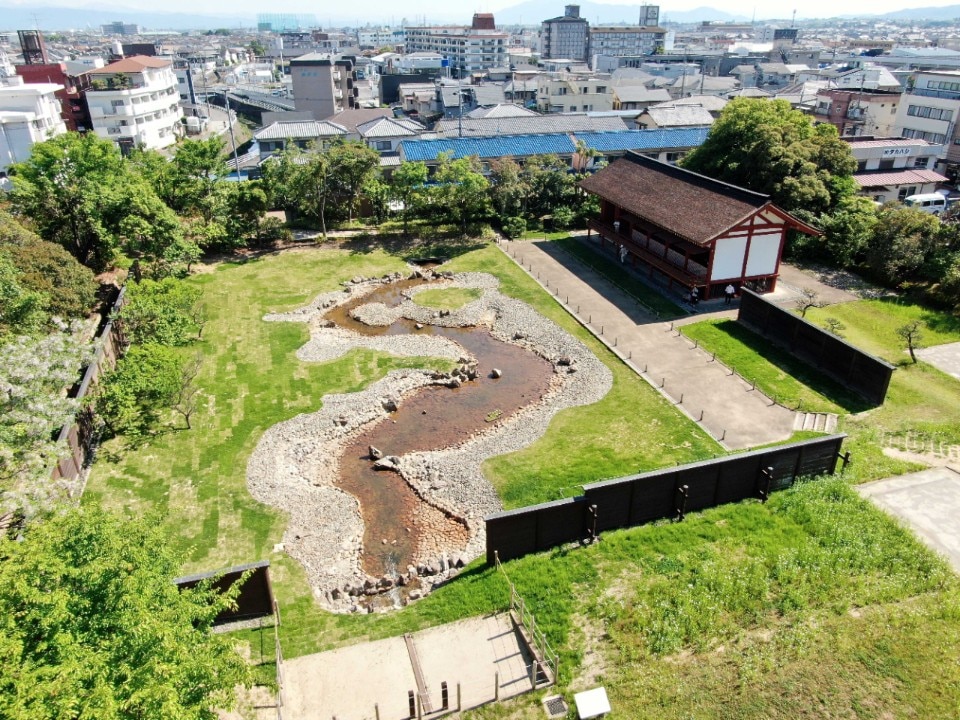 Japan's historical gardens now face many conditions that differ from when they were created. For that reason, various efforts are now being made to restore them to their original appearance. At Nanzen-in Temple, our company Ueyakato Landscape nurtures the garden so it conveys a profound atmosphere like that of being deeply secluded in the mountains. On the other hand, historical gardens in cities today are not just prized for their cultural significance. They are also valued for environmental adjustment functions, such as their control of rising temperatures in summer and rainwater storage, as well as for their purpose of ecological preservation. For example, it has been verified that the modern Japanese garden villas around Kyoto's Nanzen-ji Temple have had a direct influence on the protection of biodiversity, including inhabitation by fish whose numbers today have decreased in their original habitats. In recent times, greening efforts are increasingly becoming mandatory for urban development in Japan, and many green areas have been established to accompany factories and office buildings. For instance, one of the Japanese gardens created by Ueyakato Landscape occupies the rooftop of a building in the heart of Osaka.
As we saw in the Sakuteiki, however, I believe that the spirit of Japanese gardens lives wherever efforts are made to recreate the figure of nature in the broadest sense, even if it does not take the form of a Japanese garden. In Japan's landscaping industry today, there are many tasks confronting not just Japanese gardens, but also landscape creation in general, whether that be in the form of street trees or parks. In particular, there are several debates surrounding landscape management. Every day, I tell people that when a Japanese garden is built, it has not been completed, but rather born. After a garden is built, what is most important is to foster it by thinking about what it will look like ten years or one hundred years from now. In my view, what the Japanese landscaping industry needs to do today is to "foster scenery" in this spirit, not just with respect to individual Japanese gardens, but also the cities they belong to.
Tomoki Kato (Kyoto, 1966) graduated from Chiba University's Faculty of Horticulture, Department of Horticultural Economics. He is president and representative director of Ueyakato Landscape, and professor at Kyoto University of the Arts (PhD). He acquired the essence of Japanese gardens naturally by watching the gardeners work at Nanzen-ji Temple, whose gardens his family's business has managed since the company's founding in 1848. In 2013, his doctoral thesis won an award from the Japan Landscape Architecture Society, and he was the recipient of the 2018 ICOMOS Japan Award.
Opening image: autumn view of the garden of Nanzen-in Temple in Kyoto. Courtesy Ueyakato Landscape