Located in a suburb of ChauDoc town in AnGiang province, Southern Vietnam, this house by Nishizawa Architects is shared by three families. Although this project budget was tightened with local standards, which only allowed architects to build a house with thin corrugated metal panels, they have tried to satisfy not only the regional spirits but also the rich lifestyle in which is fulfilled by sunlight, greenery and natural ventilation, as it were, living in a half-outdoor gardens.

Three new architectural interventions were also introduced: the rood shape was inverted in order to open interior spaces to surrounding environment. All the site was covered by three butterfly-roofs in different heights. Facades feature rotating  metal windows from end to end to adjust the amount of sunlight and natural wind. The internal solid walls were replaced by movable partitions to create a unique and continuous space.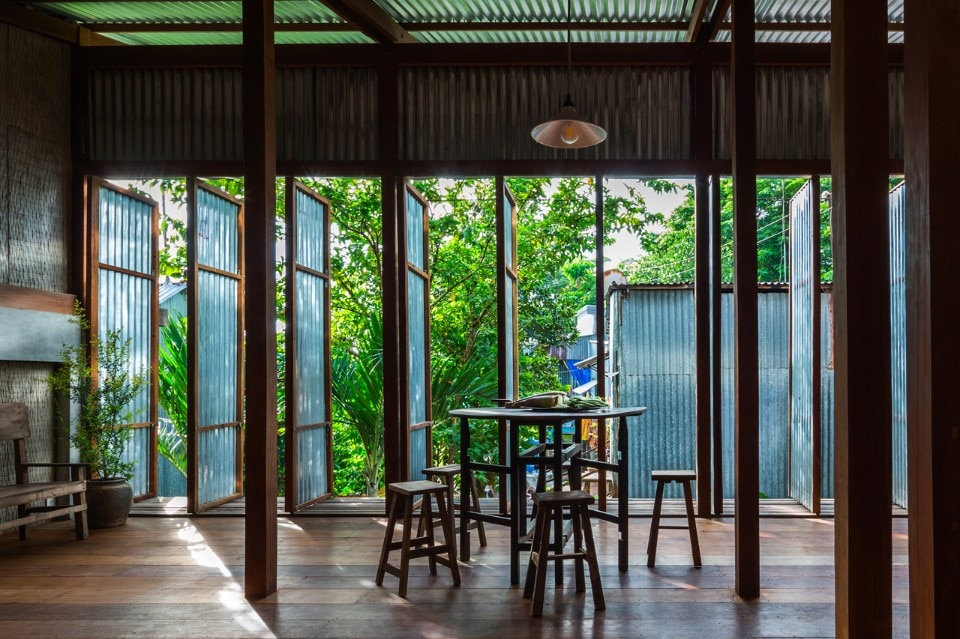 These three architectural principles are clearly intended to realize a half-outdoor and contemporary spaces with full of natural elements such as sunlight, wind, water, soil and plantings. However, at the same time, it is also an important theme for us to preserve the regional customs and spirits inside the house which can be listed as floor-sitting lifestyle, human-scaled dimensions and floating timber frames on the concrete columns.

House in Chau Doc, Vietnam
Program: residential building
Architects: Nishizawa Architects
Design team: Shunri Nishizawa, Nguyen Do Hong Quan, Luong Thanh Tung
Contractor: local carpenters
Area: 340 sqm
Completion: 2017