This article was originally published on Domus 1075, January 2023.
For Kansei Kogyo, a company specialised in handling and sanitising sewage systems, T2P Architects has designed an elegant round pavilion based on repeating the circular cross section of a pipe, on all scales. This small construction is the focus of Plaza Circle, the new green square that marks the entrance to the company's Forest Environmental Research Center in Atsugi. 
We hope visitors to Plaza Circle, which embodies the spirit of the company, will be inspired to think about the sewage infrastructure that supports the city, which they are usually unaware of
The client's activity inspired some original solutions, which overturn more common strategies. The service areas – the toilettes and a disaster prevention well – are grouped together at the centre of the available space rather than being relegated to the margins.
The normally hidden and gregarious nature of bathrooms is put on display to become an iconic totem-landmark. In the words of Louis Kahn, this is a kind of architecture with only "servant spaces", surrounded by a garden that conceptually represents the "served space". 
The reference to piping is the pretext for a sophisticated exercise in geometry. The pavilion unfolds in three circular volumes that differ in diameter and height. They are eccentric and tangential by the only entrance. A simple, uncovered opening leads to the hall, a panoptic room focused around a shared washbasin, from which visitors can access the bathrooms.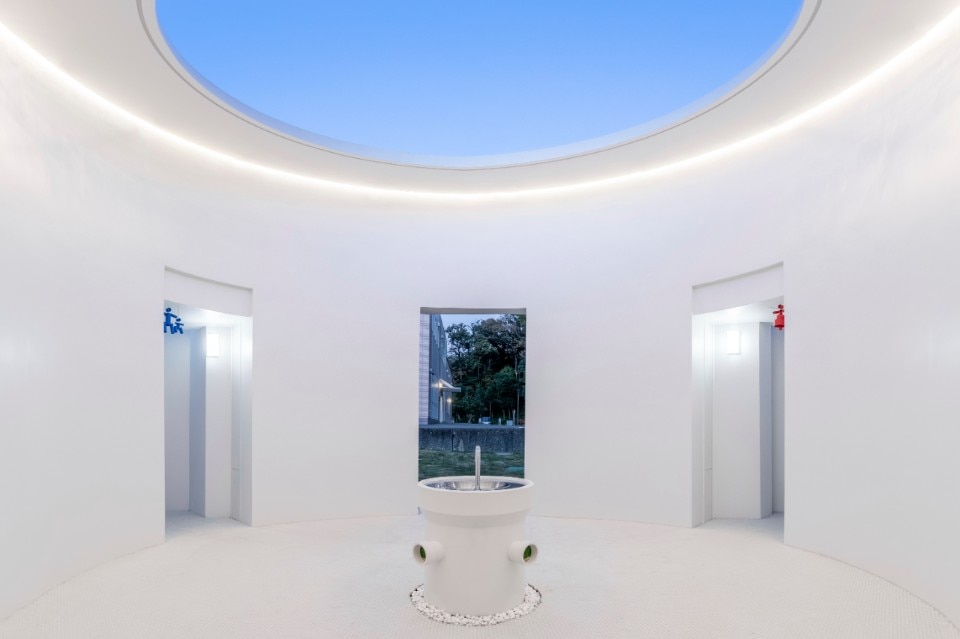 Separated by perfectly radial partition walls, thanks to large windows these all overlook the same outdoor pool, enclosed by a third Foto / PhotosAtelier Vincent Hecht circular wall. Normally hermetic and dark, the spaces here are characterised by unexpected transparency and diffused brightness, full of reflections and coloured by the blue and azure ceramic tiles, while the convex walls nonetheless guarantee privacy. 
The pool of water expands beyond this intimate and silent place to define a fourth circular surface, intended to be a play space for children in continuity with the surrounding lawn.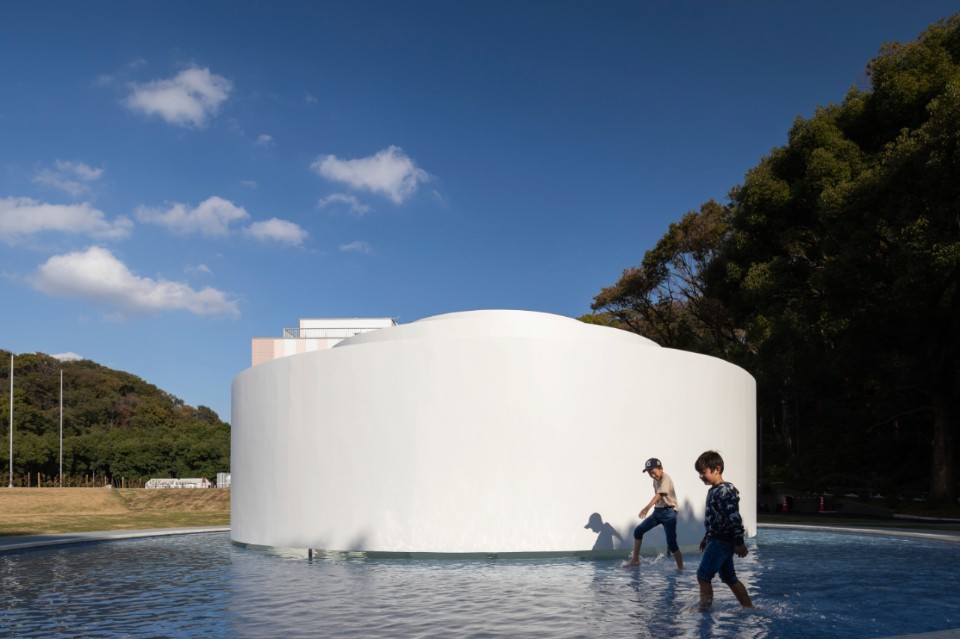 T2P Architects design controlled architecture that is intentionally redundant and full of references and allusions. Their interest in composing elementary shapes exposes the influence of Tadao Ando, with whom the studio's three founders collaborated. 
Due to its level of concision, the Plaza Circle pavilion alludes to the experiences of artists from the Light and Space movement. The hall skylight, in particular, echoes the Skyspaces of James Turrell thanks to its geometric absoluteness and the ambiguous relationship it establishes between inside and outside, figure and backdrop. 
The circle is also an ironic leitmotif, for example in the three-dimensional signage composed of fragments of coloured pipes. 
By multiplying the allusions to purity – of the pure-white plastered concrete and the azure hues of the water – T2P Architects' design creates poetic imagery around a topic that is not necessarily edifying. As the creators state: "We hope visitors to Plaza Circle, which embodies the spirit of the company, will be inspired to think about the sewage infrastructure that supports the city, which they are usually unaware of."