An icon for a complex transition from Modern years towards the rediscovery of a central role for form in the design of spaces, Louis Isadore Kahn was born on the island of Saaremaa, currently in Estonia, in 1901, named Itze-Leib Schmuilowsky. His family migrated in 1904 to the United States, and in Philadelphia his personal trajectory soon took its peculiar shape, starting from his studies at the University of Pennsylvania, where he received a beaux-arts education under the direction of Paul Cret, and where he graduated in 1924.
After an architectural grand tour to Europe in 1928, Kahn started investigating issues of both domestic and urban habitat. In 1932 he founded with Dominique Berninger the Architectural Research Group, focusing its research on social housing projects deeply inspired by contemporary European tendencies, then he cooperated with George Howe, and later with Oscar Stonorov as a consultant for Philadelphia Housing Authority and Urban Planning Authority (Stonorov worked with Kahn as a partner between 1942 and 1947). His reflections in that field sought a coexistence of a new monumentality of public space with a human scale, proposed as an evolution of Le Corbusier's Ville Radieuse: this vision took shape in different articulations, until it reached its most complete expression in the Philadelphia City Centre project (1956), where technical infra/megastructure, services and pedestrian dimension should have found a common ground for an harmonious symbiosis.
In architecture, like in all arts, artist instinctively preserves those signs revealing how a thing was done. (…) If we practiced drawing in the same way we build, from the bottom to the top (…) the ornament would result from our love for the expression of a method.
Kahn's practice found its full expression since the early Postwar years, in a series of mainly public iconic buildings, also standing as milestones in his biography and professional career.
In 1950, he was selected to design the Yale University Art Gallery (1951-53, New Haven, Connecticut), a building where he could outline a critique of Ludwig Mies Van der Rohe's lesson, historically subordinating to the structure all aspects of both function and composition: the Gallery in fact moves from these same aspects, still it awards floors, ceilings and the curtain wall with an inedited, peculiar monumentality; the plan layout establishes a distance from Le Corbusier's plan libre, introducing a less flexible separation between served spaces and service spaces, a distinction that can be noticed in several following projects.
Kahn would therefore shift from the functional priorities drawn from of a certain interpretation of Modern design towards a new valorization of history, of the antiques in their rational principles of composition and, most of all, construction. Such gradual evolution of Kahn's vision would also accompany his teaching practice, at Yale University since 1947, then at MIT then, from 1957 until his death, at University of Pennsylvania, including his activity as a lecturer in Princeton.
He recognized in Richard Buckminster Fuller the only theoretician and practitioner of a pure functionalism, and Fuller's research was the reference for the Philadephia City Tower, conceived by Ann Tyng with Kahn as the composition of a structure that gives materiality to emptiness turning hollows into inhabitable spaces.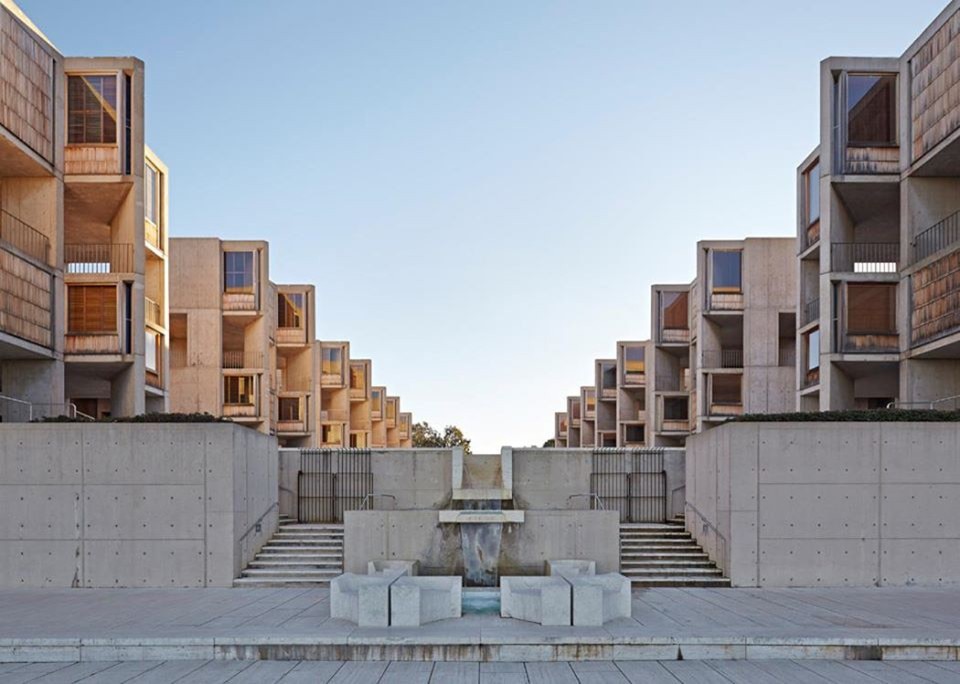 Trailblazing a more and more evident transition beyond Modern — he gave the final speech at the last CIAM in Otterlo (1959) — in his realizations from the early 50s on, Kahn pushed forward a radical formal research, aiming to integrate a structural honesty with a primal role of form, and a monumentalization of spaces hosting processes.
Such approach was translated into reality by the masses of  the Jewish Community Centre (Trenton, 1954) and the First Unitarian Church (Rochester, New York,1959–69), as well as by the chained square-based volumes of the Richards Medical Research Laboratories (University of Pennsylvania, Philadelphia, 1957–65). It later expressed as well in the sequence of vaulted concrete halls of the Kimbell Art Museum (Fort Worth, Texas 1967–72), turning light into a building material for an experiential path through art.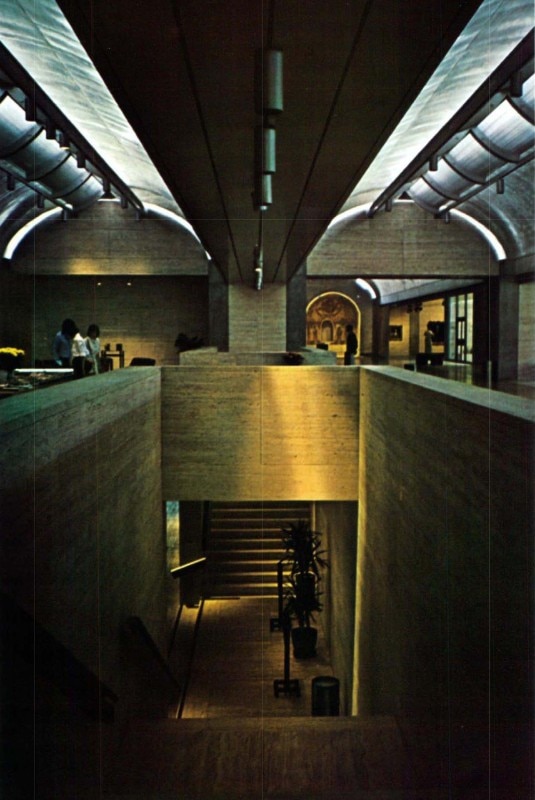 It would definitely peak as a matter of spiritual attitude "attributing a spiritual meaning to a functional program" (Frampton, 2000) in the iconic Salk Institute  (La Jolla, California, 1959–65) and in the buildings that Kahn designed in Dacca, capital of Eastern Pakistan, currently Bangladesh, between 1962 and 1974. The sacred value of monumentalized open spaces, surrounded by the concrete masses of Salk Institute, stands an anticipation to the composition of the Dacca buildings, the National Assembly Building and the Ayub Central  Hospital: these two, broadly recognized as Kahn's masterpieces, are conceived according to a melodic combination of pure shapes, disposed to be later occupied and inhabited by a program that, beyond its core functions, would naturally shape its requirements according to the spiritual gesture defining architectural form.