Surrounded by vegetation and pine trees, Zarzales is a holiday home in Valle de Bravo, Mexico. The architecture, conceived by PPAA Pérez Palacios Arquitectos Asociados, allows the environment to enter, to be always present, removing all boundaries between inside and outside. Two volumes characterize the house: the first is made of a living area and a spacious patio, while the second houses the protection and intimacy of bedrooms bathrooms. 
In the project, sloping roofs – shape to respond to the abundant rainfall in the area – amplify the spaces, transforming them into airy places where light and nature are protagonists. The house is placed on a concrete platform that also extends outwards, thus generating a visually homogeneous environment.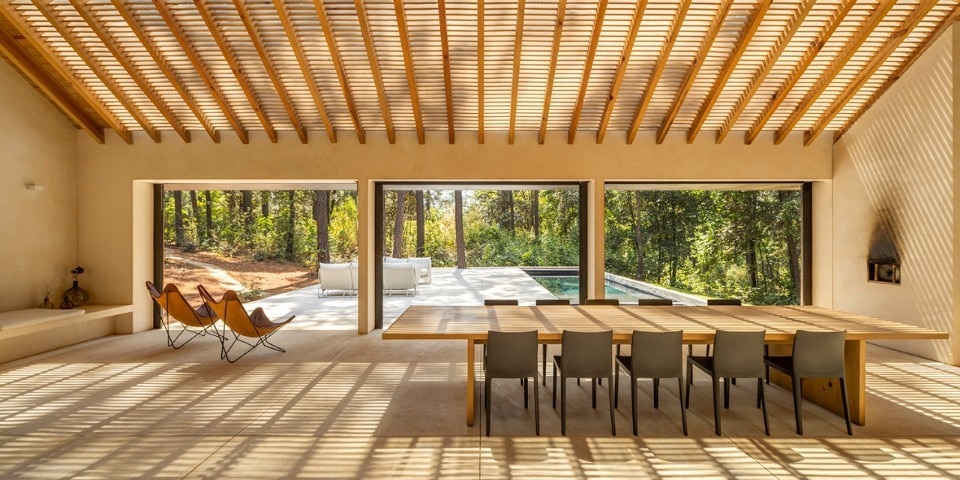 The large openings in the main structure have been carefully designed to allow views of the landscape and the swimming pool, nestled in  the outdoor section of the platform. Roof windows, on the other hand, serve as skylights for the patio, completed by wooden sunshades providing a soft and pleasant lighting. 
With neutral tones of white and beige dominating the interiors, wood and concrete have resulted being the favored materials for all spaces. Nature is at the center of the design: the designers in fact have preserved the existing trees on the property by drilling the platform in precise locations. 
Project:

Zarzales

Location:

Valle de Bravo, Mexico

Program:

Holiday home

Architects:

PPAA Pérez Palacios Arquitectos Asociados

Team:

Pablo Pérez Palacios, Miguel Vargas, Nancy Estevez

Area:

645 sqm

Completion:

2022