Surrounded by a lush pine forest on the Piedmont shore of Lake Maggiore, this prestigious dwelling – currently for sale for those lucky enough to be able to turn their 'dream home' into reality – is immersed in a large terraced garden that overlooks the spectacular natural surroundings, with direct access to the lake and a private pier.
The construction is characterised by an ethereal and radiant beauty, emphasised by the immaculate tones of the structures and finishes, the generous windows that help dematerialise the envelopes, and the soft, sinuous shapes of the projecting volumes that expand in space.
The simple and essential structure consists of projecting concrete slabs floating on slender pilotis, connected from floor to ceiling by large windows. The irregularly rhythmic aggregation of thin metal rods on the façade creates the effect of an impalpable jealousy as a filter between exterior and interior, and evokes the suggestion of drops of water slipping from horizontal planes in suspension.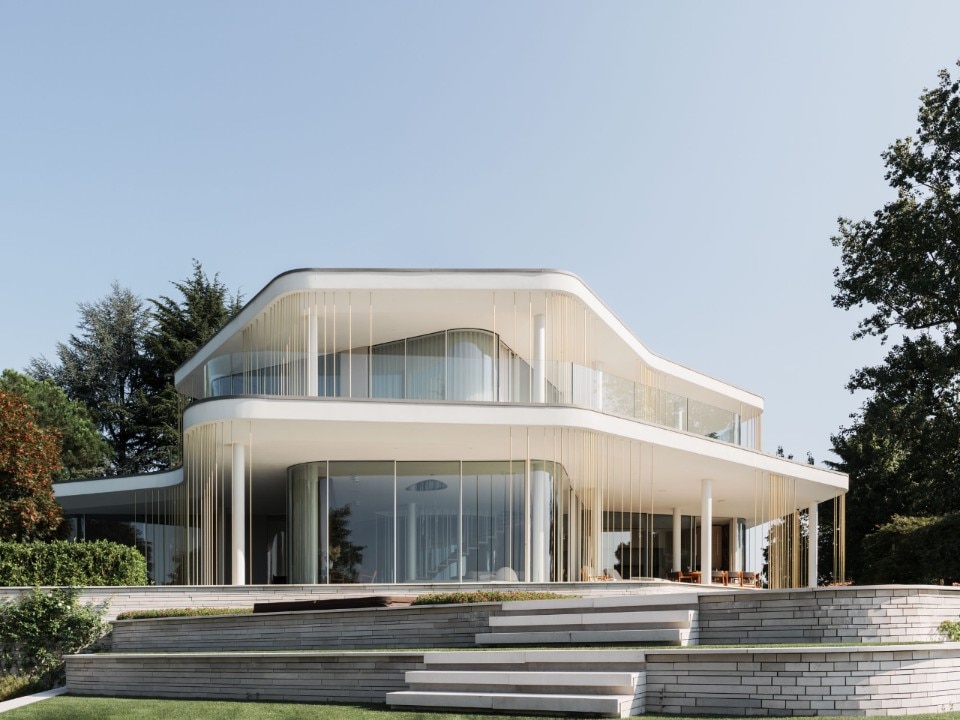 The two-storey building is characterised by a cruciform layout around a two-level central courtyard. The ground floor houses a living room with a breathtaking view of the lake, a kitchen, a study and guest rooms: the punctiform structure allows a free and flexible floor plan, thanks to which the common areas are in a reciprocal perceptive and functional relationship. The upper floor, accessed by an aerial staircase, includes the private rooms with related services and loggias with translucent glass parapets that project the living space outwards.
The interiors are characterised by a neutral palette as if to enhance the "ascetic" aura of the dwelling in respectful contemplation of the landscape, tinged with the blue of the lake and the green of the mountains; the travertine used in finishes and coverings gives a tactile consistency to the diaphanous and immaterial environments.
In order to reduce the building's ecological footprint, the project envisaged the use of solar panels, heat pumps and passive ventilation – which help reduce consumption by at least 60%, thanks also to the building's optimal solar orientation – and a rainwater collection system. A vegetable garden – offering organic "Km0" products – completes the large garden.

A bivalent work that meticulously combines glamour with reducing environmental impact: a "Mosca Bianca" ('white fly': an Italian idiomatic expression meaning 'something very rare'), perhaps, in the often only 'glittering' world of extreme luxury.
Project:

Villa Mosca Bianca

Architecture and design:

Design Haus Liberty

Project team:

Dara Huang, Roberto Manzetti

Landscape architect:

Colin Okashimo Associates

Location:

Lesa (Novara), Italia