The Zlatibor district is one of the most visited natural areas in Serbia. The mountain area belongs to the Dinaric Alps and is therefore inhabited by extensive coniferous forests. It was here that Emir Kusturica set his film Life Is a Miracle (2004) for the authenticity of its landscape. Yet, traces of suburban sprawl have reached this place too, the "no longer city" has stretched its tentacles around Villa Pavlovic. The Belgrade studio NEO_Arhitekti, formed by Snežana Vesnić, Vladimir Milenković and Tatjana Stratimirović, has been working for many years with the Pavlovic family, owners of the textile company Textil. In response to the request for a weekend retreat, the architects decided to balance closure and openness in this compact volume with round ends. 
The design idea was to screen the villa as much as possible from the area behind it, where there are other buildings, while opening it up towards the landscape in front where a narrow, 50-metre long swimming pool was originally planned. Although it was never built, its presence determined the geometry of the building. Instead, some outdoor facilities remain – a pergola, a barbecue corner for the ubiquitous spicy cevapcici of Balkan cuisine – which nonetheless emphasise the linear design of the layout. According to Vesnić, it is the "reminiscence of a shimmering strip of water that gives space for mental contemplation and supports thermal comfort in front of the villa".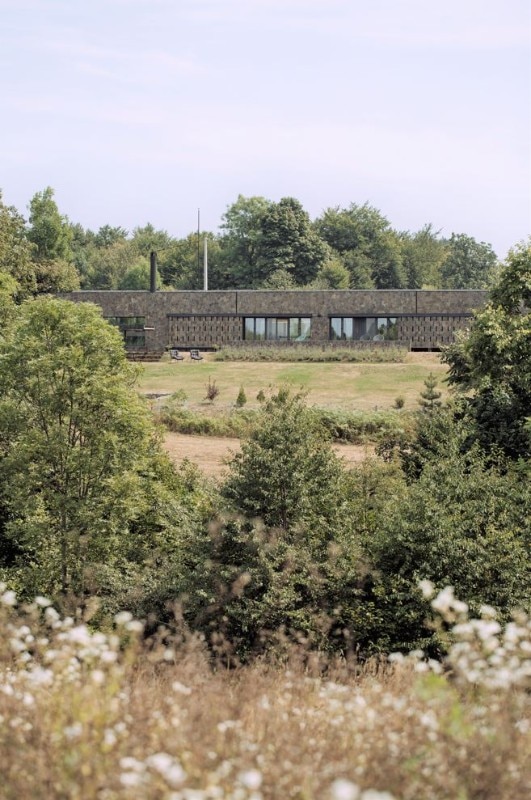 The interior space, on the other hand, contrasts with the apparent uniformity of the exterior design: the central area of the kitchen and living room is more glazed and warm thanks to the wooden trusses, while the bedrooms and bathrooms are in exposed concrete: "the interior of the villa offers a linear cinematic experience in a sequence of restrained spaces".
This dynamic and experiential idea is inherent to the character of Serbian architecture, after all Milutin Borisavljević already explained a hundred years ago that "Aesthetically, architecture is therefore the art of time, while geometrically, or objectively, it is the art of space".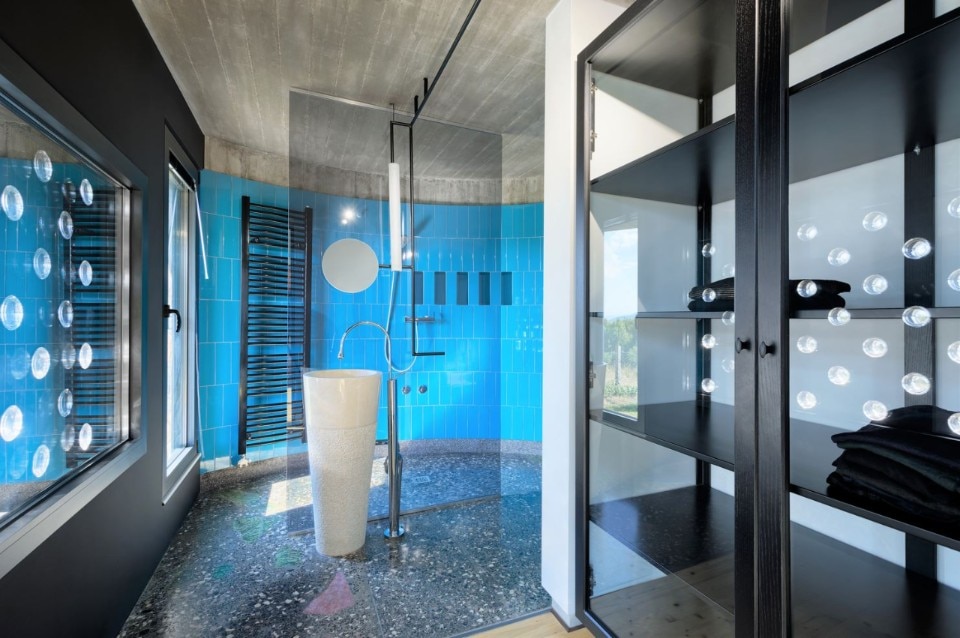 The shape of Villa Pavlovic therefore contrasts with its aesthetics: the purity of the closed rationalist volume – which the writer cannot fail to associate with the first project built by Adalberto Libera in Civitanova Marche on a plot aligned with the Adriatic Sea in 1933 – is contrasted by the cladding of dark local studenica stone, by the various types of openings, including small portholes with a maritime feel, and by the pitched roof, invisible from the outside.
According to Vesnić, who is also an Assistant Professor at the Faculty of Architecture of the University of Belgrade, the project is "a stroke in the landscape which, apparently as simply as its final outcome, carries out a complex examination of the ecology of contemporary living in a rural setting. Abandoning everything that a mountain cabin is, and verging on the abandonment of a form, this is an architecture that barely threads the landscape, quietly offering true luxury".