At the foot of Maluan Mountain in the Pingshan district of Shenzen, a 30,000 square metre former industrial area became a dynamic cultural park in 2010 by housing creative studios and artists' workshops specialising in sculpture, painting and calligraphy.
The complex, characterised by a strong typological heterogeneity – from the full-bodied white-plastered buildings in the northern part of the area to the smaller brick residential buildings in the south – has recently undergone a renovation of the public spaces by Atelier Xi, aimed at the functional and visual reconnection of the volumes, which differ in terms of both scale and construction materials.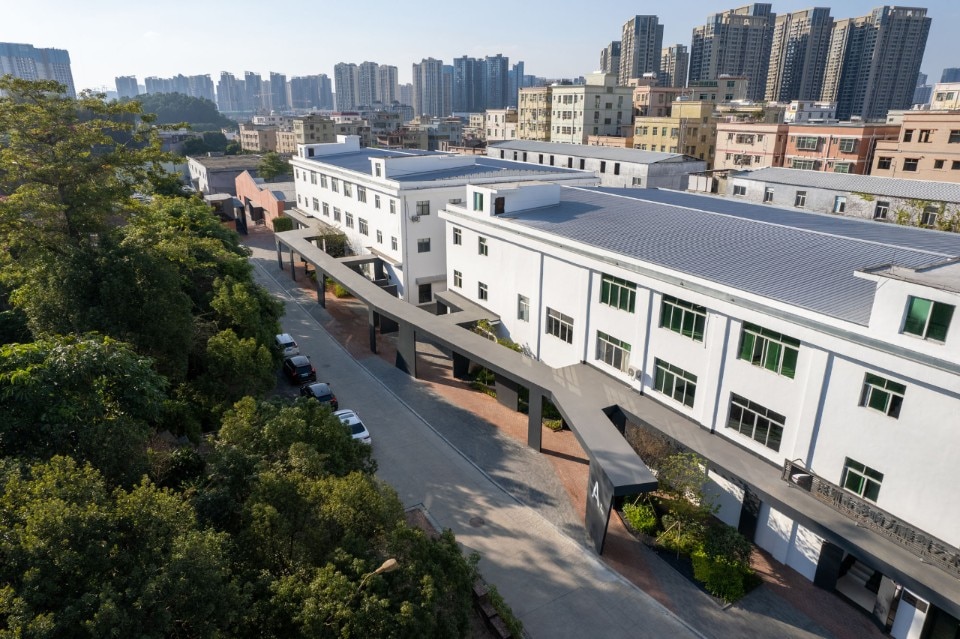 The work consists of three main elements: the pedestrian distribution route, constructed from a black-painted metal portico with terracotta paving, which connects the buildings by signalling the main entrances and accompanying visitors to discover the more secluded routes, as well as offering escape routes for the evacuation of the old factory spaces; the old guardhouse reused as an information centre, the volume of which has been preserved and reinterpreted with red cement fibre panel cladding, and onto which is grafted a new steel body with an aerodynamic shape for a temporary exhibition space; the main exhibition block, a 1,000 square metre space with a double-pitched roof, clad with terracotta panels on the façade and internally 'hollowed out' by 1.5 metres from the original height to more easily accommodate artistic installations of various sizes.
Overall, the black and red tones give the new elements their own effective connotation, openly recognisable compared to the pre-existing elements.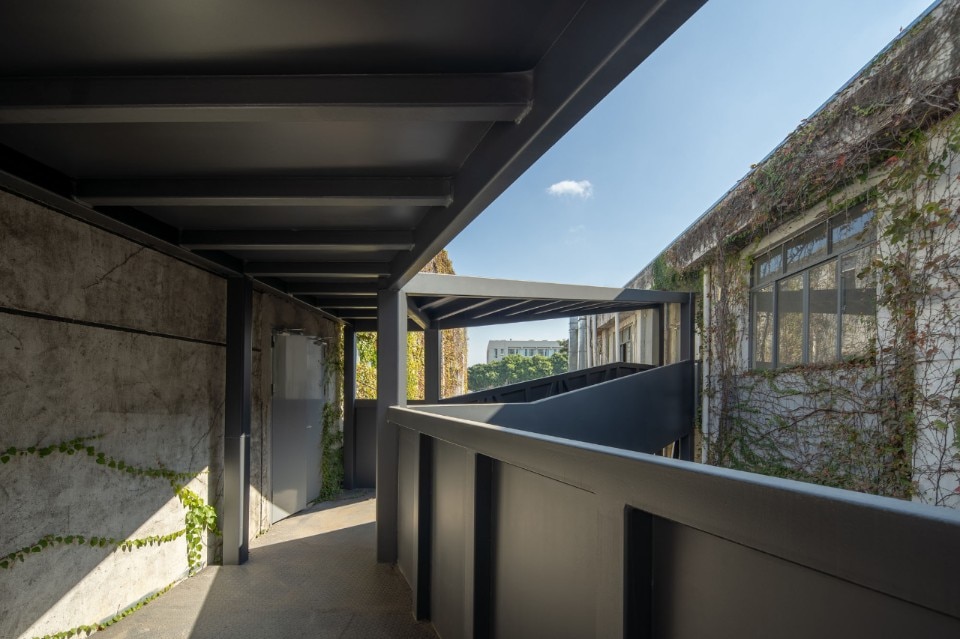 The limited-budget renovation adopts a "low-interference" strategy that not only protects the integrity of the buildings' original structures but also allows the "flavour" of the past to be preserved as much as possible, from the lively climbing vines to the wall graffiti that also remain as informal, layered art forms in the context.
Project:

Shenzhen Pingshan Sculptural Art & Creative Park Renovation Design

Client:

Eastern Shenzhen Cultural Development Co., LTD

Architecture firm:

ATELIER XI

Project leader:

Chen Xi

Project team:

Zhu Jing, Huang Jiajie, Weng Cekai, Xu Huanshi, Liang Jiaxin, Shi Yiyuan, Wen Weijian, Huang Sisi, Zhang Zixiang

Lighting Design Consultant:

Visual Interaction of AURA

Graphic Designer:

Huang Yang

EPC contractor:

Shenzhen Huajian Construction Group Co., Ltd.

Design Adviser:

Liu Xiaodu