This article was originally published on Domus 1068, May 2022.

Gyeryongsan, literally "Mountain of the Rooster Dragon" – a mythical creature with the body of a dragon and the head of a rooster – is a sacred mountain where, according to tradition, the flow of chi, the life force that in Asian cultures permeates the universe, flows more intensely than anywhere else. From the village on the mountain slopes, where the plain meets the articulated topography of the site, starts the ancient path that climbs among woods, streams and temples, in an ascending journey in the name of spirituality and in symbiosis with nature. Here, a new complex with a cafeteria and bakery designed by Nameless Architecture offers visitors a refuge for a break, before or after the exertion of their climb.
According to a possible interpretation that refers to the Taoist concept of the balance of opposites, this architecture generates a dual synergy within a unique formal whole: on the one hand, the monolithic monumentality of a massive work with angular geometries, on the other hand, the soft fluidity of an almost malleable plastic mass. 
The complex is composed of two facing buildings standing on a central courtyard that recalls an artificial valley, a concave space from which the flooring starts, blending seamlessly with the walls of the buildings and blurring the boundary between vertical and horizontal. It is almost as if the work were animated by an endogenous force – chi, perhaps? – and, being born from the earth, it endeavours to acquire a complete tectonic form, tenaciously clinging to the substrate and thereby exerting traction on the outer surface, which curves like a membrane under stress.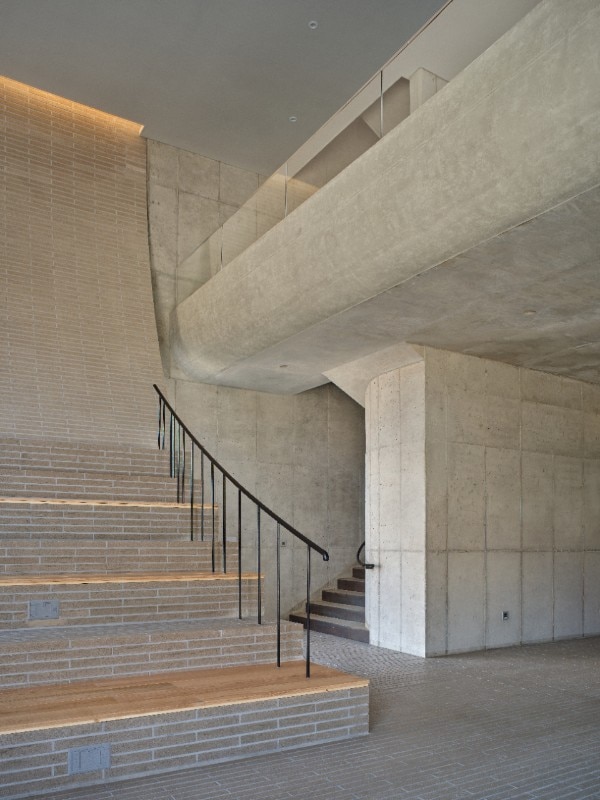 The energetic flow of the forms continues inside the terraced room on the ground floor, which again proposes the curvature of the central courtyard on the west facade. In the open spaces, the expanses of paving rise up and roll in on themselves like flakes of soft material – despite their apparent firmness – as if folded by a sudden telluric movement. The roughness of the external fronts in concrete bricks is repeated in the interiors, with the finishes in smooth exposed concrete and wood inspiring an ascetic and timeless spatiality.