Casa Negra stands in the wooded area of Coatepec, Mexico. A housing project developed for the wellbeing of inhabitants and natural environment. The structure, designed by ArquitectónicA (Cecilia Yarmuch + Alejandro Aguilera), was developed with the aim of not touching the local beech trees, allowing the vegetation to grow around at its own pace and favouring the ecosystem. 
The project is divided into a living block and a working block – separate from each other – designed with the intention of not letting the studio see the house and the house see the studio. The dwelling is made up of volumes of concrete and bricks raised above the ground so that roots can grow, local fauna can move around and rain can slide down the slope.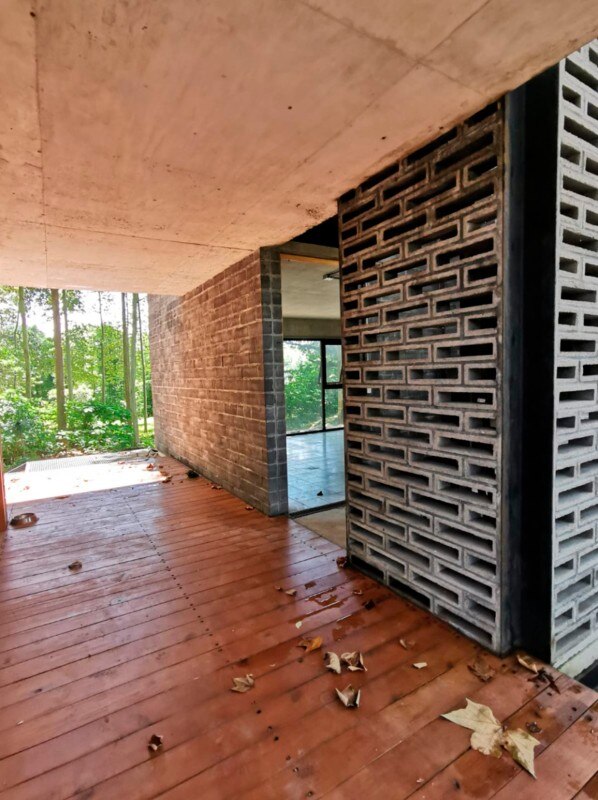 This expedient also serves to maintain a separation between architecture and wet ground, ensuring cross ventilation which removes moisture and contributes to a dry indoor environment. The work place is integrated into the garden, just in front of the house, and is covered by a green roof which keeps it out of sight. A flight of stairs leads up to the studio, while the home is accessed by a ramp leading to a porch – which acts as a filter between the private and public areas, and as a terrace to observe the landscape. 
Inside, the living area develops lengthwise and has a sun terrace on the upper floor. The sleeping area is a compact two-level block containing the bedrooms. The facade lets in air and light through the perforated bricks of the surface, emphasising the link with the nature of the place.  
Project:

Casa Negra

Location:

Consolapan, Coatepec, Veracruz, Mexico

Program:

Private residence and studio

Architects:

ArquitectónicA Cecilia Yarmuch + Alejandro Aguilera

Collaborators:

Arch. Sergio Amante and Arch. Reynaldo Martínez

Area:

220 sqm

Completion:

2020