If you want to sleep in a gasshukujo ("dormitory" in Japanese) inside an old-style wooden house renovated with an unconventional and ironic spirit, your place is Yutorie Atami in Shizuoka: here Naoshi Kondo, architect and interior designer with a multidisciplinary approach as well as owner of the property, has revisited his grandfather's house in an original way, going well beyond the often binding logic of restoration and common sense aimed at preserving the pre-existence in the best possible way.

The intervention concerns the main single-storey building built in the '50s then abandoned until the current renovation, which housed a painting workshop, and a second two-storey building originally used as a residence and overlooking a steep slope: following the renovation, the first building has been transformed into a studio with a guest room and the second into a shelter with three bedrooms on the ground floor and a cafeteria on the first floor.
What immediately catches the eye is the heavy encasement with a thick layer of cement mortar 100 cm wide that embraces and semi-burials the main building in a smug and openly brutalist way, "cutting" it sharply in half and reinterpreting in an only apparently "simplified" way the principle of historical stratification: in fact, the upper part of the building preserves the characters of the old house with exposed wooden structures while the lower part, where the monochromatic layer of cement mortar penetrates becoming an integral part of the functional layout and furnishings, reflects a minimal and contemporary language.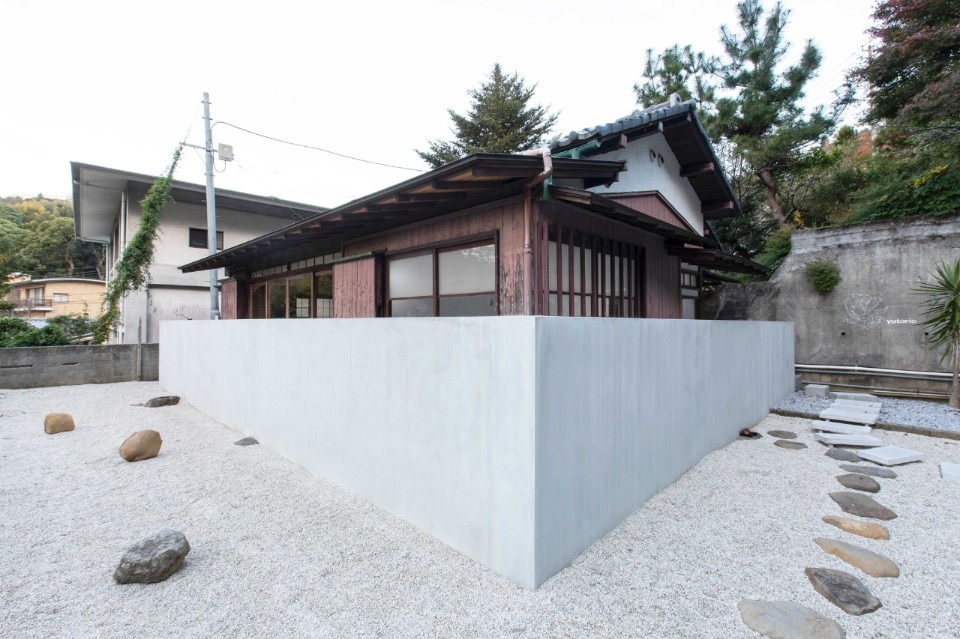 Unlike the average anonymous gasshukujo and despite the "spartan" exteriors that characterize the two buildings, the guest rooms of Yutorie Atami are surprisingly semi-luxurious: the wall shelves, headboards, opening parts and furniture feature elements typical of traditional furnishings; the gold-plated details are striking for their unusually "rich" character while the cross-structure handrails protecting the staircase in the two-story building hint at a "graphic" approach that is anything but functional, in defiance of any safety scruples.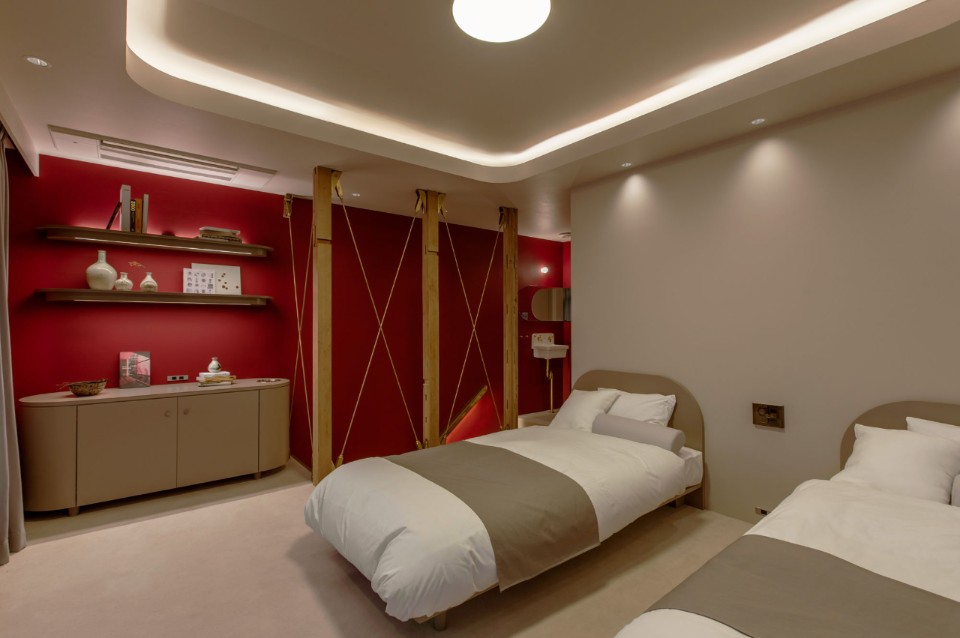 A work that is a manifesto of the edgy humor and non-conformist spirit of the author who, recalling the ideational process, says serenely that he is "still finding reasons to fix what he did".
Project:

Yutorie Atami

Architectural project:

Naoshi Kondo (Naoshi Kondo studio)

Location:

Atami/Shizuoka, Japan

Project leader:

Naoshi Kondo

Project team:

Naoshi Kondo studio

Client:

Yutorie Atami

Engineering:

Mutsuki Architect Crafts