In Tikkurila, one of the fastest growing and most ethnically diverse areas in the Helsinki metropolitan region, OOPEAA has designed a project that strongly signifies the city's main public space, building a multifunctional complex in the Town Hall Square to meet the needs of a dynamic and lively citizenry.

The project, with its L-shaped layout and integrated into a city block, includes a church located at an angle which acts as a pivot between two adjacent buildings: one, to the southwest, houses the Tikkurila Bethania housing block with 244 flats of varying types – from studios to duplexes – 162 of which are for students and 62 are low-cost flats; the other, to the north, includes the parish offices.
In the residential building, a wide variety of communal spaces such as saunas, rooftop terraces, meeting spaces, shops and restaurants facilitate social interaction and community life.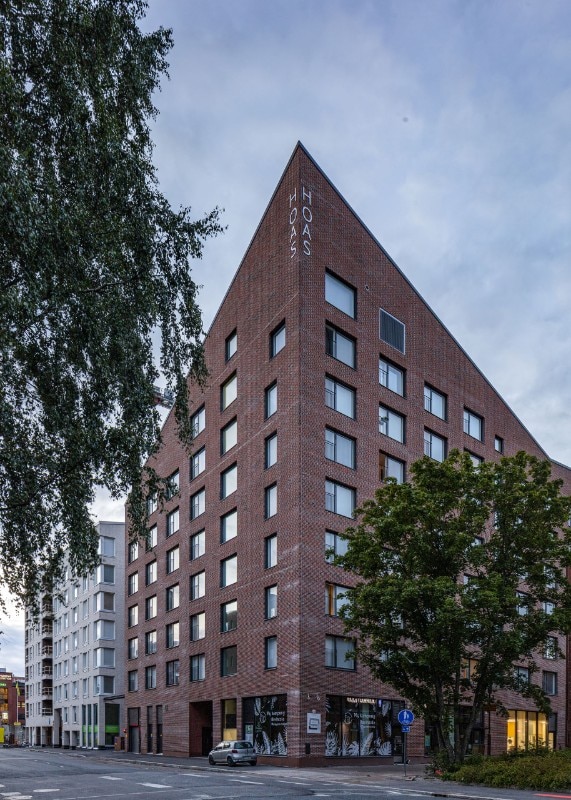 In the church, the main hall with a capacity for 500 people is flexibly designed to accommodate a variety of simultaneous functions through appropriate subdivisions; the cafeteria and courtyard provide pleasant spaces for rest and interaction.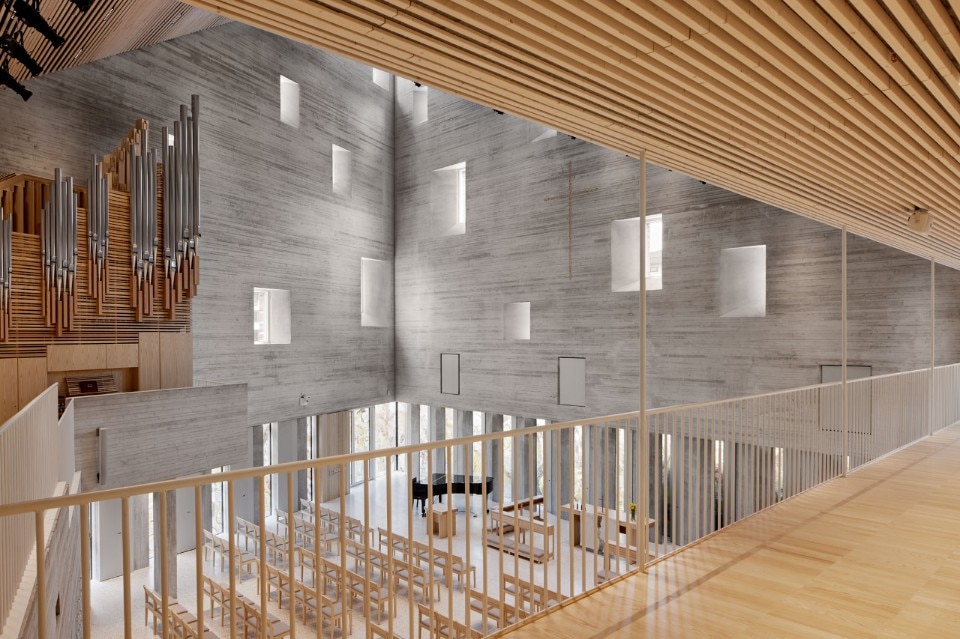 The complex fits delicately into the urban context characterised by the dominant use of bricks: the external facades are entirely covered with glazed bricks in various chromatic tones which enliven the mighty walls. To reduce the visual impact of the building, the geometry of the volumes is articulated according to a play on levels, lowering the building near the entrances to allow the perception of a "human scale" of the complex. Green roofs and solar panels help reduce the building's ecological footprint.
In the interiors, durable, natural materials such as cement and wood characterise essential but pleasant spaces, signifying the warmth of a welcoming, inclusive community.
Project:

Tikkurila Church and Housing

Architectural project:

OOPEAA

Location:

Tikkurila, Vantaa, Finland

Client:

Tikkurila church and Bethania apartments: Vantaa Parishes; Student housing: HOAS, the foundation for student housing in the Helsinki Region

Team leader:

Anssi Lassila, OOPEAA

Architects:

church: Iida Hedberg; housing: Tuuli Tuohikumpu

Project collaborators:

church: Tanja Vallaster, Jari Heikkinen, Liisa Heinonen, Katharina Heidkamp, Lassi Siitonen; housing: Jari Heikkinen, Liisa Heinonen, Silja Ikkelä-Koski, Teemu Leppälä, Karoliina Mäenpää, Lassi Siitonen

Consultants (church):

Structural design: Afry Finland Oy (Matti Saarikoski) HVAC: ClimaConsult Finland Oy (Juha Pentikäinen) Electrical and Audiovisual: Insinööritoimisto Tauno Nissinen Oy (Antti Lehikoinen) Interior: OOPEAA, Studio Petra Majantie Furniture for the altar: Studio Paakkanen (Mikko Paakkanen) Developer consultant: Boost Brothers (Matti Sivunen) Fire safety: Paloässät Oy (Sami Hämäläinen & Anssi Kuhlman) Acoustis: Akukon Oy (Olli Salmensaari) Geodesign: Sitowise

Consultants (housing):

Structural design: A-Insinöörit suunnittelu Oy HVAC: Ramboll Finland Oy Electrical: Ramboll Finland Oy Landscaping: VSU Maisema-arkkitehdit Oy, OOPEAA Developer consultant: Rakennuttajatoimisto Valvontakonsultit Oy (HOAS), Boost Brothers Oy (Vantaan seurakuntayhtymä) Fire safety: Paloässät Oy Acoustis: A-Insinöörit suunnittelu Oy Geodesign: Sitowise Oy

Contractors (church):

Main: Lujatalo Oy, Electrical: PKS Talotekniikka Oy, Air: Assemblin Oy, Talotekniikka, Plumbing: Assemblin Oy, Talotekniikka, Sprinklers: PK Sprinkleriasennus Oy, Masonry: Muurausliiike Sami Vanne Oy

Contractors (housing):

Main: Lujatalo Oy, Electrical: Amplit Oy, Air: TATEC Oy, Plumbing: LVI TOP Oy

Material suppliers (church):

Chips & Bricks (Bricks for the facade), Wienerberger Oy Ab (Clay rooftiles), Lasi Saarinen Oy (Windows and metal doors), Heikkinen Yhtiöt Oy (Concrete mosaic floors and wood flooring) Rakenne-Tikka Oy (Ceilings and interior wood cladding), Ideapuu Oy (Fixed furniture), Puusepänliike Eino Rantala Oy (Doors for the Church Hall), Erikoispuusepänliike Seppo Auvinen (Furniture for the Altar)

Material suppliers (housing):

Wienerberger Oy Ab (Bricks for the façade and the rooftiles), Novenberg Oy (Bricks for the paving)

Other partners (church):

Organs: Urkurakentamo Veikko Virtanen Oy, Church Textiles: Helena Vaari, Artwork for the Church: Jaana Partanen & Heikki Lamusuo, Carillon: Rekola Bells / Supavit Nummelin