A small lot in the historic center of the Portuguese municipality of Guimarães, defined by rapid hypertrophic urbanization, has recently been the subject of a restoration and extension project by Merooficina studio. The starting point of the intervention is a pre-existing 19th-century building, initially a pivotal element for two additional constructions: a ground-floor extension and a new commercial building.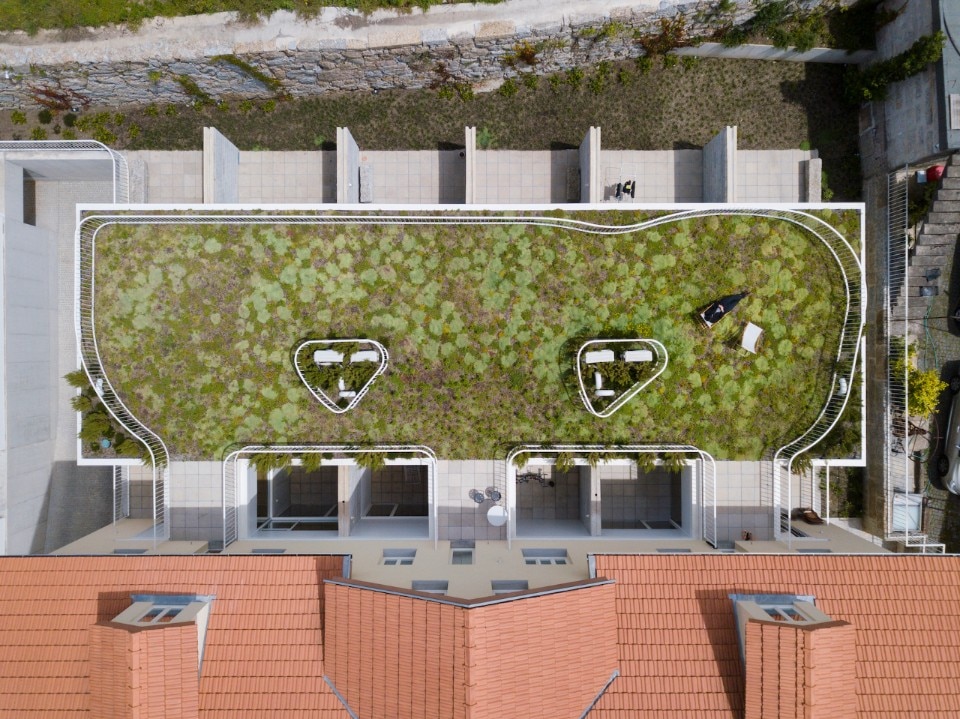 Therefore, the intervention of the Portuguese studio arrives in continuity with the initial premises of the lot, preserving the accesses and the logical distribution of the pre-existing apartments, increasing the surface area instead of the rooms on the ground floor. Here the new floor plan transforms its typological organization, transforming the empty rooms with a commercial vocation into new apartments with double facing.

The roof of the new volume on the ground floor, designed as a communal green space, is perforated in several points to create patios that allow ventilation and lighting to the new apartments.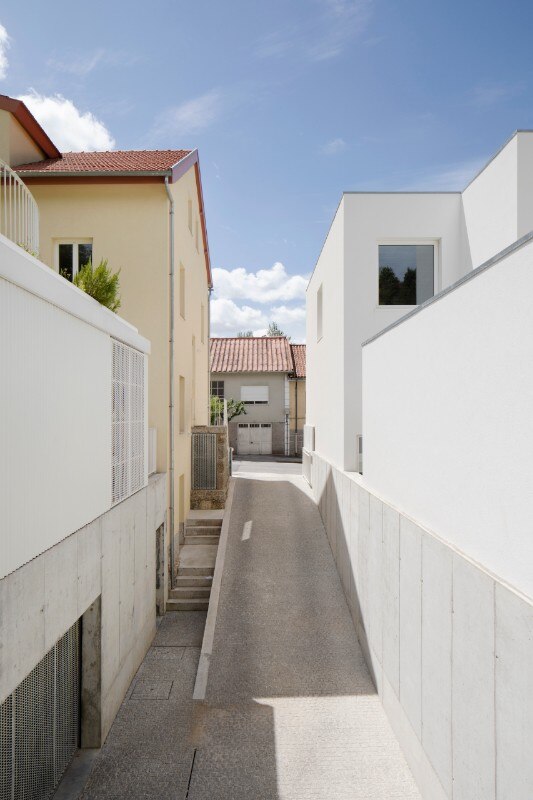 The configuration studied is not intended to have a purely visual or aesthetic impact on the, but also environmental and hedonistic. In fact, the design comes from a dialogue with the agricultural terraces that still exist in the city center.

The materials used for the new construction have mainly been recovered and reused from the existing building – such as stones recovered from demolitions, repurposed as outdoor paving or benches. However, these new elements take on their contemporary status and translate into architecture a place where distinct times and heritages coexist.
Project:

Casas do Capitão

Architecture studio:

Merooficina

Design team:

Catarina Ribeiro, Vitório Leite, Rafael Monteiro, Francisco Pereira, Rita Serra, Silva and Clarissa Mohany

Engineering and construction:

NVE Engenharias, SA

Total surface:

1810 mq

Completion:

2021

Location:

Rua Capitão Alfredo Guimarães, Azurém, Guimarães, Portugal