Guilin, in Guangxi, is a famous tourist city thanks to its luxuriant nature and mild climate: here, in a lush forest near a small river, Beijing-based studio AOE has built a hotel in symbiosis with the environment with which it interfaces to guarantee its guests an immersive and pleasantly playful sensorial experience.
The hotel comprises 13 units arranged on stilts at a height of 5m above the ground. On the one hand, the elevated location reduces the impact on the land, leaving the garden as uninterrupted as possible, and on the other, it guarantees preferential views and direct contact with the surrounding vegetation, which completely envelops the buildings.
The units are of different sizes and types but share a common language favouring the choice of natural, sustainable materials such as straw or wood shingles on the roofs and wooden slats on the façades.  

The buildings are on two levels: the first includes the main activity area and the second a children's play area; in those housing flats, the living area and bedrooms for adults are on the first floor and those for children on the second floor.
All the buildings are connected by raised wooden walkways that include not only articulated distribution routes but also open spaces for resting and socializing; the raised routes are also equipped with slings, entertainment structures, and slides that connect the first floor with the garden level and provide lively experiences of activities in contact with nature.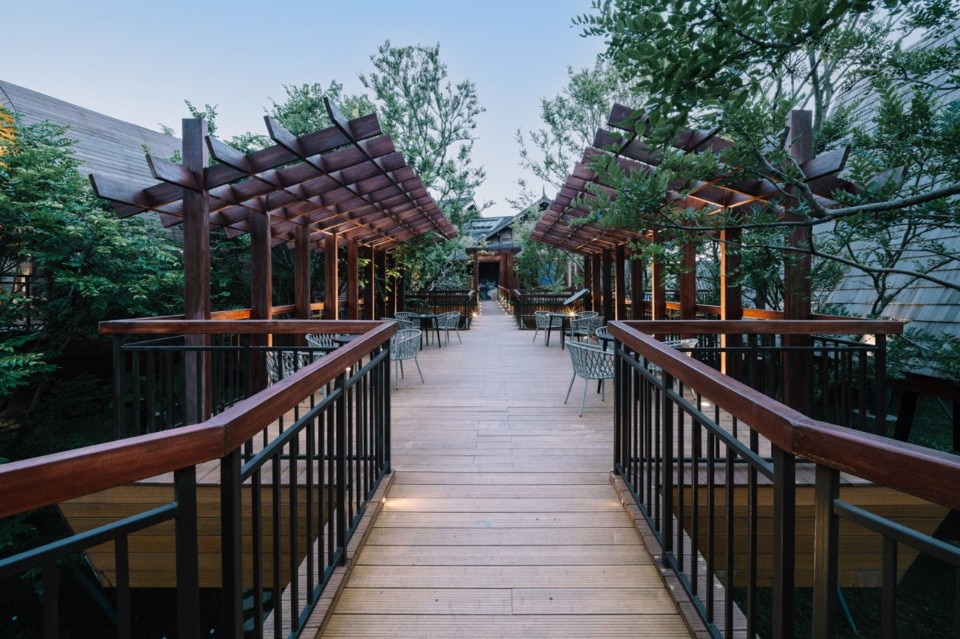 A playful image characterises the complex, from the slides which in some units connect the second floor and the first floor and become a place of entertainment, to the almost archetypal shapes of the volumes - triangles or ellipses - which recall children's games.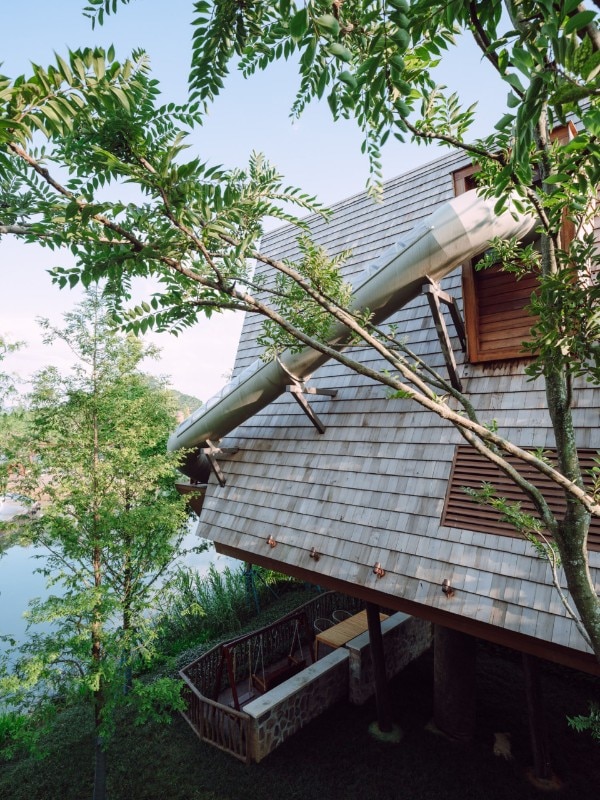 Perhaps, even in adulthood, tracing the memories of childhood in a pure and natural place is the right way to reconcile with life.
Project:

Guilin Lebei Homestay hotel

Architecture:

AOE

Client:

Sunac (Beijing) Cultural Tourism Planning Research Institute Co., Ltd

Project unit:

AOE project team

Project leader:

Wen Qun

Collaborators:

Jiahan Liang, Liuqing Liu, Jianxin Li, Ruixue Fan