In "Levantado do Chão"José Saramago says that "the most abundant thing on earth is landscape... since landscape undoubtedly predates man and yet, although it has existed for so long, it is not yet exhausted".
And it is precisely in the vast Alentejo region, dotted with villages swept by the ocean wind and criss-crossed by endless expanses of fields, that Bak Gordon seems to have best understood and interpreted this message of a strong bond with an ancient and intensely preserved land.
Here, the Lisbon-based studio has built a single-family home set in the landscape of sun-baked earth, a building that emerges from the land and seems to merge with it.
The building, totally clad in lime mortar and insulated with cork from the outside, takes on the warm, variegated tones of its surroundings and has a geometry articulated around a large pool of water facing south, against which the main room for daily activities and two "filter" rooms between outside and inside are arranged: from these two rooms, large openings bring perspectives of the surrounding countryside into the intimacy of the house, while the wooden pergola allows the powerful Portuguese sun to penetrate, partially shielding it and generating changing light effects throughout the day.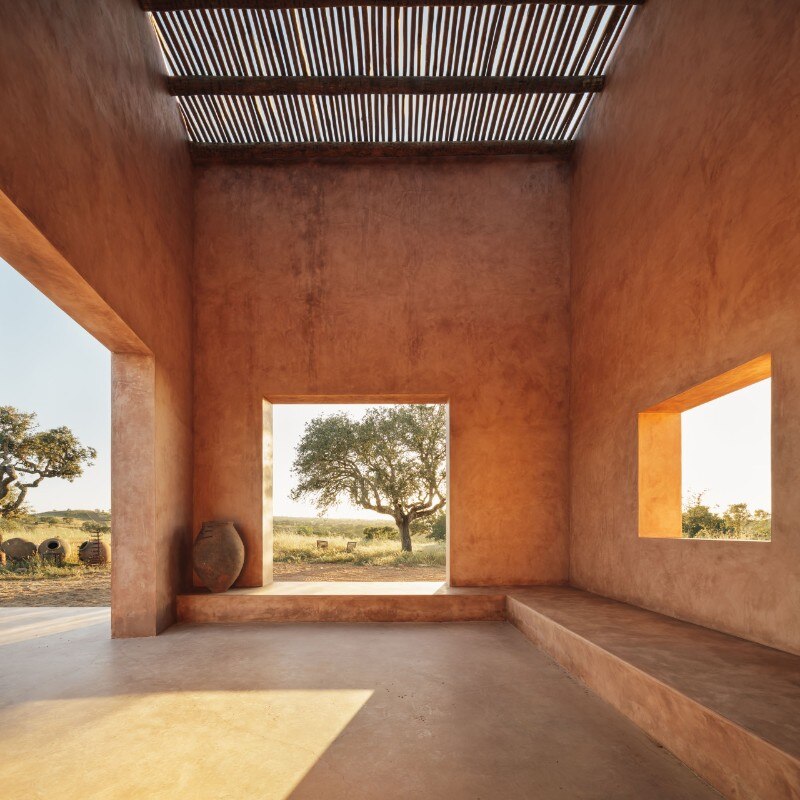 The central interior patio, an intimate and introverted hortus conclusus, is the epicentre around which the more private spaces of the bedrooms and bathrooms revolve.
In the interiors, the furnishing choices refer to the composure of the pure volumes that characterise the building as a whole and to its chromatic tones: a minimal language enhanced by warm, simple, natural materials such as wood and leather, which does not need much artifice to generate an intimate, welcoming, almost monastic environment.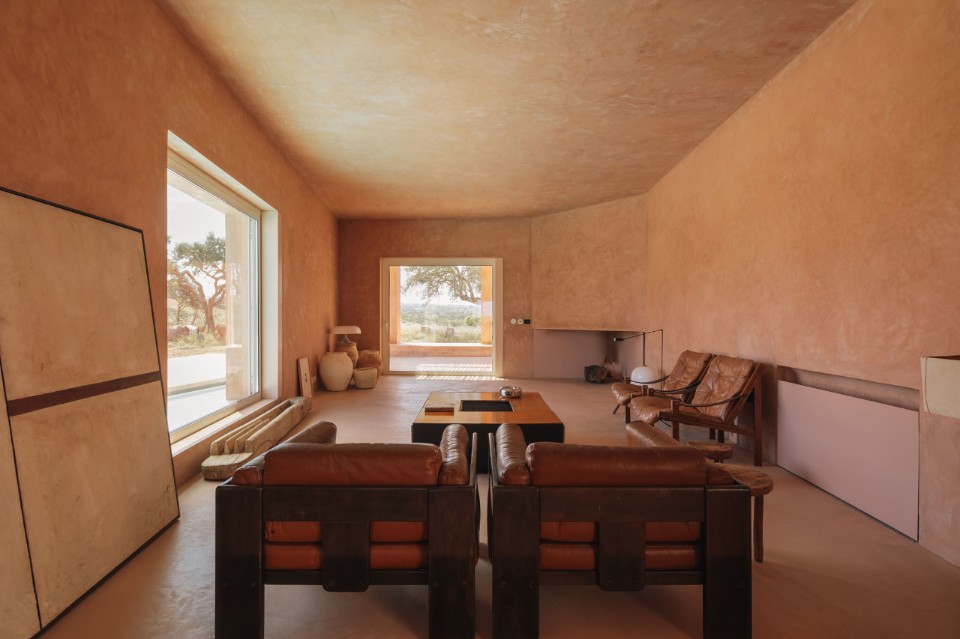 Project:

House in Grândola

Location:

Monte dos Patos, Grândola, Portugal

Architectural project:

Ricardo Bak Gordon

Collaborators:

José Pedro Cano, Maria Barreiros, Tânia Correia, Maria Passos de Almeida

Client:

private

Contractor:

Fernando Pedreiro - Construções Civis, Lda.

Consultants:

ARA - Alves Rodrigues & Associados, Lda (fondazioni e strutture); CPX Consultoria e Projectos (impianti elettrici e meccanici, sicurezza, telecomunicazioni); Acribia - Projectos e desenho técnico, Lda (idraulica)