In a village near the Chao Phraya river in the district of Ban Run, Ayutthaya, the gastronomic tradition is part of the local culture and an element of community cohesion.
What is unusual about this place is that most of the residents are widows or single women between the ages of 50 and 90 who devote themselves to cooking in order to support the nearby monastery through the sale of food and handmade dishes: to preserve the continuity of the tradition, the women make their recipes public.
Here, Bangkok Project Studio has designed a restaurant which is an intense homage to the cultural heritage of the place and its people. The project is made up of five two-storey buildings of identical size, in the form of rectangular triangles connected by elevated paths and arranged so as to delimit internal green courtyards. Each building houses different functions related to catering and is named after one of the old ladies who live and cook in the village.
Entirely recycled materials take on a new aura, becoming the protagonists of the composition: the exterior facades, supported by a steel structure, are made of unsold glass blocks, an undervalued material in the country because it is linked to functional uses, and dry-framed in rubberwood frames. PVC was chosen for the windows - reinforced to withstand the force of the wind - a light material and less expensive than the noblest glass sheets, while truck hinges were used for the door and window hinges, adapted to support the weight of the large openings.
The construction was entrusted to local people who, even without craft skills, acquired the necessary know-how, becoming part of a collective process of learning and preserving community values.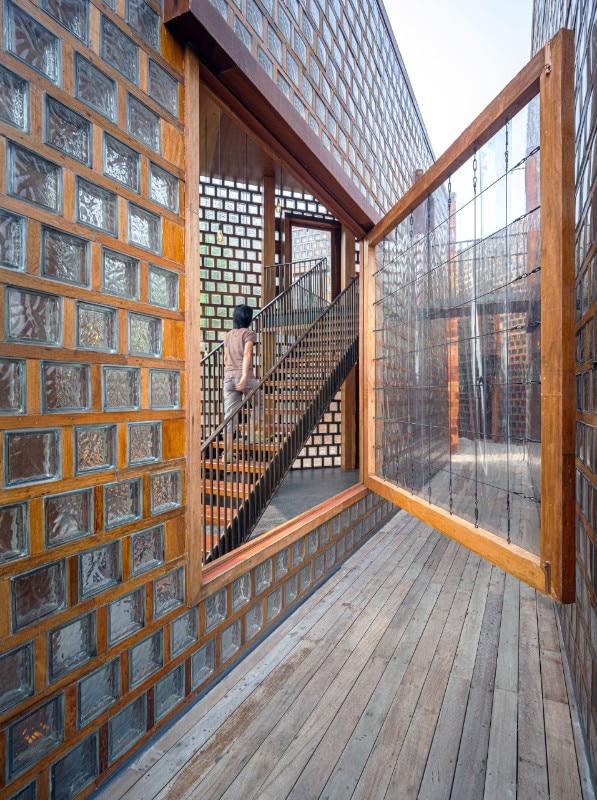 These glass block buildings, which glow in the daylight and light up at night, give the impression of being ever-burning lanterns, signifying that the people here are part of a collective history that is preserved and will not disappear with them.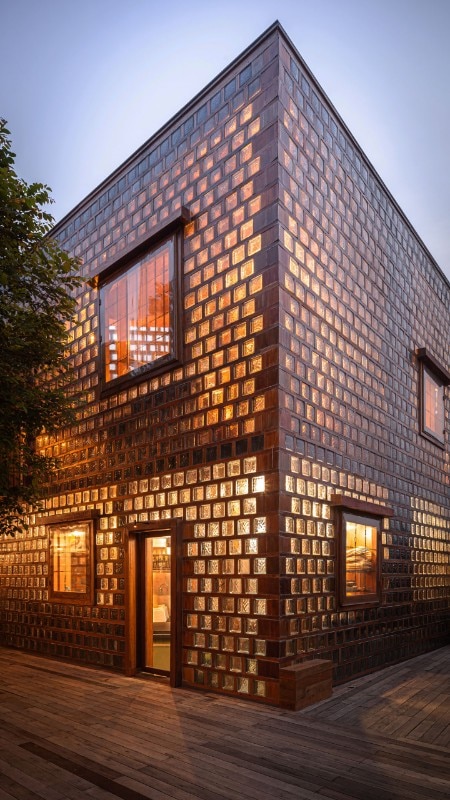 Project:

The Artisans Ayutthaya: The Woman Restaurant

Location:

Tambon Ban Run, Amphoe Phra Nakhon Si Ayutthaya, Tailandia

Client:

Soraya Visitsopa

Architectural project:

Bangkok Project Studio

Project leader:

Boonserm Premthada

Project team:

Boonserm Premthada, Jaruj Thammasoontorn, Pacharaphol Osotcharoenphon

Engineering:

Preecha Suvaparpkul

Construction:

local craftmanship