Opened in 2009, the High Line has since been one of New York's most celebrated new attractions. Designed by James Corner, Diller Scofidio + Renfro, and Piet Outdolf, and inspired by the Parisian Promenade plantée, the project brought a disused railway viaduct to a new life as an elevated linear park that runs from the Meatpacking District up to 34th street. Or, considering a fancier, up-to-date map, you could just say that the High Line easily brings you from Little Island, the recently-inaugurated artificial park floating on the Hudson, to "New York's newest neighboorhood" Hudson Yards, without having to take a single step on the city's ground. "I used to live in this area and when it opened, it looked amazing", tells me Cynthia Davidson, remarking the novelty of walking over the street level, and not having to hang at a stop waiting for the green light. "But now it's become a place where it's super expensive to live, and that's a real problem".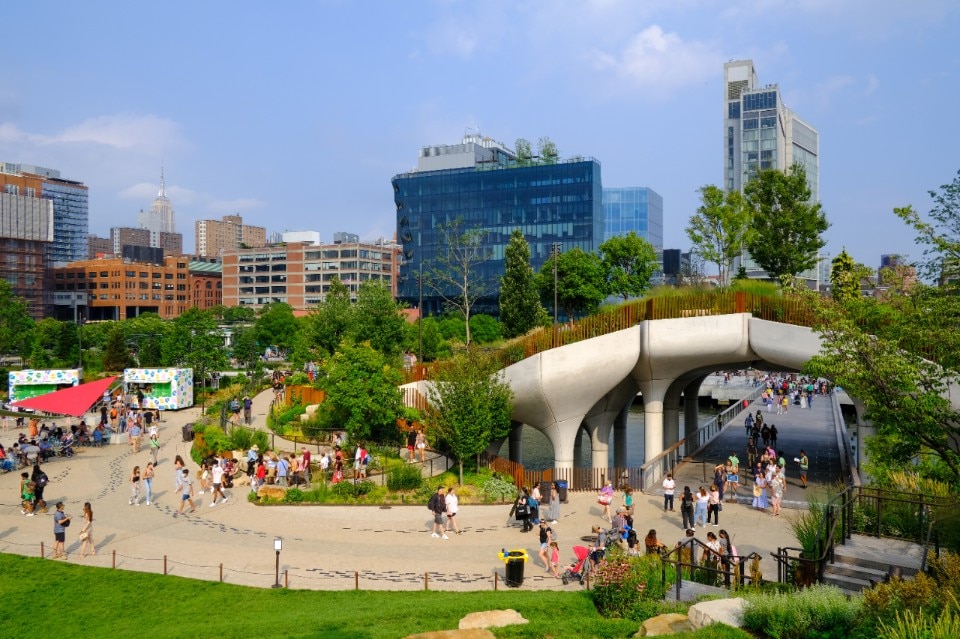 Taking a walk on the High Line – you need a digital reservation to get onto it, we're in the pandemic age, after all –, means to immerse yourself among more or less 100,000 plants, trees and shrubs, and to have a journey into an ultra-luxury architecture wonderland. Among the buildings you'll meet: the condo simply know as the Zaha Hadid Building – where a penthouse was recently listed for $48.8 million; condos by Heatherwick, the British architect that also designed Little Island; Frank Gehry's IAC building, and the condominium just behind it, by French architect Jean Nouvel; Renzo Piano's new Whitney Museum complex; and you can literally step through the building site of BIG's XI complex, the last addition to the area so far; obviously you can't miss some pre-existing landmarks like the Standard Hotel, just to get yourself a bit of that 20th Century New York decadence taste, plus a few remaining of the meatpacking warehouses that gave the name to this district, and some few surviving traditional railroad flat buildings.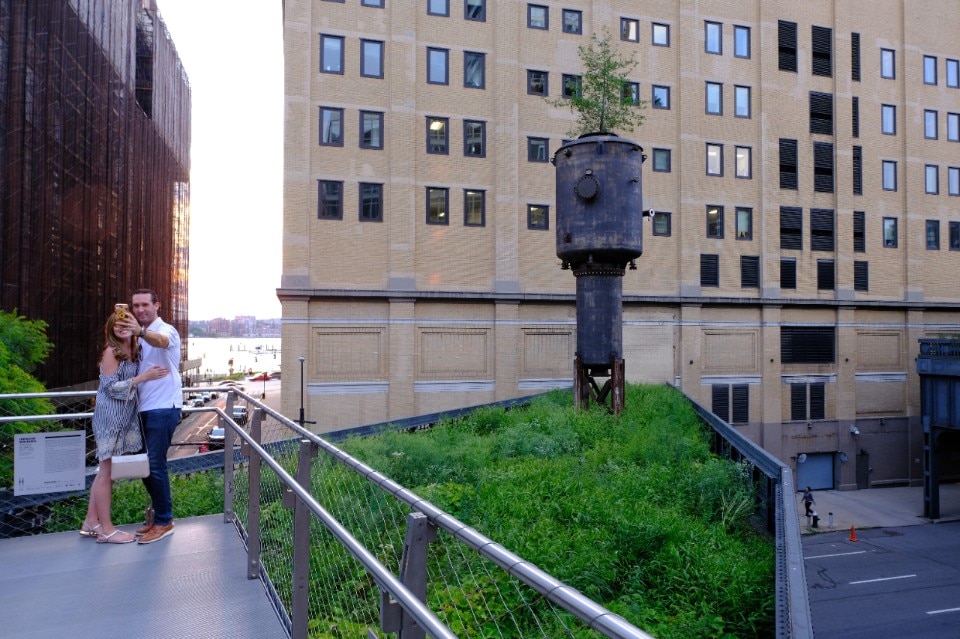 To get a glimpse into your neighbor's apartment is a New York classic. And that also happens on the High Line. Curtains shield some windows, but many offer themself to the walkers' gaze. And they're so near! The High Line could easily be Heatherwick's apartments terrace. Life seems scarce in those homes, but everything is perfectly displaced, at the point that it's pretty impossible to understand what has been staged on purpose. I see a guy feeding a baby with a nursing bottle, behind a smoked glass; for a moment our eyes meet, then he disappears in the  shadows, like the apartment swallowed him.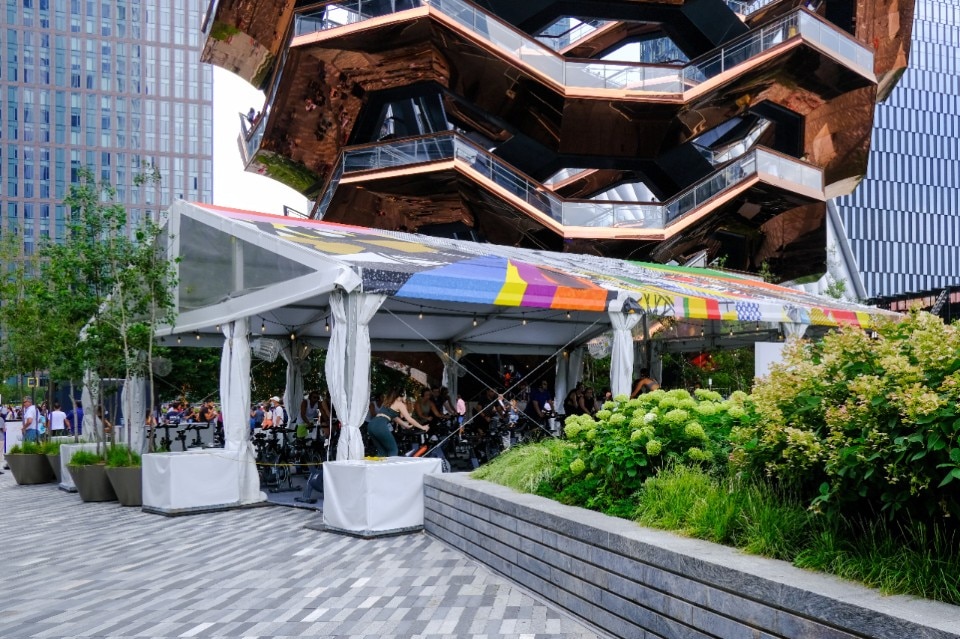 So far, no New Yorker I've met says he loves Hudson Yards. "That's a separated area, cut off from the city", is what architects, designers, friends tell me about it. To whoever is walking south to north on the High Line, Hudson Yards unveils itself as a suddenly rendered digital backdrop, framed just behind Zaha Hadid Building. Reaching it doesn't change the feeling, it still looks like a stranger city within the city. It's like someone just teleported you to a not-yet-completed ultra-luxury mall in Singapore or Shanghai.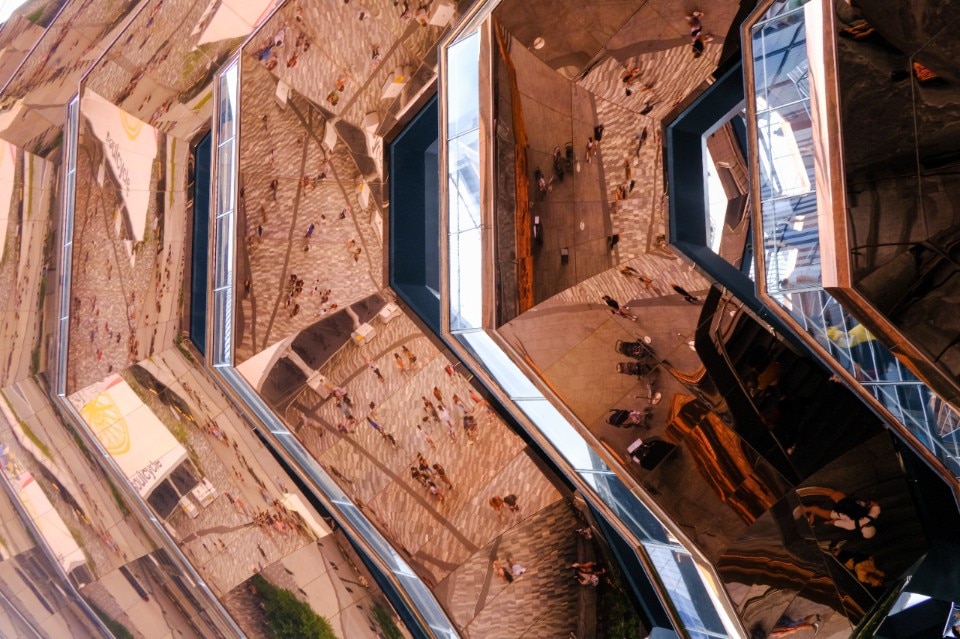 The huge structure of the Vessel soars over the plaza with the metallic looks of an alien technology that you could expect in the last installment of the Transformers cinematic saga. Just below, under a large tent marked with the SoulCycle logo, an open air spinning class is happening, sweating folks that behave like they're exercising everywhere but one of most trafficked touristic spots in town. 
Two weeks ago, a man killed himself jumping from the Vessel: it's the fourth time in a year and an half. The honeycomb structure, meant to be a gorgeous new attraction, has become New York's newest suicide pinnacle; not a novelty for Manhattan, where towers have always been a launching pad toward self-annihilation: the Singer Building, the tallest tower in the world when it was completed, had to close its observation balcony in 1939 after two suicide leaps.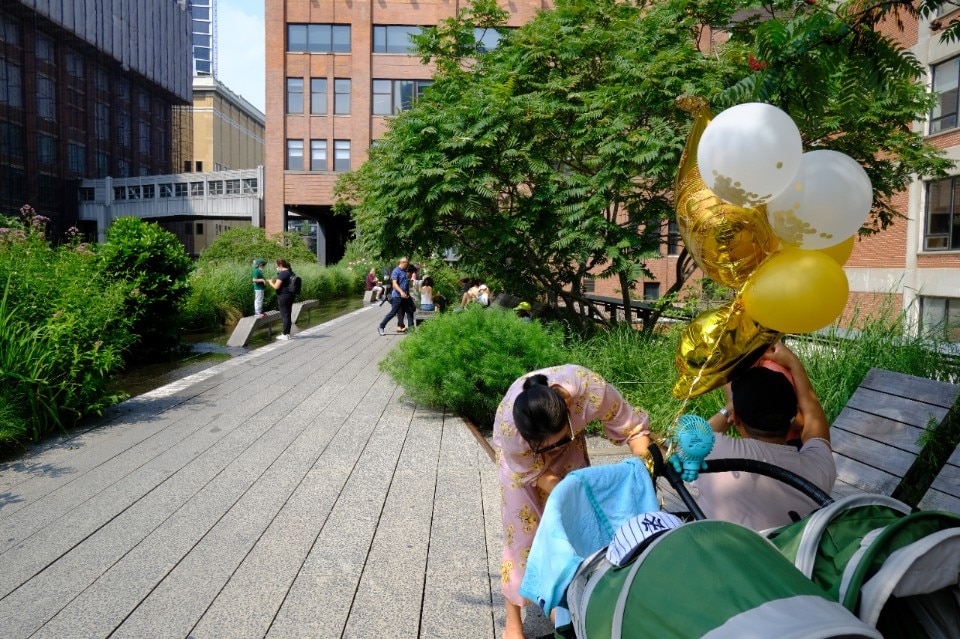 "The High Line is a very effective piece of landscape architecture, nonetheless is fundamentally compromised by its main motive, which is to gentrify the city", comments Reinhold Martin, historian of architecture and media. Under his direction, the Buell Center at Columbia, in the last decade, has focused on the housing crisis in America. According to Martin, the High Line, and its surroundings, are revolutionary architecture, "but a revolution coming from the opposite side of where progressive thinkers and artists have sought to transform the society". Following this line of thought, Martin defines the linear park as a "machine for reproducing the disconnection between architecture and society", something deeply linked to the advent of postmodernism, intended as "a conception of architecture that can't partecipate in the transformation of society". He criticizes that the premise of the whole High Line project was to do something public for a changing neighborhood, and that in the end, the real gainers were the forces that are changing Chelsea. And architects. "Somebody is making this happen and the architects are participating in this activity, profiting off of it, making money off of it, getting famous off of it", he says. "High Line is an exclusive space, it's not even Central Park", he comments, pointing out that while all the situation going on in the area is pretty obvious, the point is that we all should discuss if this is acceptable or not. 
On the High Line trains are long gone. Still, visitors, bouncing from north to south and back and then over again and again, in a potentially infinite loop, enjoy a metaphorical ride in a "new" New York that stretches between a plaza designed as an artifice and the surrogate of an island, with a complete set of amenities along the road, like a micro amphitheater hanging above the streets, protected by a large window. This linear journey comes with everything we fancy today: green areas, no traffic, a scenario designed by some of the most famous architecture masters of the last decades. It's a new way of visiting the city without being into the city, as the relative elevation of the viaduct serves both as an observatory deck and a barrier from most of the metropolis downsides (what we used to call reality). In his 1978 "retroactive manifesto", Delirious Manhattan ("a love poem to Wall Street", as Martin defines it), Rem Koolhaas theorizes that Coney Island was the laboratory for all of the Manhattan urban innovations. You could easily wonder if what's happening on the West Side of Manhattan could be a project for our future world. A circus of cities.
All photos were taken with a Fujifilm X-Pro 3, kindly loaned by Fujifilm Italy, except where otherwise indicated.