Peccioli is a small Tuscan town characterized by its medieval topography and architecture, dominating the Era Valley from the top of its hill. Here Mario Cucinella Architects, in response to a desire of the municipal administration, has overseen the redevelopment project of an important fragment of the town's historic centre, to increase the quality of public spaces and recover the historical heritage, encouraging through architecture the permanence of commercial and cultural activities in the town.
The project touches several buildings in an attempt to mend the public space of the village. The recovery of the Palace on Via Carriara, historically owned by the Medici family. Intended for residences and multipurpose spaces, the renovation work brought new architectural elements both in the roof and in the facade, such as the insertion of skylights and bow windows, to create new points of view towards the Tuscan landscape.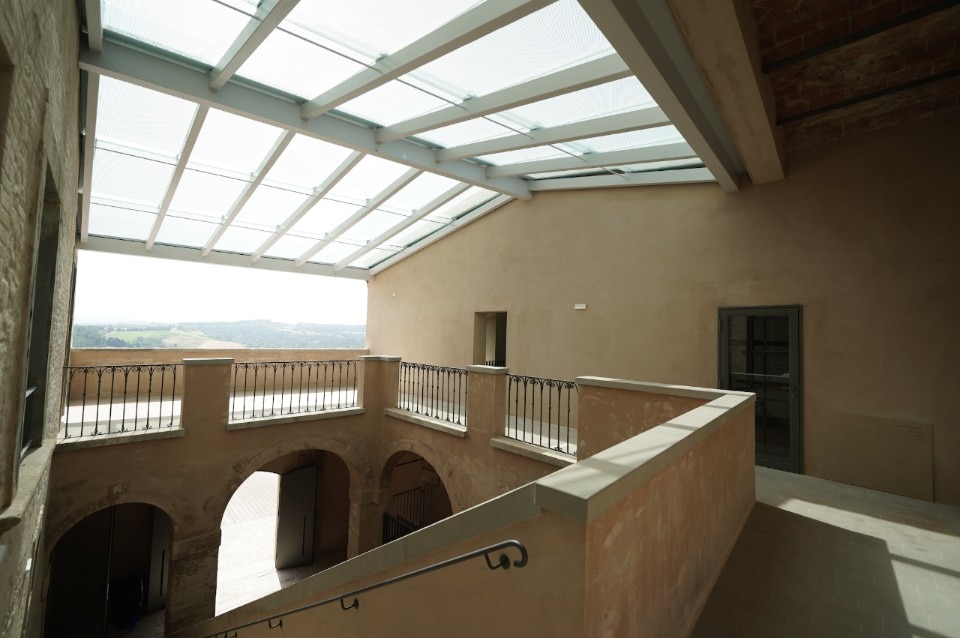 On the other hand, the second phase includes the transformation of a ruined building below, in Via dei Bastioni, recreating a direct connection with the Palace and characterizing it as a new sculptural volume for public activities. In an attempt to respect the visual permeability of the existing spaces, this architecture presents a new polygonal roof, with an overhang of about 20 meters towards the Tuscan valley. In dialogue with the pre-existing public accesses, the terrace becomes a new public square, embellished by the mural by Daniel Buren, French painter and sculptor.
Project:

Nuovo Palazzo Senza Tempo

Architecture studio:

Mario Cucinella Architects

Design team:

Mario Cucinella, Marco Dell'Agli, Tommaso Bettini, Emanuele Dionigi, Biagio Amodio, Stefano Bastia, Paolo Greco, Alberto Menozzi, Marta Torsello, Augusta Zanzillo

Structural design:

Ing. Augusto Bottai

Plant design:

Ing. Luca Sani

Director of works:

Geom. Andrea Falchi

Construction company:

Cemes SpA, Bottai Group

Client:

Belvedere Spa

Location:

Peccioli, Tuscany, Italy

Total area:

2,500 sqm

Completion:

2021