Unorthodox, daring and prolific. One can refer to Mr Ambasz in many ways, most of which implies an innovative and forward-looking understanding of architecture and design.
Today, architect and designer Emilio Ambasz (Argentinean but cosmopolitan, born 1943) still carries the spirit of an enfant terrible: rather than building theories he likes to write fables; rather than defining himself as a thinker he prefers to describe himself as an image-maker.
This being said, this year has been a year of recognition for Ambasz. It all started this spring when he was given the award to his career at the XXVI edition of the Compasso d'oro ADI. This year also marked the 20th anniversary of the Fukuoka Prefectural International Hall (1990).
And, as curious as it may be, the MoMA – where he held the role of design curator from 1969 to 1976, also producing the legendary exhibition "Italy: the new domestic landscape" – has recently announced the establishment of the Emilio Ambasz Institute for the Joint Study of the Built and the Natural Environment.
Should we need any further reasons to interview Mr Ambasz?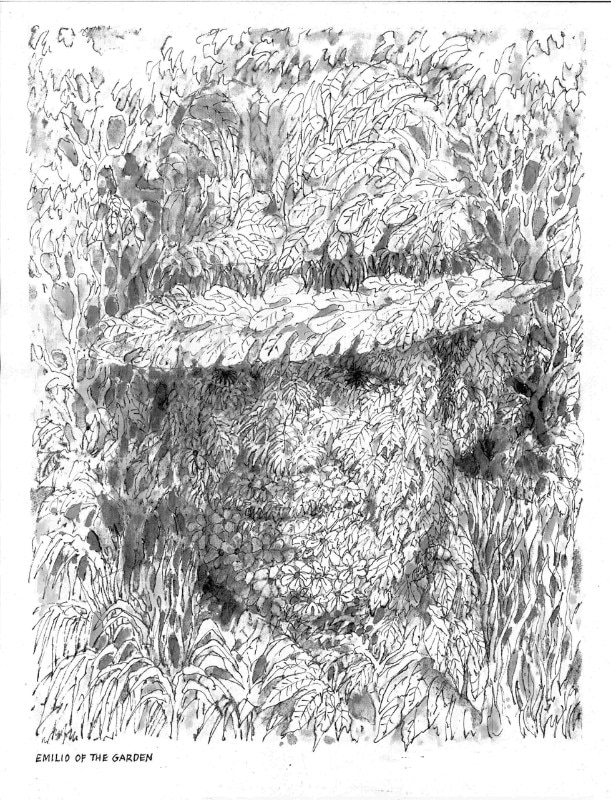 What is the legacy of the Prefectural International Hall in Fukuoka when it comes to "green over grey"?
Fukuoka demonstrates that we can have the "green and the grey" ­– one on top of the other – and at the same time one can give back to the community 100% of the ground that the building's footprint covers in the form of gardens accessible from the ground floor to everyone. This building is, for me, solid evidence that the prevailing notion: "the cities are for the buildings, and the outskirts are for the parks" is a mistaken and narrow-minded idea. The Fukuoka building demonstrates, once and for all, that one can have a building and the garden, 100% of the building, and 100% of the greenery the building's users and its neighbours long for.
Which are the examples that best represent the practice of green architecture today, and why?
May I re-phrase your question as "what is the relation between an emerging green-sensitive culture, plant-covered buildings, and all the new – some very valid, but many quite superficial – technologies claiming to produce 'green architecture'?"
Let's start from the beginning. The so-called Green Movement, in its many guises, of which sustainability is a very honourable one, is a big umbrella where, at present, I wouldn't dare to cast too much light because the shadows are still looking for their bodies. It is a state of awareness; it doesn't yet constitute a conceptual reality because it lacks a precise system of philosophical discourse and a theoretical structure that will allow it to transmit a body of knowledge, and to re-evaluate it constantly. It is an attitude, so far, it is not yet a principle.
Green is, at present, a state of mind that may yet create its own cultural reality. To that end, technologies are being developed, but they have not yet created a reliable body of methods. I do not doubt that in time it will happen. The key point is not to confuse technological pyrotechnics with architecture. To make a green building, you need technology, and to create architecture, you need art.
Building inevitably changes Nature as found and turns it into a human-made nature. The goal should be to reduce and, if possible, to compensate for our intrusion in the Vegetal Kingdom. Building an individual energy-economical house is not always the best way to save or produce energy. Social investment in a communal method for producing solar, sea or wind energy may prove to be far more productive and efficient.
Is there a context (or specific buildings) where green is misused in architecture?
Plants are vital and innocent by themselves. The misuse of green comes about when it is used as maquillage to enhance mediocre buildings and foster the claim of architects that they have produced a green-ecological building.
I believe the recent pandemic has triggered a renewed need for nature. What do you think will be the consequences for architecture and the cities we live in?
We must create alternative images proposing a better life to guide our actions in the future if we do not wish to perpetuate the present. I believe that any architectural project not attempting to propose new, or better, modes of existence are unethical. This task may stagger the imagination and paralyze hope, but we cannot subtract ourselves from its pursuit.
You once stated that ornament is a traditional architectural element that was lost during with the Modern movement and that you retrieved it in your work by using nature as 'performative' ornament. How much can a designer control the behaviour of a living element?
The greatest friends of plants are gardeners: know that plants, like children, have a temperament and their very own mode of existence. They may trim them and sometimes twist them, but they would never dare to force a plant to behave against its inherent-programmed processes. Only certain professionals would use plants to mimic architectural elements like when palm trees are used to simulate columns and, by so doing, fail in their expected task to cast shade because, well, because they are just palm trees, with scarce green elements to cast shade sprouting so far above the ground that they rarely manage to cool it.
Since in our attempt to domesticate Nature we have created a second artificial Nature, intrinsically linked to the one we have found, I believe that we need to re-define architecture as one aspect of our human-made nature. Still, to do so, we need first to re-define the contemporary meaning of Nature.
How does nature integrate with architecture in your approach?
An architecture in dynamic consonance with a human-made Nature – specifying the methodology of my inventive practice – involves specialised tasks. The first, empirical, is to construct a cartography of elements of the vegetable and mineral kingdoms, and also, why not, animal kingdoms, as well as the production techniques that populate the human-made garden. The second, normative, to develop a programme of individual needs and desires in the context of a broad programme of social needs, to guide the empirical use of plant cartography. The third, synthetic, to give Forms to new structures, architectural and vegetable, which will allow man to reconcile with his fears and desires with the limits imposed by the empirical realm and the pressures of the normative field. The architect's operative field can be changed, but the transcendent task remains the same, giving the pragmatist a poetic form.
How do you feel about winning this ADI award for your career?
My existential wager is on poetry, and a commitment to justice is, for me, one of the necessary, but not sufficient conditions to achieve such a high plateau.
Justice, whether social or moral, is a conceit of the mind. Justice does not exist in Nature, but despite this cruel fact, I feel very strongly that it is our ethical imperative to pursue its implementation on earth. Even if we know it to be a delicate structure held together by such ethereal material as abnegation and altruism, but destined to collapse at night, we must every new morning re-build it.
Allow me to stand for a second outside the realm of decorous false modesty to answer honestly your question number 7: I do rejoice in those rare instances when justice is done.

What have you learned from plants during your career?
Plants, are for me like women, a fascinating different species. It is from loving them that I have learned a great deal even if I cannot always claim I understand them. As for men, they resemble me, and since I claim to know myself all too well, rarely do they elate me. I would rather stick to women and plants, they may sometimes disappoint, but they never bore me.
What is the fundamental message you wish to pass on to young professionals today?
Allow me to state it again: we must create alternative images proposing a better life to guide our actions in the future if we do not wish to perpetuate the present. I believe that any architectural project not attempting to propose new, or better, modes of existence are unethical. This task may stagger the imagination and paralyse hope, but we cannot subtract ourselves from its pursuit.