The structure, which can be called 'veranda' even though is closed on each side by highly insulating glass windows, has been designed by architect Francesco Fumagalli from Linee Minime Studio.

The 'veranda' relies on two columns, an interior one and an exterior one, which support the roof made of triangular oak slats interspersed with expanded cork. A solution that allows for optimal thermal insulation. Slats are not a mere aesthetic element but also a functional one: they assure the discharge of rainwater without the need for a visible pipe.  

"The structure has a very contemporary look. It's something quite unique in a city like Rome mostly known for its ancient architecture", says Francesco Fumagalli. "Thanks to the parametric modeling, the front side of the veranda presents an asymmetric angle of 1:2. It's a detail that enhances the curves of the structure that would otherwise look too static."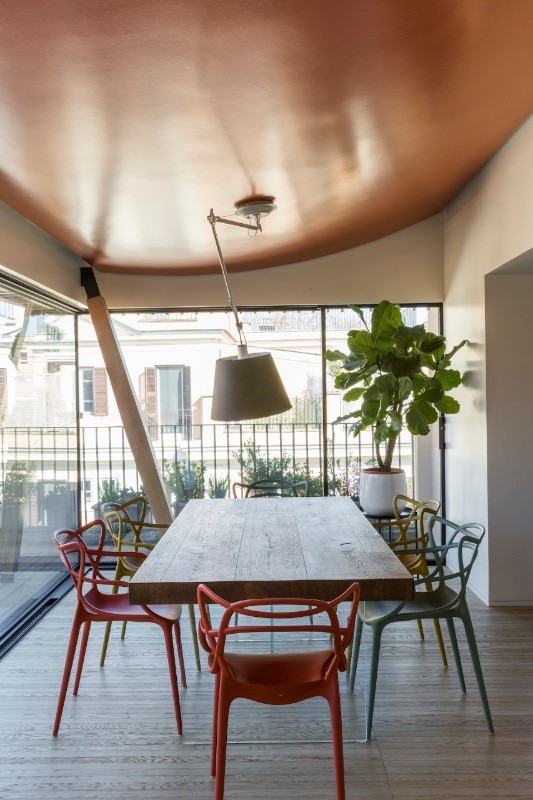 A special mention goes to the choice of materials which sees a preference for natural ones, primarily oak wood and cork. The internal layer of the horizontal structure is made of Okoumè marine plywood — water repellent and weatherproof — while the curved lead roof reminds the lead profile of the arch in the building's facade. Everything in this trestle dining room is custom-made to ensure a durable and comfortable structure.

Overall, the trestle structure is a clever project that has managed to combine function and form while fitting in the surrounding landscape in a contemporary yet consistent way.
Project:

Trestle veranda

Architect:

Francesco Fumagalli, Linee Minime Studio

Location:

Rome, Italy

Completion:

2020