Neutelings Riedijk has completed the first phase of Lorentz, a 36,000 sqm mixed-use complex overlooking Stationsplein. The building is a substantial part of the redevelopment of the area. For this reason, the developers, the construction company, and the Leiden municipality, collaborated in its realization.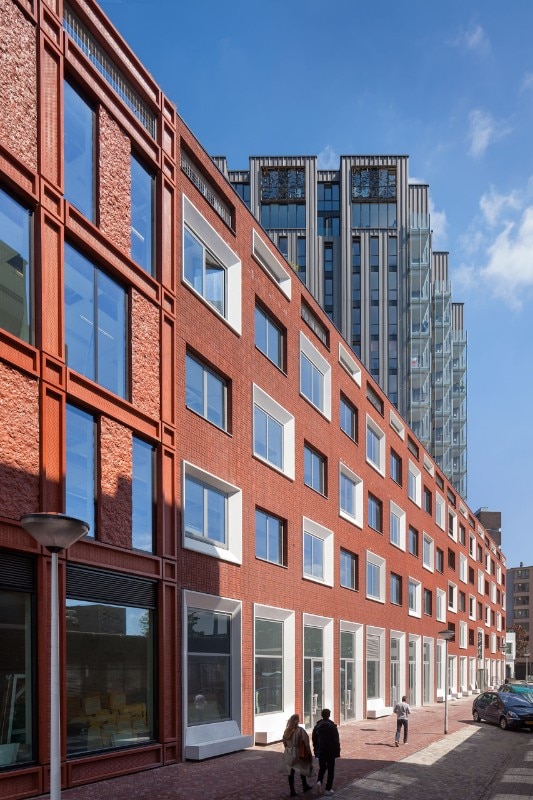 The first phase of the urban block consists of a plinth, the commercial core, and two residential towers. The total number of residential units is 167, of which 84 are in the towers, 36 maisonettes, 31 studios, and 16 apartments in the basement, which will also contain the Heineken headquarters and a brewpub. A third tower, this time for offices, is planned for the second phase of the project.

The monumental character of Neutelings Riedijk's work is less evident in this project - created by a private client - than in public projects such as the Museum aan de Stroom in Antwerp or the recently completed Naturalis Biodiversity Center in Leiden.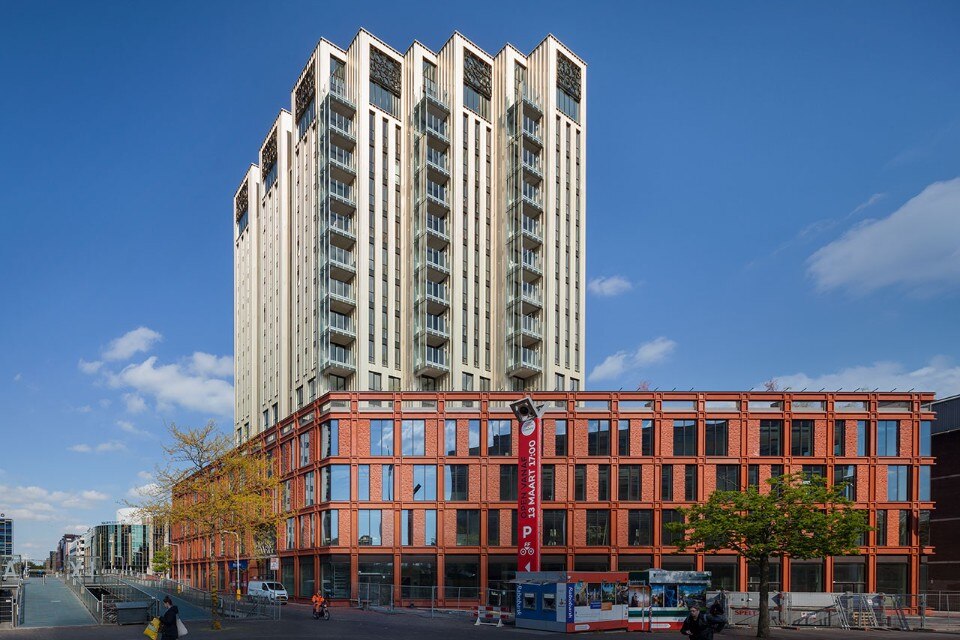 However, the studio does not renounce to give different sculptural and expressive effects for three main situations. The front of the plinth towards the station is an assembly of red cement blocks. The smaller elevation, facing the residential street, is a composition of bricks and openings with a white cement frame with a quieter expressiveness; finally, the two towers are aluminum-clad, where "the highest tower is champagne colored, and the lowest is bronze."
Project:

Lorentz Leiden, Phase 1

Location:

Leiden, Netherlands

Typology:

Mixed-use building

Architect:

Neutelings Riedijk Architects

Design team:

Willem Jan Neutelings, Michiel Riedijk, Frank Venhorst, Hilbrand Wanders, Kenny Tang, Julia Söffing Lutz Mürau, Mátyás Bitay, Luuk Stoltenberg, Saba Zahedi Asl, Jonathan de Veen

Architectural engineering:

ABT BV ingenieursbureau

Construction design:

Van Rossum Raadgevende Ingenieurs

Building physics:

DGMR Raadgevende Ingenieurs

Installations design:

DWA

Building management:

Lendering & Partners

Contractor:

Bouwcombinatie Lorentz VOF/ Van Wijnen West bv, Hurks Bouw en Vastgoedontwikkeling

Developer:

Syntrus Achmea Real Estate & Finance, Van Wijnen Projectontwikkeling West bv

Client:

Syntrus Achmea Real Estate & Finance

Area:

36.000 sqm

Completion:

2020