Born from the collaboration between Eisenman Architects, Degli Esposti Architetti and AZstudio, the Residenze Carlo Erba housing building is embedded in Milan's urban fabric, from which it stands out for its contemporary language, without however rejecting the canons of modern Milanese tradition.
The apartment building occupies a triangular lot that is not easy to manage. "It is a construction replacement of an already existing block, which we have rearranged in a residential plan. The site required special choices, because working on the edges we would have obtained a narrow, dark inner courtyard. With this layout the larger open space embraces a public garden, the Giardini Ramelli, which is on the other side of the street," says architect Lorenzo Degli Esposti.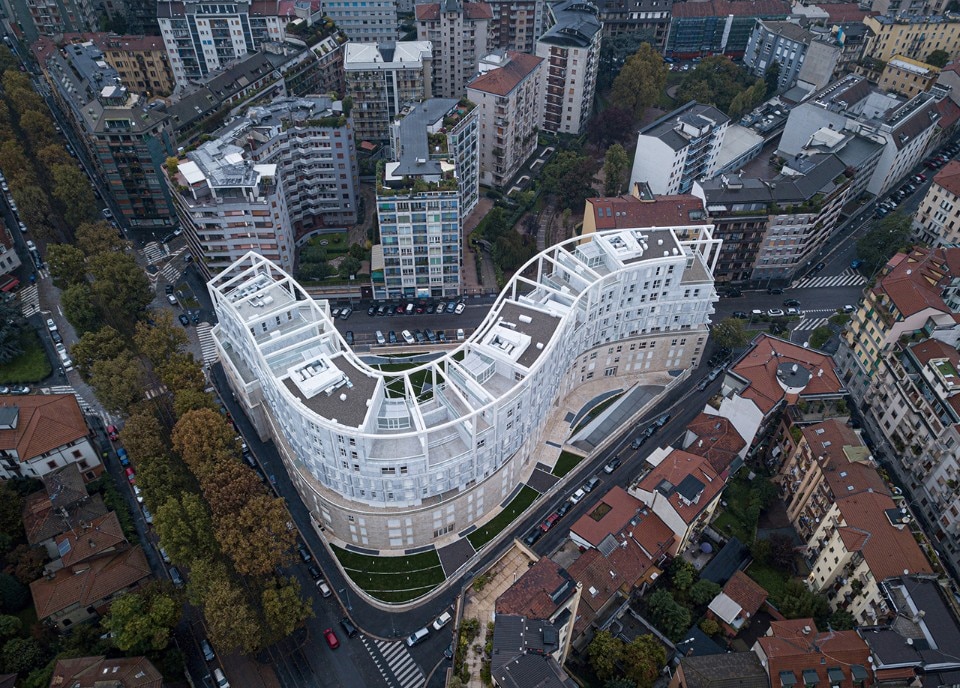 Featuring sinuous shapes, the design is composed of the layering of four different horizontal bands lightly staggered between them. "The building consists of a three floor base, a piano nobile which is set back on both sides and then five other upper floors slightly offset from the shape below. The stairs and the structure are continuous but there is a minimal shift of the shape above the base. Thanks to a simple operation the building is not perceived as an extrusion and its section is always variable," says Degli Esposti.
This arrangement is accentuated by the use of materials: "The base is made of travertine, which is porous, the top floors are covered with Carrara marble, which is certainly more polished, while between the two stones on the fourth floor we chose a metal cladding, which could somehow shine," explains the Milanese architect. The top level, from the seventh to the ninth floor, is characterized by a stepped profile, and accommodates 'urban villas' with large private terraces. The fragmented volume is held together by a frame, which has no structural function but serves to define the planivolumetric articulation.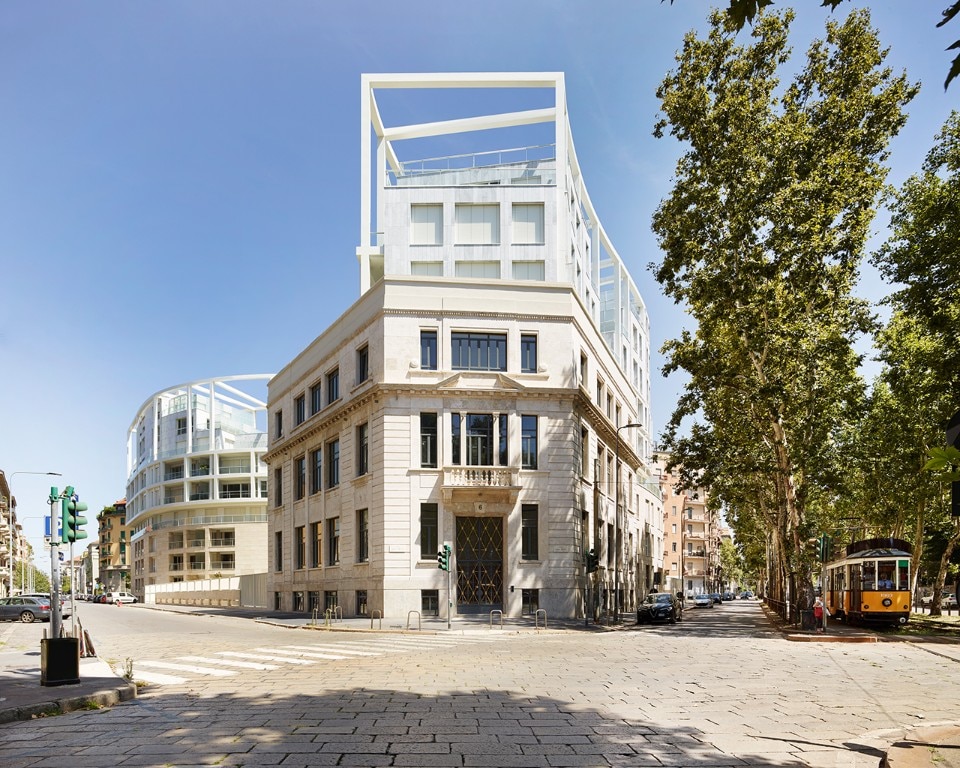 Project:

Residenze Carlo Erba

Location:

Milan

Program:

housing building

Architects:

Eisenman Architects, Degli Esposti Architetti, AZstudio

Structural engineering:

Studio d'Ingegneria Associato Ardolino

Installations:

Sistema Group Engineering (preliminary stage), A.T. Advanced Tecnologies, Studio MGM (construction stage)

Contractor:

CLE Cooperativa Lavoratori Edili, Italiana Costruzioni

Area:

14,000 sqm

Completion:

2019