Located on Washington Platz adjacent to the Main Railway Station and overlooking the Federal Government complex across River Spree, this project aims to become a landmark of the new 'Europa City' district. A key aspect of the project was to reconcile architecture and public realm in order to conceive a new square in a prominent site in Berlin. This space is not defined in terms of boundaries but as being articulated by a center in the most primitive sense, a kind of monolith with a strong formal and tectonic autonomy bringing order and a sense of place to the environs.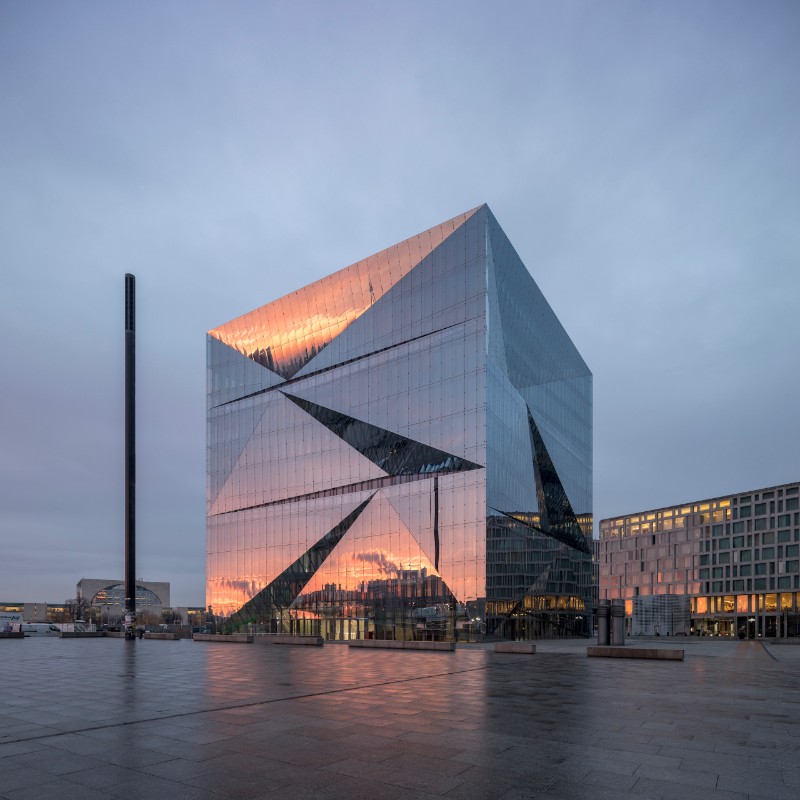 No single of the four facades of the building predominates, when you emerge from the Main Railway station an oblique approach has an effect of guiding the observer further in a space that is based on dynamic perception and from which you can contemplate one of the most recognizable skylines in Europe, including the Reichstag dome, Potsdamerplatz or the Fernsehturm on the horizon.
A sense of depth is also generated via the fragmented reflection of the environments on the facades. The sculptural effect is amplified by the fact that the glass facades have been fractured into triangular planes. The familiarity and simplicity of a perfect cube-shaped form has been altered by these highly impactful geometric manipulations. A painstaking design that holds a strong identity when observed as a whole as well as close up and in detail.
Project:

Cube Berlin

Location:

Berlin, Germany

Architects:

3xn architects

Architect Souterrain:

Maedebach & Redeleit Architekten

Structural Engineers:

Remmel + Sattler Ingenieurgesellschaft

Facade Engineering:

DS-Plan

Facade Maintenance Consultant:

TAW Weisse

Digitalisation:

CA Immo, Thing-it and Drees & Sommer

Fire Engineering:

hhpberlin

Mechanical & Electrical Engineers:

DS-Plan

Completion:

2020