For Ansião's Gloma House, in the vicinities of Leirie, Bruno Dias's firm implements and fine tunes a few solutions already applied to two other single-family residences that they realized in the same village (completed in 2016 and 2017).
For instance, the threshold between inside and outside transforms from a line into a surface. The outer walls, which are solid exposed concrete partitions, enclosed the house's rooms both physically and climatically. The slabs, though, both the podium and the roof, protrude well beyond these boundaries. The domestic programs are aligned along an axis and rigorously follow an orthogonal grid. On the other hand, their ground and sky are meandering surfaces reaching out to the open air space.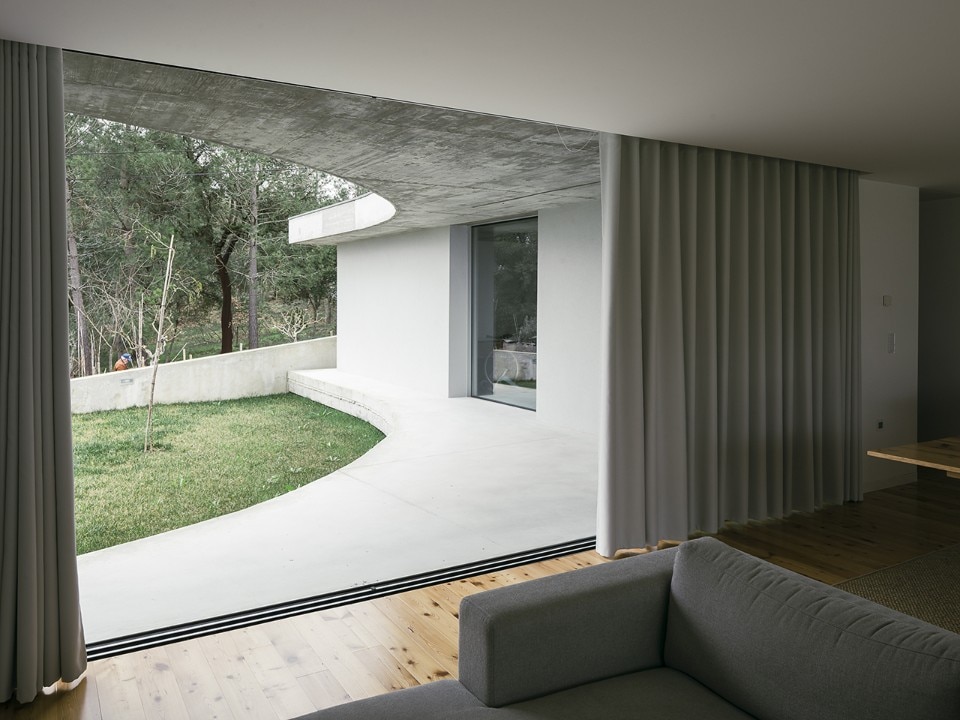 This "blurring" between the interiors and the courtyard functions at its best for the living room area, bordered by two large, full-height glass walls. The two concrete velarium's spacious coves are shaded porches which multiply its surface. More generally speaking, all the rooms are provided with a direct connection to this hybrid filter space.
The selection of materials and finishing proves to be particularly convincing when it stresses the disconnection between vertical and horizontal plans. This is the case for the long corridor, connecting all the rooms, where the white plaster walls and in-built furniture contrast with the uneven textures and the bold colors of the parquet and of the concrete ceiling.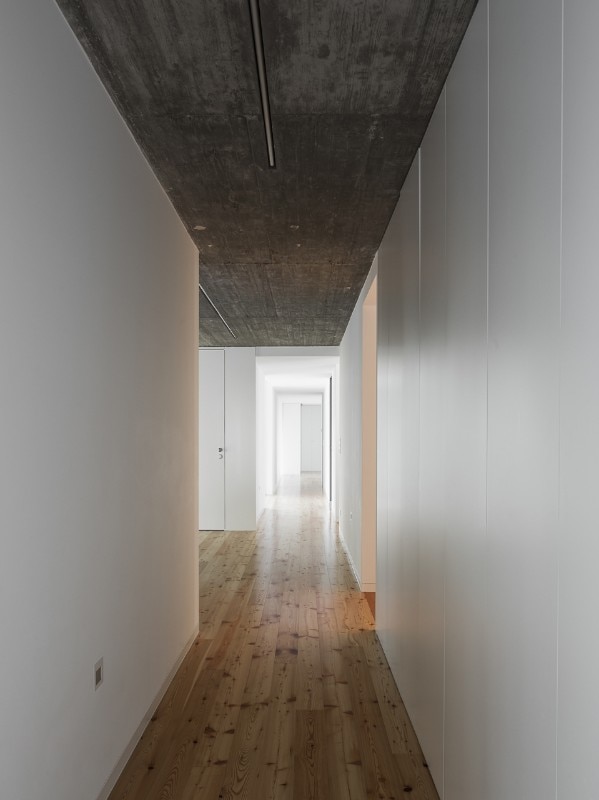 Project:

private house

Location:

Ansião, Portugal

Architects:

Bruno Dias Arquitectura

Design team:

Bruno Lucas Dias, Kevin Lopes, Catarina Serra

Contractor:

Construções Nascente do Nabão / Pregozêzere

Area:

420 sqm

Completion:

2019