A sculptural roof reinterprets the shapes of the mountains and with different heights defines the spaces below, creating an ever-changing transition between inside and outside with three large skylights.
Designed by XAA – Janson Xian Architect+Associates, the Dongpo Academy is an architecture in dialogue with Meishan's landscape. The city in Sichuan Province, China, is known for being the birthplace of Su Shi (1037-1101), one of the most important figures of the Song Dynasty, who was considered as a literary god descended to earth. The building is therefore dedicated to the writer and is designed as a meeting place for all lovers of culture, local and otherwise.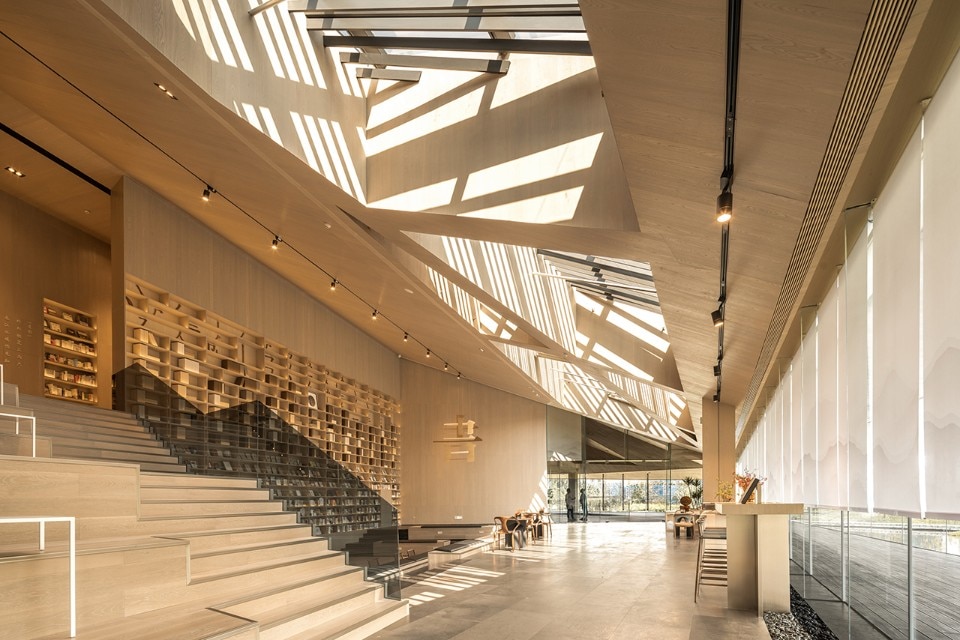 The architecture dialogues with the suburban landscape, which is a hybrid between nature and artifice, resting gracefully on the shore of a lake. The perimeter facades are completely glazed, making the roof appear to be rising, and completely opening up the interior spaces towards the garden and the lake. To the glass of the facades and the metal of the structure, the Chinese architects add wood to cover the interior spaces and generate bright and comfortable environments.
"According to the philosopher Zhu Guangqian, beauty exists not only in the object or the observer, but in relationships. The essence of this architecture is to establish a link between nature, culture and the everyday life of the local people," says the studio.
Project:

Dongpo Academy

Architect:

XAA – Janson Xian Architect+Associates

Location:

Meishan

Lead architect:

Tao Zhan

Design team:

Wang Tian Mengyu Wang, Chao Wu, Zhi Li, Shuo Lin, Xiteng Lin, Niangxin Huang, Xiaowei Huang

Area:

12.000 mq

Completion:

2019