The House of Many Vaults: this is the undeniably evocative definition that LE.F.T. Architects' co-principals Makram el Kadi and Ziad Jamaleddine give to the house that they recently completed nearby Niha, in Lebanon.
A few elements in the building's vicinity suggest its main orientations: the Shouf Mountains' slopes, where it stands, descend towards the West to reach the Mediterranean sea; on the other hand, the village just above the house hosts the shrine of prophet Job, one of the main pilgrimage destinations in the country. The architecture aims at simultaneously swinging open to the coast and at kneeling in front of the holy site.
In order to achieve this result, LE.F.T. Architects experiment with an exuberant reinterpretation of local construction habits. In their words: "the historic house volume is here redefined, from a normative pitched roof sitting on a box with cross vaults below, collapsing into a new geometry, where the roof of the house becomes both pitched from above, vaulted from below and twisted from the sides to form the rectangular base".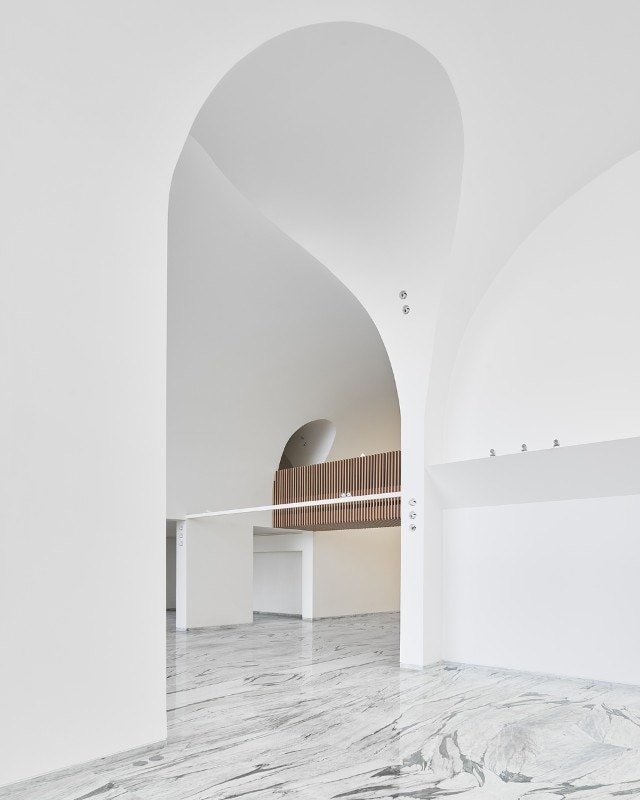 Regardless of the observation point, both from the outside and from the inside, the House of Many Vaults is a mesmerizing, elusive object, as the stereometry of its spaces is subtly, and yet systematically, challenged. But it's not just the deformation of its volumes that makes it frankly "disturbing". The four large living rooms are off-scale, "out of proportion" because apparently boundless both in plan and in section. Black and white marbles clothe every single corner of the floor, as an endless pour of precious stone. Pendant lamps are shaped as canon de lumière, complying with the general inclination to gigantism.
An over-the-top interpretation of a specific design theme, the luxury residence, the House of the Many Vaults might be dismissed as an obscene show-off performance against misery, even more so in light of Lebanon's decade-long humanitarian crisis. Yet, with a dash of optimism, reasonable doubt can be cast on this statement: is it possible that in this specific case architecture hasn't merely responded to the client's need, but rather has decided to take a stance, and to construct its ironical, exaggerated caricature?
Project:

House of Many Vaults

Program:

private house

Location:

Niha, Lebanon

Architects:

L.E.FT Architects

Principal architects:

Makram el Kadi, Ziad Jamaleddine

Design team:

Daniel Colvard (Project Architect), Fumio Hirakawa, Karie Titus, Khalil Melki

Landscape architects:

Vladimir Djurovic Landscape Architecture

Completion:

2019