An apartment for short term rentals is supposed to contain a couple of hand-luggage at most and then return to its original state, erasing all signs of everyday life to appear again as in the ad photos. The advent of domestic "sharing" platforms such as Airbnb not only changes our travel habits but also the way we conceive of the domestic project, which increasingly hybridises housing and hospitality.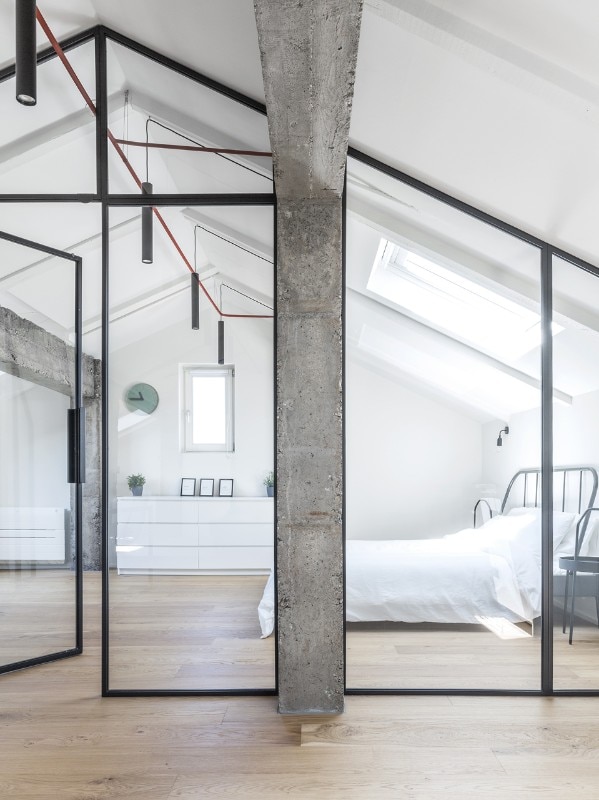 The apartment that Blaarchitettura has completed in the centre of Turin is based on these assumptions. The architects removed an attic from each division, embellishment or useless furnishings, making the raw concrete structure the main element that distributes the living spaces. Metal beams are attached to these to allow a better use of the space, slightly increasing the available height. Another element discovered and becoming part of the composition of the project are the heating pipes, also these as the beams painted red.
Velux and skylights make a space that is divided only by a large glass wall bright. Distinctions between the living and sleeping areas are not necessary for what is conceived as a starting point for tourists: a hotel suite rather than an apartment. The only separate space is the bathroom, which together with the service rooms is contained in a green volume.

Project:

apartment renovation in Turin

Architect:

Blaarchitettura – Alberto Lessan, Jacopo Bracco

Team:

Thomas Pepino, Mattia Venir, Davide Minervini, Emilia Sanna

Contractor:

Ferreri Costruzioni

Area:

75 sqm

Completion:

2019