In the Mission District, a San Francisco neighborhood known for its history and diversity, California-based studio Ryan Leidner Architecture is called upon to design a home for a young family.
The designers choose to keep the old late 19th century sloping building that lay in a state of abandon on the project lot and renovate it as an integral part of the house.
Designed to celebrate the owners' love for gardening and spending time outdoors, the garden is conceived as the heart of the house and as an extension of the ground floor of the two buildings. Large sliding patio doors and linear concrete floor that dissolves into the garden vegetation connect  the interior to the exterior.
The new building is a compact white cube designed to accommodate the private life of the young family, with a garage and a large kitchen/living room on the ground floor and the sleeping area on the upper floor.
Drawing on contextual cues, the facade echoes the traditional, horizontal siding seen on the front house and throughout the neighborhood, while offering a playful interpretation of scale and materiality.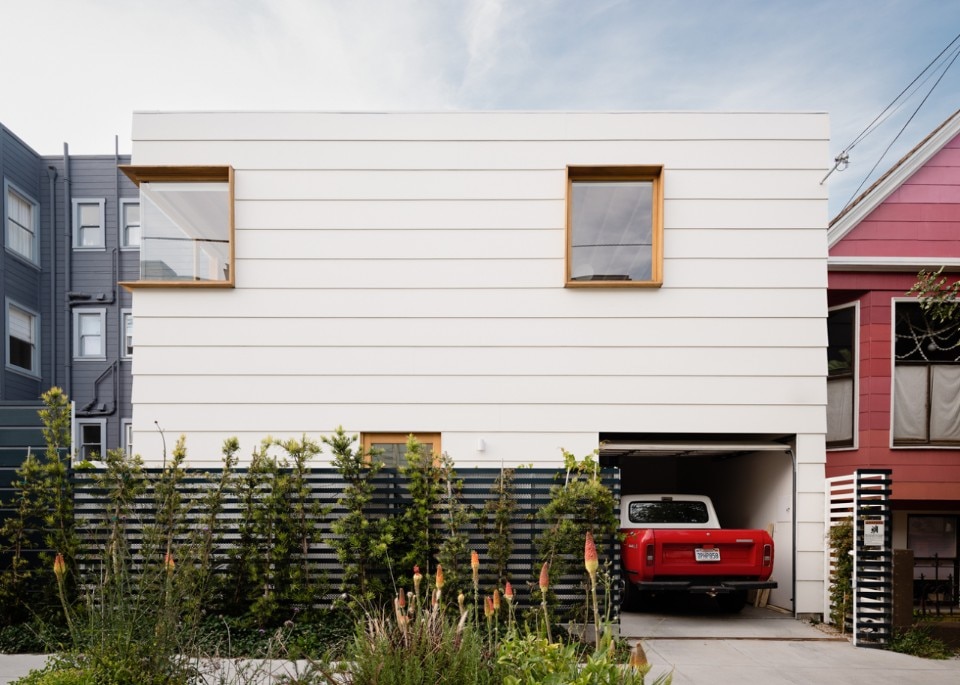 Across the courtyard, the renovated building, designed to accommodate the social life of the family, consists of a large living area, a bathroom with sauna and an outdoor bathtub.
Maintaining the outer shell and the internal wooden structure, the original identityof the building is preserved, while the doors and windows and the internal finishes are replaced to create greater consistency with the new building.
One of the project's requirements was to provide the neighbourhood with a public green area along the development of the property. This is how the garden of the house leaves the fence and occupies and colours the pavement on the street.
Project:

Harrison St. House

Program:

Houses - New Construction / Renovation

Location:

Mission District, San Francisco

Architects:

Ryan Leidner Architecture

Completion:

2018