This is the sixth outpost of SecondHome, a co-working space aimed at creative companies, freelancers and entrepreneurs, set up by Rohan Silva and Sam Aldenton. But the London Fields branch marks a departure from its previous spaces in Spitalfields, Holland Park and Clerkenwell, Lisbon and Hollywood, which were all overseen by architects SelgasCano. This time, a building on the edge of the east London park has been repurposed by Lasso Cano, which has implemented a program of Matta-Clark style cut outs in the floor plates and facade, and covered its front in a tensioned ETFE membrane with porthole cutouts.
Tripod-like structures push the hole-punched transparent skin away from the brick facade in a design that draws on Frei Otto's experimental tensile structures based on soap bubbles. The circular theme carries on throughout – desks that lift to the ceiling to make way for events, vertiginous cut-outs in the floors and windows between offices that nods to the company ethos of cross-collaboration. Abundant pot plants, shared desks, nook seating and small quiet booths typical of SecondHome workspaces are set below a ceiling of suspended cork baffles that make for a comfortable, and fragranced, working environment.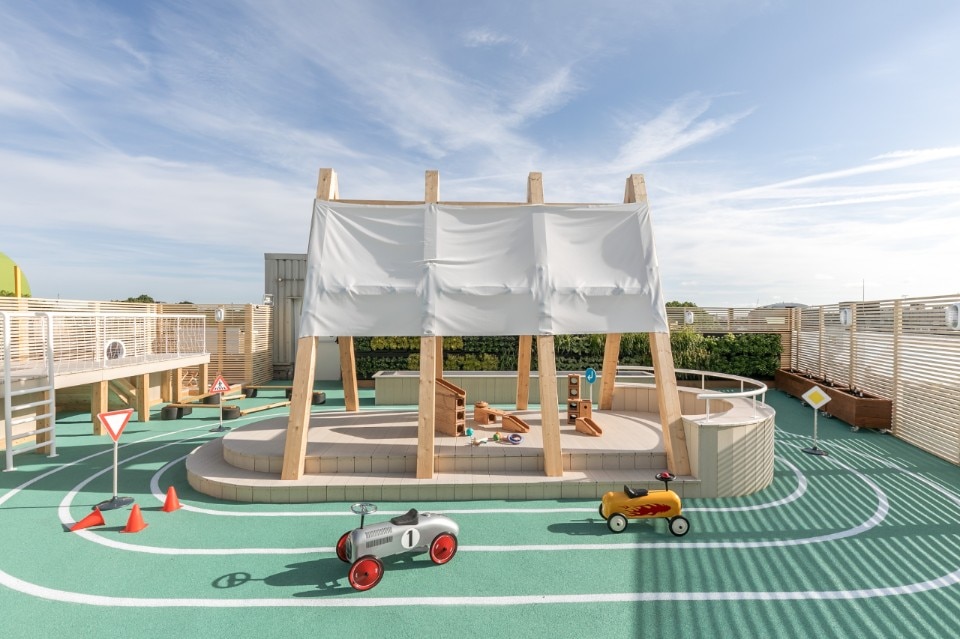 While big tech companies have long been luring staff with play facilities for children, and in some cases adults, here a rooftop slide is reserved for the nursery, which SecondHome brought N Family Club on board to run. It's the first of the "co" generation of work and live spaces in London offering the service, and an acknowledgement that a shift needs to happen. Though at a price of £80-90 a day per child, it's a luxury for the few.
"One of the big impediments in the way of entrepreneurship and creativity in London for lots of people, particularly women, is access to childcare," Rohan Silva. "The stats on this are really terrifying – maternal unemployment is 10% higher in London than the rest of the country because access to childcare is so terrible."
"We not pretending we can solve that but we're showing how the built environment might better support working parents."
Project:

SecondHome London Fields

Architect:

Lasso Cano

Completion:

2019