Mr Barrett is the protagonist of Joseph Losey's film The Servant, written by Harold Pinter and based on a novel by Robin Maugham.
The house where the story takes place plays a fundamental role in the construction of the drama, becoming the stage for the complex and intimate relationships of the protagonists. It is made up of mirrors, stairs and multiple points of view.
Since the renovation project of the chalet led by Daniel Zamarbide/BUREAU in Geneva was not designed for a specific user, a fictitious character was appointed to inhabit the house: Mr. Barrett.
In this case there is no drama, simply the will to transform the space of the house into a dynamic scenario for the "real life film" of its future inhabitants.
An old house divided into a basement garage and an upper wooden chalet, typical of the vernacular architecture of the area, has been completely emptied and redesigned from the inside. 

The upper part of the house has been raised, moved and, once redecorated, repositioned above the renovated base, now marked by large tilting portholes. Two layers, one on top of the other, built at different times, speaking different architectural languages, testify to the history of the house and define the external image.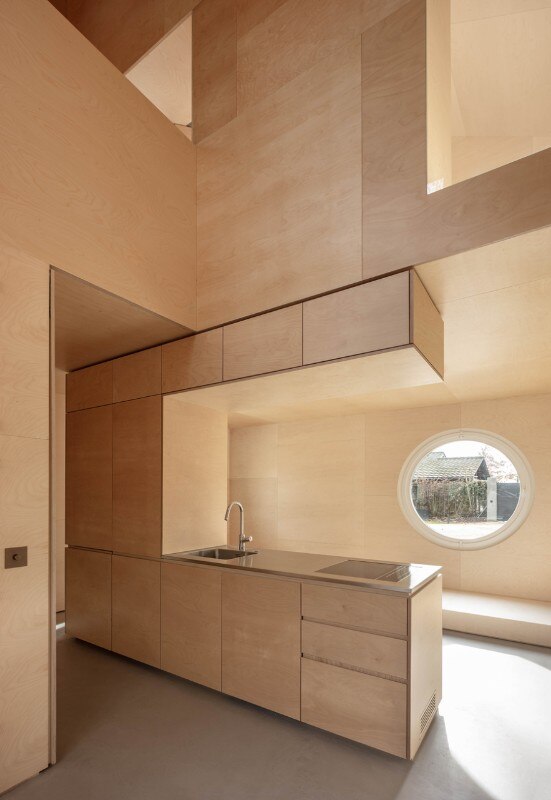 A bipartition of the external casing is contrasted by a material uniformity of the interior; the house is literally "injected" with wood
through a continuous coating of modular panels. They are differently laid and cut and recreate an extremely rich design in its monotony.

In section the small volume of the house, acquires dynamism through a complex organization of the living space, made up of double heights, interweaving of visual axes and spatial interpenetration.
All this improves the perceptual experience of its future inhabitants.
Project:

Mr Barrett's House

Program:

Chalet refurbishment

Location:

Geneva, Switzerland

Architects:

Daniel Zamarbide | BUREAU

Design team:

Carine Pimenta, Francisco Castelo, Branco Joao Paixao, Vanessa Pointet, Robinson Mangematin

Area:

70 mq

Completion:

2019