The Po Valley area in northern Italy combines rural, industrial and residential areas on a large scale. With the book Atlante dei Classici Padani (Atlas of the Po Valley Classics), artist Filippo Minelli recounts the aesthetics, the architecture and the human behaviour linked to this continuous landscape, which is made of a constellation of municipalities together forming a large megalopolis that goes from Turin to Venice.

Industrial sheds are the most widespread construction typology in this macro-region, which in a few decades has seen the birth of a million and a half small and medium-sized private companies. After a great impulse that optimistically changed the traits and personality of the Po Valley landscape, the current phase of degrowth is leading to the closure of many initiatives and the abandonment of many structures. The reuse of the recent neglected industrial heritage is therefore becoming one of the most important issues for northern Italy – and not only.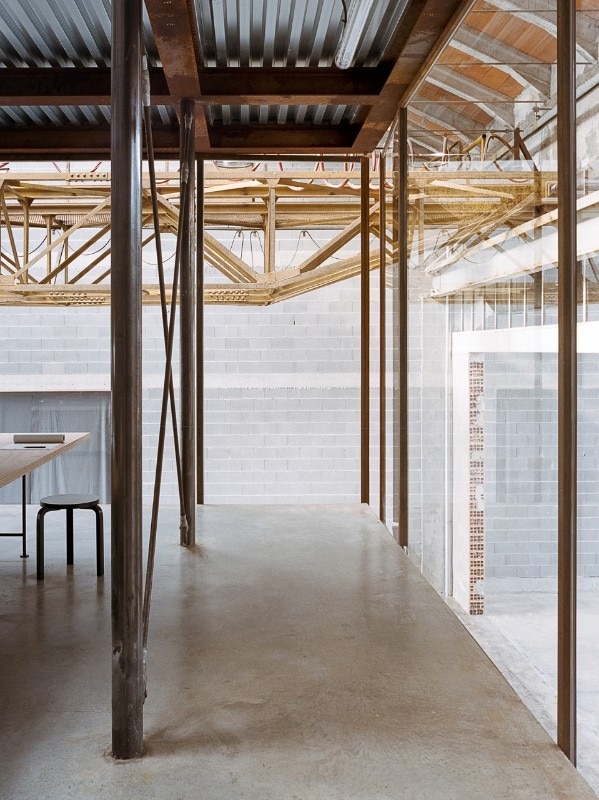 The design completed by AMAA studio in Arzignano, Veneto, is an excellent example of the potential that this banal environment can offer. This is also thanks to the good relationship between the client and the architects, who have been given great freedom to continue their personal research.
Inside a shed with a vaulted roof, the studio places a steel structure on which the concrete and corrugated sheet metal floors rest. The materials are in the raw state: metal is left to oxidise without painting and cement is not finished, as are the parts of the existing building that have been demolished. Plants, pipes, cables and structures are left exposed, in line with the language of the rustic and bare intervention, of a post-industrial elegance.
Project:

W84

Architect:

AMAA

Location:

Arzignano, Italy

Program:

office

Completion:

2018