"I wanted to make a landscape," says Junya Ishigami. "I want people to come inside and sit and look at the gardens outside and feel good, but at the same time I want people to look at the structure from outside as if it's a new garden in this park."
For Ishigami, the 2019 Serpentine Pavilion is also a marriage of local – over 60 tonnes of Cumbrian slate – and universal – the common language of the roof. Sheets of slate are seemingly haphazardly arranged in the manner of a rural stone wall over a steel grid to form the canopy. With three corners touching the grass, over 100 white columns raise the blanket of stone at its centre to create a cave-like space to shelter from the sun or, more likely, the British summer rain.
"I started to wonder what it actually means to create architecture as a landscape and I started to look at old architectural methods," he told Domus during a preview of the pavilion, which is now open as a cafe and event space until October.
"Old architectural methods use materials from the natural landscape in a very simple way, so there is something common between the local landscape and old buildings," he says. "I also feel like there is something universal about the stone roof – you can find them in Japan, Asia, Europe. I wanted to focus on what is common."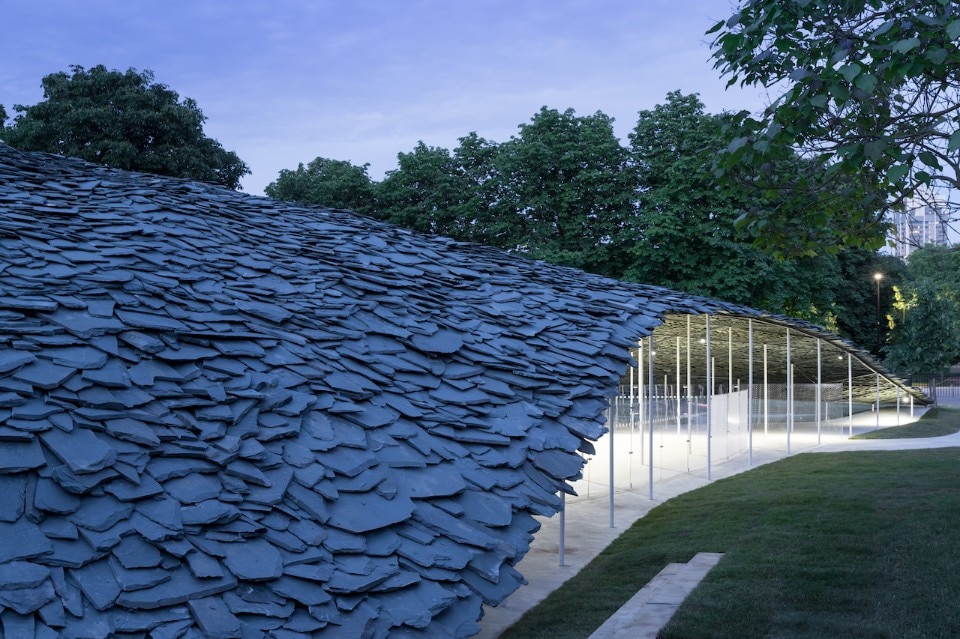 The structure is open-sided to the park and Serpentine Gallery, yet transparent barriers placed around its base jar with the irregularities of the canopy overhead and silo visitors through small breaks in the barriers, somewhat ruining the transition between garden and pavilion.
Ishigami was selected to design this year's pavilion by a panel including David Adjaye and Richard Rogers, and led by the gallery's director Hans Ulrich Obrist and former CEO Yana Peel. Peel resigned from her role during the press preview of the pavilion on Tuesday following criticism of her links with an Israeli spyware firm, marring the usual fanfare surrounding the pavilion's opening.
Attacks on Ishigami's use of unpaid interns in the design of the pavilion has also blighted this year's event –  a "quite complicated" situation he refused to discuss. An instagram post by architect Adam Nathanial Furman showing a listing for an unpaid internship role at the studio sparked a row over the widespread use of unpaid labour in architecture, but no unpaid work was carried out on the pavilion claims Serpentine Galleries curator Amira Gad.
"I think promoting better practice in architecture always starts with the work that you do yourself," she says."Regardless of practices that are known elsewhere, we start with ourselves. We consider ourselves to be a platform for these conversations and debates."
Project:

Serpentine Pavilion 2019

Architect:

Junya Ishigami

Location:

Kensington Gardens, London, UK

Opening dates:

21 June - 6 October 2019