"Our objective for the home was to provide a strong sense of sanctuary, a feeling of being 'elsewhere' in this suburban context," says architect Aaron Roberts, who designed the residence with Edition Office co-founder Kim Bridgland.
It stands on an overlooked plot in the inner city Melbourne suburb of Hawthorn, lending the project both its name and the necessity for its distinctive screening. A structural board-marked concrete "shroud" is drawn down over the property, a pair of two-storey pavilions.The arcs reveal views to the garden, adjacent living spaces and pool, while shielding both itself and neighbouring homes from being overlooked.
A walkway connects the two living areas – a lounge and laundry area, and a combined kitchen, dining and sitting room – at ground level. But the connection between the master suite located above the lounge, and a pair of smaller en suite bedrooms and playroom over the kitchen is severed, and the windowless concrete walls completely blinker the upper levels from the neighbourhood and each other. Instead, narrow terraces accessed by full-height glass doors bracket the bedrooms, bringing natural light down into the spaces and cross-ventilating them. The canopy of three mature trees extends over the terraces, offering shade from the strong summer sun and a view into the foliage that brings that feeling of being "elsewhere" in the city the architects intended.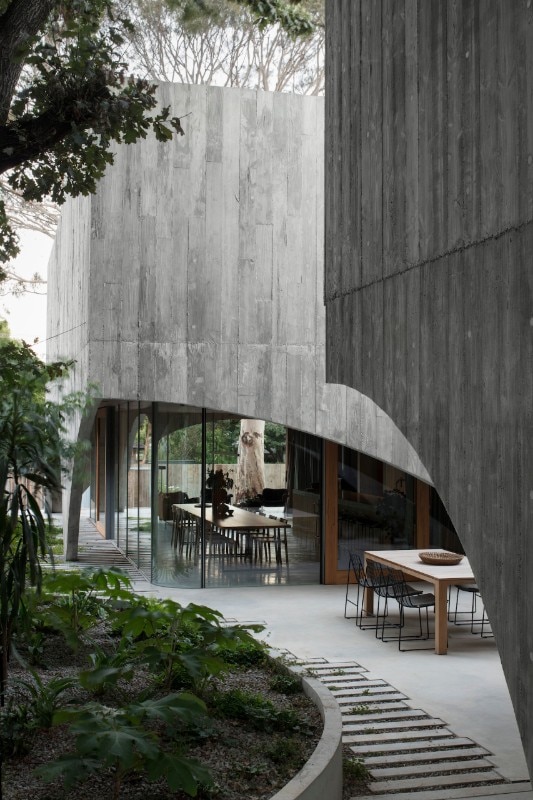 An abundance of glazing, drawn back from the concrete envelope lends a sense of protected openness to the living areas, with each aspect carefully thought out – a view to the pool, an open-air dining area and a patio of pot plants set against fencing repurposed from the concrete shuttering. Along with linear stepping stones that give way to delicate ground planting, the perimeter fence allows the design of the property to ripple out through the garden designed with Eckersley Garden Architecture.
Project:

Hawthorn House

Architect:

Edition Office

Location:

Hawthorn, Melbourne, Australia

Completion:

2018

Landscape:

Eckersley Garden Architecture

Builder:

Flux Construction