Six irregular blocks form a new mixed-use building in the Quanzhi Technology Innovation park in Shenzhen, one of the most important technological poles in the megalopolis that is known to produce 90% of the world's consumer electronics.
The Living Art Pavilion, designed by Mozhao Architects, is a volume that extends longitudinally, but that the studio decomposes and fragments with diagonal lines to generate a confused succession of open spaces, indoor and outdoor. Each of the six blocks is provided with a patio, reminiscent of traditional Chinese houses, located alternately to the north or south of the units, offering, respectively, more intimate rest areas or zones in contact with the pedestrian crossing.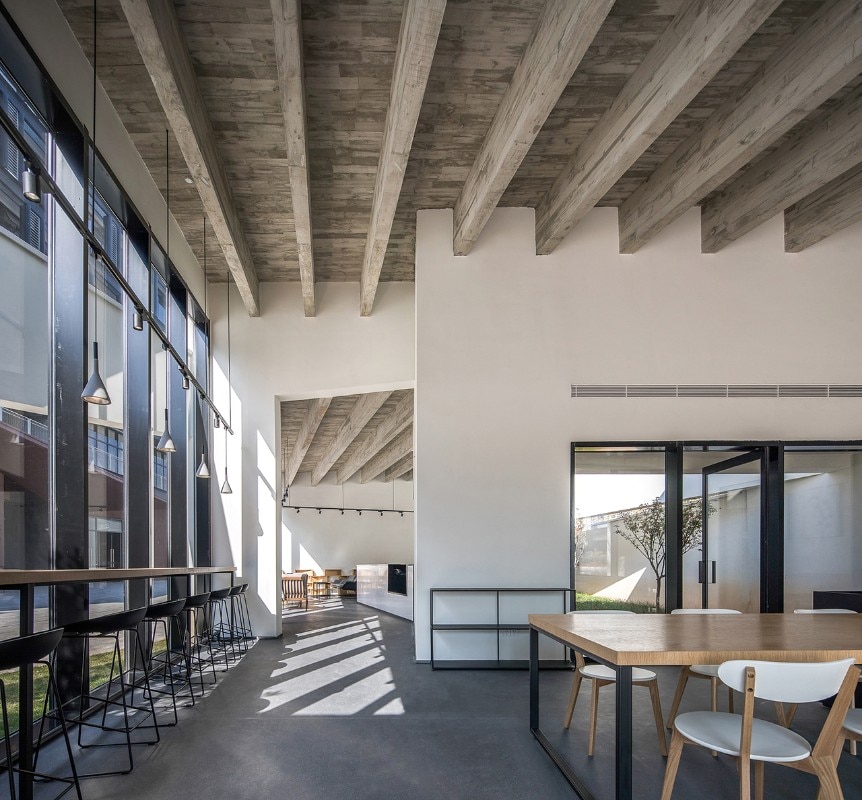 To the north the structure is completely closed and impenetrable to the noise of a road. On the opposite side, large windows connect the building's interior to the pedestrian area and to the other buildings of the technological hub, while the formal discontinuity helps to generate smaller-scale spaces, favouring the entrance of passersby.

The interiors, which house a showroom and a tea room, are rhythmed by the sloping ceiling structure, characterised by the raw concrete materiality that bears the signs of wooden formworks. The beam scanning dialogues with the vertical one of the black frames, while the rest of the space is similar to a white cube, in order to enhance the wooden furniture for sale or any related exhibitions.

Project:

Living Art Pavilion

Location:

Shenzhen

Architect:

Mozhao Architects

Team:

Guansheng Zeng, Wenguo Luo, Ziyun Mai, Die Hu, Yazhu Wu, Danning Shen, Die Hu, Ziyun Mai, Lingli Yang

Area:

450 sqm

Completion:

2018