High Meadow Studio was designed by American studio Bohlin Cywinski Jackson to improve facilities for summer programmes in architecture, art, and design at Frank Lloyd Wright's seminal Fallingwater property.
The education programmes were previously hosted in a converted garage set among trees in the grounds of Fallingwater. But the scale restricted capacity and the structure had issues with both natural ventilation and lighting. Bohlin Cywinski Jackson extended the garage to double the space, and open up views to a meadow to encourage outdoor working.
The garage, meanwhile, has been reclad and converted into a fabrication workshop absorbed by the new studio. Its heavy garage doors are replaced with translucent panels to improve lighting and views and its pitched roof has been extended to cover the new workshop and a porch for fresh air working.
Translucent panelling used for the studio's north-facing wall and elevated roof ridge introduce more natural light and improves airflow. The wooden trusses are left exposed below this lifted portion of the roof and below it the walls are lined in plywood.
Red-stained plywood storage areas frame the connections between the fabrication area and studio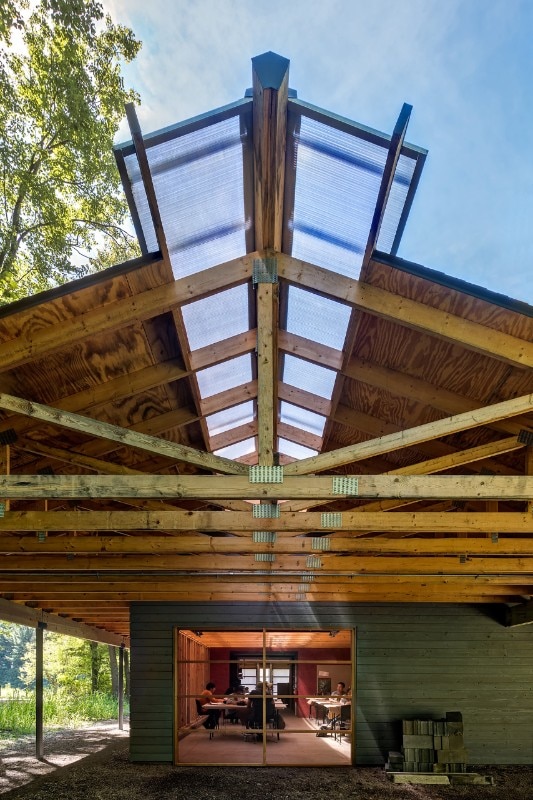 Frank Lloyd Wright was commissioned to design Fallingwater as a weekend home in Bear Run for the Kaufmann family in 1935, and completed the siting of the house on its unique setting over the waterfall in 1937.
The property and its grounds were entrusted to the Western Pennsylvania Conservancy in 1963, which opened the property to public tours the following year before establishing the Fallingwater Institute for architectural, design and art education.
Bohlin Cywinski Jackson, which also has offices in Pittsburgh, Philadelphia, Seattle, Wilkes-Barre, San Francisco and Pennsylvania, has now designed several spaces for the programme, including the High Meadow Dwellings for students. In 2006, the practice also adapted a barn on the site that dates to 1870 into a gathering space used for exhibitions, lectures, classes and events.