"We're building a condominium. It'll be a building made up of rooms near or far. We're planning it very big, it could occupy the entire Universe if we wanted it to. We're going to make it solid and beautiful. And we'll make ourselves comfortable, because even if we stay still, we can go anywhere." This is how, in May 2018, the artist Cristina Pancini announced the Condominy project in the start-up phase as part of the Youth Project of the Istituto Nazionale dei Tumori in Milan. And so begins her text for the recently published publication, which summarizes her two years of work with 17 adolescents then subjected to isolation due to the immuno depression caused by the current treatments.
Condominy, as the name suggests, is a condominium; a building made up of many rooms conceived by the children themselves in their own image and likeness; each one a microcosm that reveals attitudes, desires, needs of people who, in an age as complex as adolescence, find themselves going through a moment of extreme vulnerability; and that only in themselves can they find the tools to survive emotionally, not only apprehension or fear, but the estrangement from everyday life. The challenge has been to respect their need for physical distancing while preventing isolation from taking over. To this end, the project has brought out and conveyed dreams, desires and needs, has put them in common so that they could be shared.
Condominy
Condominy
Condominy
The book Condominy. To request the free pdf of the book: condominy@gmail.com or https://www.instagram.com/condominy/  
Condominy
Condominy
Condominy
Condominy
From the moment the project was presented, continuing with the choice of the name and the reciprocal rooms, the communication continued online. The environments imagined by the young patients were then able to take shape thanks to the digital transposition of casatibuonsante architects, which tried to identify design solutions in line with the children's requests, giving a tangible form even to the most phantasmagorical requests, together with model maker Matteo Candiani, photographer Louis De Belle and graphic designer Roberta Cesani.
The eighteenth-century Journey around my room, written in a period of imprisonment by Xavier De Maistre, was, for Cristina Pancini, a sort of viaticum.

But Condominy was not born from an extemporary initiative. Instead, it has solid roots.

For some time now the artist has been carrying out projects linked to the theme of isolation and the possibility of continuing to desire, to hope, to imagine even in fragile conditions. Among his projects in the past years there have been UN'ORA SOLA TI VORREI, più 23 minuti (Just for one our I want you, plus 23 minutes), dedicated to a group of elderly people, realized in Milan for and with Il Lazzaretto, the Casa Museo Boschi Di Stefano and the Casa di Riposo Don Leone Porta; and Caterina, realized in Palazzo Strozzi and dedicated to people with Alzheimer's disease and their caregivers.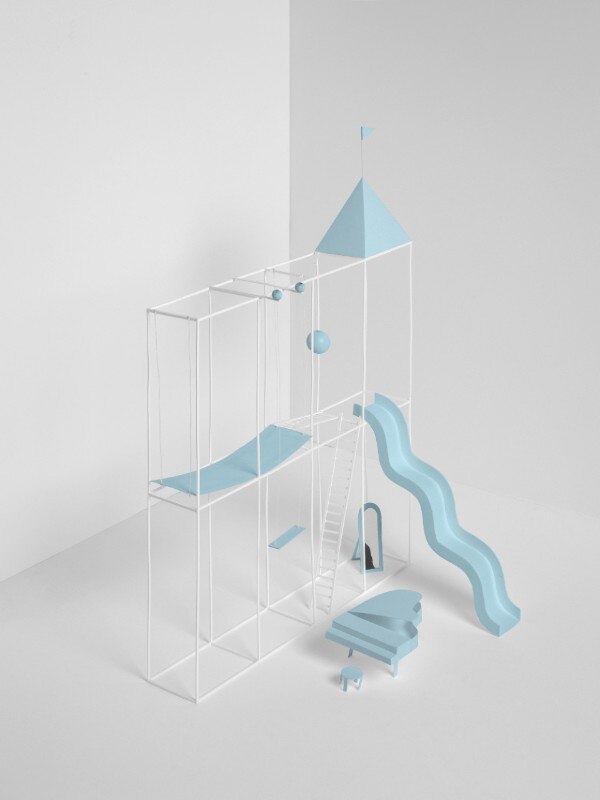 And on the other hand, the invitation to Cristina Pancini came from Paola Gaggiotti, an artist who had always been attentive to the themes of care and who was active for some years, until the end of 2019, as artistic coordinator of the Youth Project in the Oncological Paediatrics Department of the National Institute of Cancer; she was eager to give a chance to meet, express herself and talk to those young people who were unable to participate in the activities for young people because they were confined in a room because of the course of treatment.
At the same time Condominy Gaggiotti was following another intervention, entrusted to Valerio Rocco Orlando, an artist who has always tended to start from the listening dimension of a community and then proceed with a directing activity. Among the results of his work there is the video Manuale di Sopravvivenza (Survival Manual), whose realization is still in progress, which concerns the period of reintegration after the illness, and the baggage of experience that, with all its implications, this leaves in those who have gone through it.
Today the entire work on the theme of isolation carried out by the Youth Project together with the artists takes on a paradigmatic meaning and sounds like a premonition. It is enough to read a few lines of the introductory text of its director, Doctor. Andrea Ferrari: "Time is suspended, life is locked out and cannot enter even with the mask, and it takes great determination and imagination and mature awareness not to feel like prisoners without a why, without a future". But that's not all. This project and its publication are an opportunity to reflect on the meaning and value of art in relation to real situations, where the state of need is tangible and binding, but the answers are still to be found. It is precisely art that has the indispensable freedom to proceed beyond and beyond any disciplinary premise, any preordained grid of reading. Unpredictable, perhaps insubordinate with respect to the requests that may come to it, but sensitive, able to capture and bring out unresolved issues and unexpressed underground energies. "Art does not care - writes Gaggiotti in the book. [...] It is not therapy, entertainment, a communicative pretext. It is instead the voice of the community in which it is placed; it is the possibility of speaking straight to the heart. To build meanings even where we no longer find them".
Opening image: Andrea's room, from Progetto Giovani, published in the book 'Condominy'

Condominy, Youth Project of the National Cancer Institute of Milan (Int). The publication: Condominy, Boîte Editions. To receive it, free of charge: condominy@gmail.com