On show until October 28th at the French architecture centre arc en rêve, in Bordeaux, the large retrospective "Wang Shu, Lu Wenyu" explores the work of the duo behind the Chinese studio Amateur Architecture Studio, based in Hangzhou.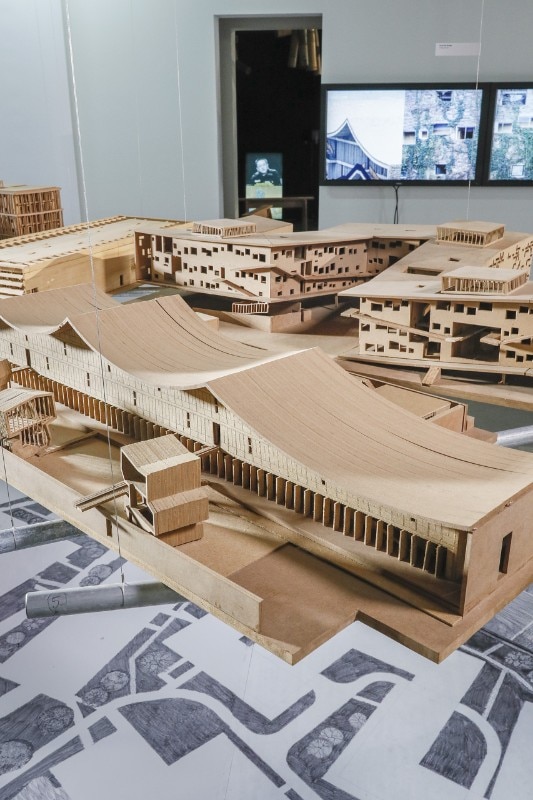 Set in the museum's vast open space of 450 sqm, the exhibition focuses on the essence of Shu and Wenyu's approach to architecture. An approach that "reinterprets the traditional Chinese knowhow in a contemporary language suffused with poetry", explains Francine Fort, arc en rêve's director and curator.
To express the dedication to their country's craftsmanship, materiality, history and cultural identity, a series of materials and architectural elements - such as stones, bricks, concrete, bamboos, ceramics - were suspended to the ceiling of the gallery, thus creating an evocative and didactic frame that guides the visitors throughout the exhibition.
A rich selection of models, photographies, sketches and video-interview accompanies the installation, while the architects' philosophy is narrated through their 36-page manifesto which is hanged on the walls of the first space that welcomes the visitors.
Dense and varied in terms of media, the show highlights five of Amateur Architecture Studio's major projects in China: the Fuyang Cultural Complex in Hangzhou (2016), the renovation of the Wencun village in Fuyang (2016), the Ningbo Historic Museum (2008), the Wa Shan The Guesthouse (2013) and the New Academy of Art in Hangzhou (2004 and 2007).
Exhibition title:

Wang Shu, Lu Wenyu

Opening dates:

31 May – 28 October 2018

Venue:

Arc en Rêve, Centre d'Architecture

Address:

7 Rue Ferrere, Bordeaux, France