Berlijnplein is today an interesting threshold space:  it's an "in between" area temporary suspended, able to create expectations of what will come and ready to receive innovative impulses. These features characterize Berlijnplein and its big potential lies in the fact that this area is set between the central historical district and the development of the new neighbourhood Leidsche Rijn. The project principle is to make people feel the area of Berlijnplein like an unknown land to discover. Pioneers, become "urbanauts", contemporary adventurers that sail in the large public space, re-defining urban circulation under a different perspective and meaning; urban mobility as a recreational form of experience.

The "urbanauts' headquarters" consists in a modular wooden fixed structure, an urban facade that suggest the existence of a parallel space, a playground dedicated to leisure and encounter. The ground floor is shaped to host the boats and it could work as a laboratory to build or repair it. On the elevated platforms and the small tower, it's possible to observe the surrounding area from an unusual point of view.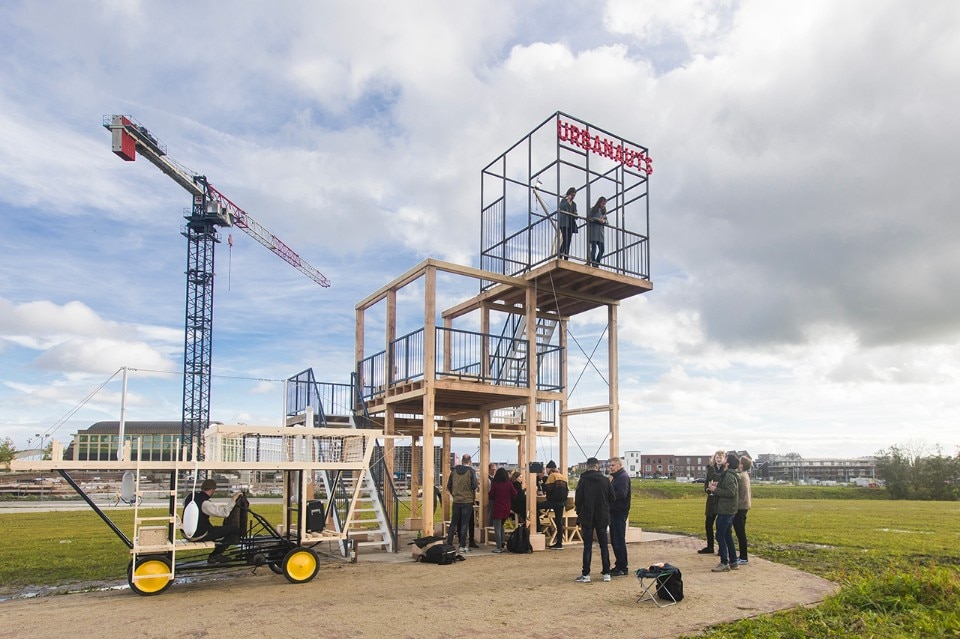 The tower works also as a landmark, thanks to the iron cage on top, which holds a red LED sign. During their residency in October 2017 Orizzontale built two boats prototypes: "Bora" is a wheeled boat made out of various materials like iron, timber, mesh, aluminium tubes, ropes and steel cables. It's a mobile device whose uses are to play with urban discovery and interact with public space. "Sciampagna" is a sailing boat table made of timber with a 2,40 m high aluminium mast, designed to promote meeting and conviviality.
Project:

Urbanauts' Units

Location:

Utrecht, The Netherlands

Program:

temporary pavilion

Commissioned by:

RAUM – Makers in Residence Programme

Architect:

Orizzontale

Collaborators:

Brommerbios, Goede Vrijdag

Completion:

2017