The High-school Frei Gonçalo Azevedo, designed by architect António Carvalho in São Domingos de Rana, Portugal, is part of a national program for the modernization of high-school facilities. The original school (from the 1980's) was composed of six existing separate blocks of classrooms, each of them with two floors connected by a central staircase, plus a single floor cafeteria in a separate pavilion which served the whole school. So, the big challenge was to insert a modern program (very defying and strict) on a low budget for a diverse community of about 1300 students, with ages ranging from 10 to 18 years.
The main design option was to connect the isolated blocks, in order to turn the whole school into one continuous building with new corridors and connections, sheltered from the outside weather. With that purpose, architect António Carvalho decided to create two main types of leisure spaces for students: interior halls for rainy days and exterior play areas. After connecting all the previous buildings, the result was a central courtyard open towards south to the sports fields. Another important decision was to keep in place (after reorganizing them) the sports fields at the far end of the property, sheltering the main field with a stretched canvas roof and embracing it with a long concrete bench at the southern limit, keeping the existing garden — we decided to dignify and enhance all the existing green areas.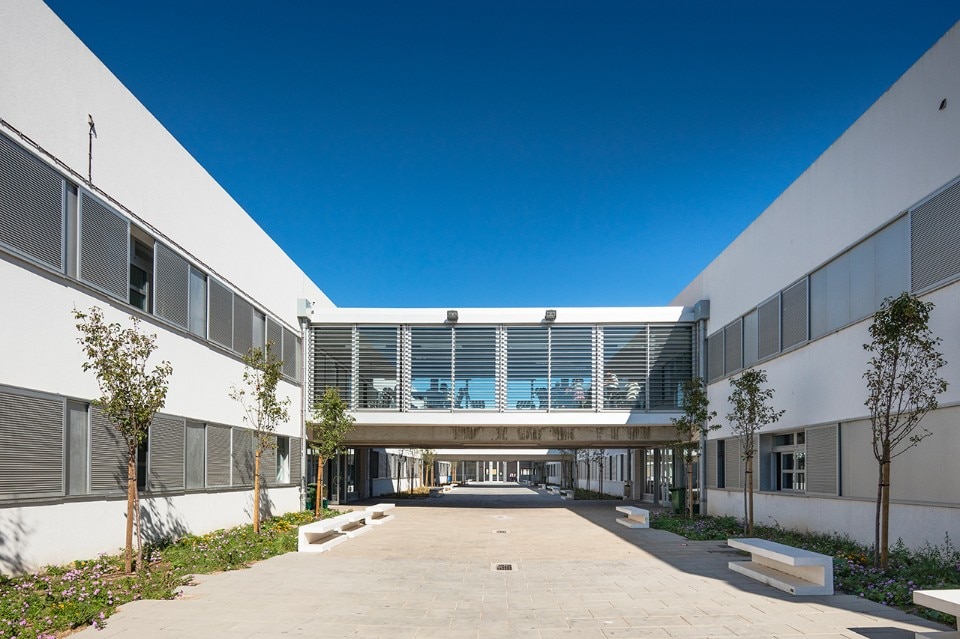 The school had no hall before because its buildings were all isolated. Therefore, architect decided to create one and he wanted this hall to be both welcoming and imposing, wide enough to shelter the whole school community at peak hours — and yet clear enough in wayfinding to direct each person or group towards the different school areas. All blocks have two floors so this had to be a double height hall, embracing all human fluxes. We think the library must be a noble space in a school, so we connected it to the entry hall, to invite students to see it, enter and remain, reading and collecting information from different media. What once was a group of six aligned classroom pavilions, became a very long unified building with a central courtyard overpassed by the two learning streets.
Project:

High-school Frei Gonçalo Azevedo

Location:

S. Domingos de Rana, Portugal

Architect:

António Carvalho

Design team:

António Carvalho, Tiago Lopes, Eduardo Caetano, Fabio Espirito Santo, Ricardo Costa

Engineering:

AFAconsult

Landscape:

Gonçalo Byrne Arquitectos

Quantity surveyor:

Gandara

Contractor:

Elevolution Engenharia

Area:

13,234 sqm

Completion:

2016