"Qingyuan Young Professors' Club" derives from the former site of Qingyuan Primary School in Qingyuan Village, Hangzhou. It includes two reconstructed old school buildings and a new building which can contain one hundred people. The Architectural Design & Research Institute of Zhejiang University decided to reconstruct the old site, repairing and maintaining the existing buildings. New walls and pillars have been added. It is suggested to dismantle old and relatively shabby tiles, roof battens and plank sheathings, retain, burnish, process and reinforce large wood beams and purlins, install new plank sheathings, roof battens and tiles and make it take on an altogether new aspect without losing memory.

There are two stone walls which are bare because of the loss of lime plaster indoors. They have exquisite color and interesting texture, which can be an excellent background. Through repair, we have reconstructed the room to be a small audio and visual room. For side corridor, based on the shabby purlins and the loss of sense of order, it is decided to use new wooden framework and customized knitted summer mat. In this way, the external facade of the original corridor forms new building language.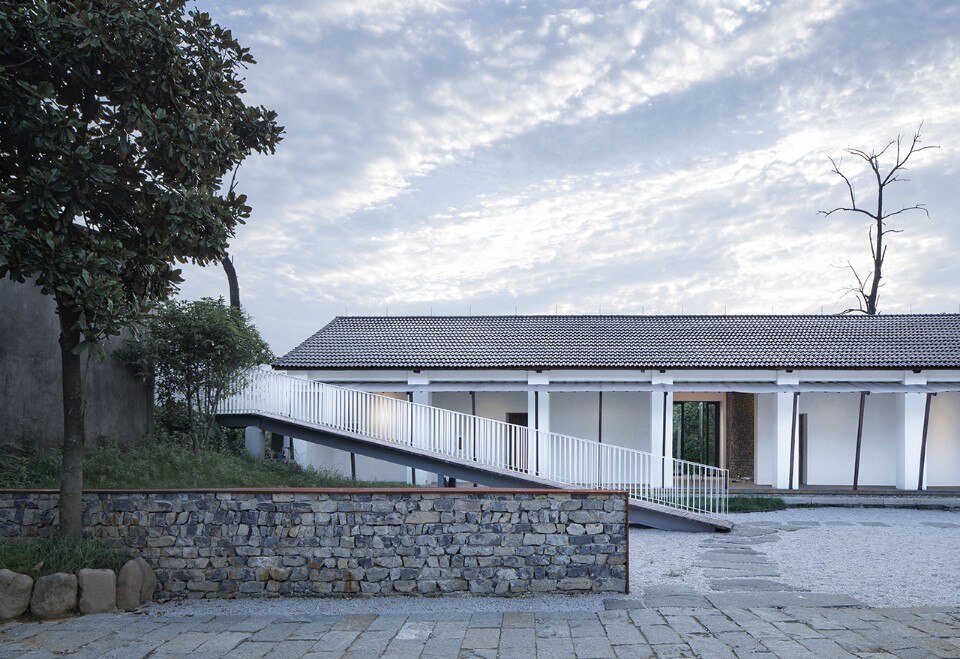 Besides the repair to old site of the base, it was needed to build a new house which can contain about one hundred people, for holding small summits or forums. Chinese research group choose the southeast part of the base, from which it is possible to look far into the villages at foot of the hill and the distant mountains. If you watch the new and old building in inner yard, they are different but become an unified entity with the background of mountains. Designers have paved a layer of simple outdoor floor on the deserted platform inside and added a white modern steel ladder beside wall. This completes the functional connection with the newly-built glass box.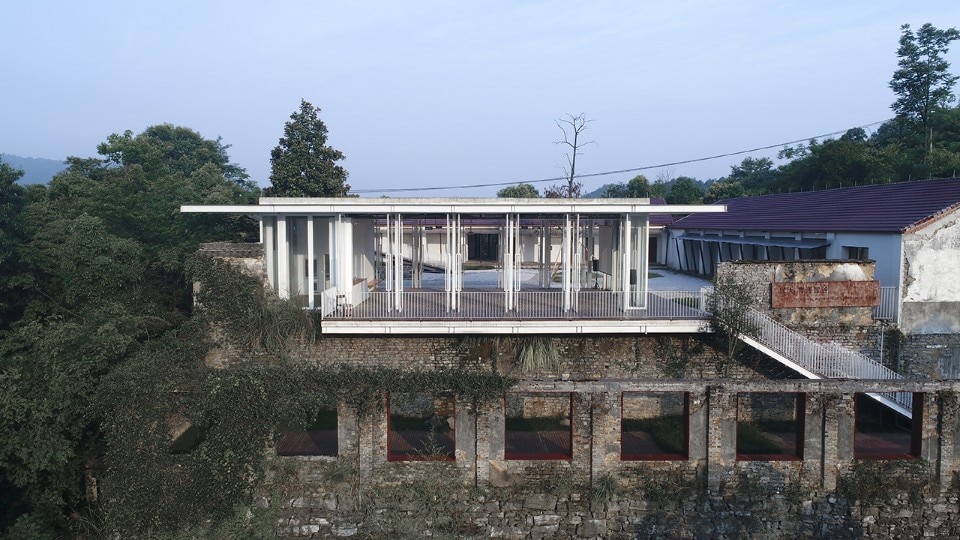 Project:

Renovation and renewal of Qingyuan Young Professors' Club, Zhejiang University

Location:

Qingyuan Village, China

Architect:

Hu Huifeng, Peng Rongbin, Jiang Lanlan

Design team:

Li Congxiao, Jia Zhongdi, Wang Lulu, Lv Ning, Deng Yue, Li Zheye, Yu Le, Lv Xiaofeng, Chen Xian

Structural engineering:

Jin Jugao, Kan Jianzhong

Water supply and drainage engineer:

Zhou Xin

Electrical engineer:

Yang Kai, Yang Wenzheng

Heating and ventilating engineer:

Diao Yuefeng, Sun Biao

Construction:

The Architectural Design and Research Institute of Zhejiang University

Area:

620 sqm

Completion:

2017