Originally built in 1917, by the then chief government architect Daniel E.C. Knuttel, as a Ministry during a period of austerity and renovated in 1994 by professor Hans Ruijssenaars, B30 is an imposing structure with a strong, distinct architectural character and it is a Grade 1 listed building in the Netherlands. B30 is located in The Hague city center, alongside the Haagse Bos green space.
KAAN Architecten's design with its clear layout and architecture transforms the enclosed, hierarchical building – with an atmosphere representative of people's perception of the State in the early 1900s – into an open, transparent and inviting setting in line with a contemporary and state-of-the-art working environment. Thanks to an acute analysis that has mapped the essential qualities of the original design to create an inspired framework, the historic building is seen not as a dead museum piece, but as a vital and sustainable component of the total design. All passageways are aligned with each other, creating long sightlines through the building, enhancing contact with the street, woods and gardens, and simplifying orientation and way-finding.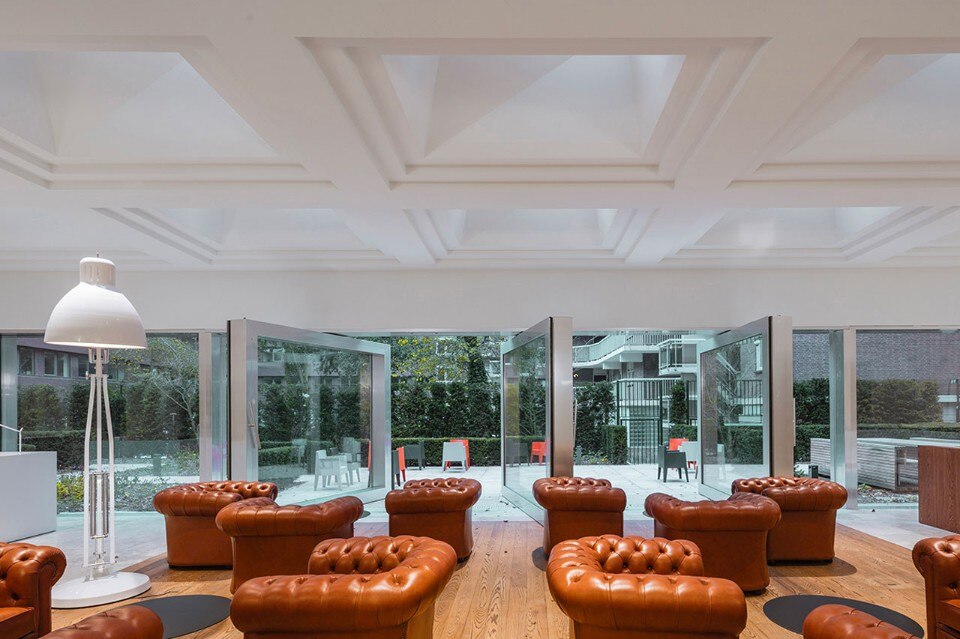 At the core of the building, a large Atrium becomes the quiet heart of B30. Here, Dutch artist Rob Birza was called upon to design a new mosaic floor pattern, a garden abstraction giving life to an internal landscape that is visually connected with the city forest and the new side gardens. Knuttel's original design has been expanded on both sides: the Seminar Foyer features meeting rooms, seminar rooms, and a sunken auditorium running through the glazed space, while the Work Foyer is characterized by lounge and working areas, an espresso bar and a library. The Foyers' partitions feature large pivoted glass doors encased by high-gloss aluminum frames opening onto the gardens.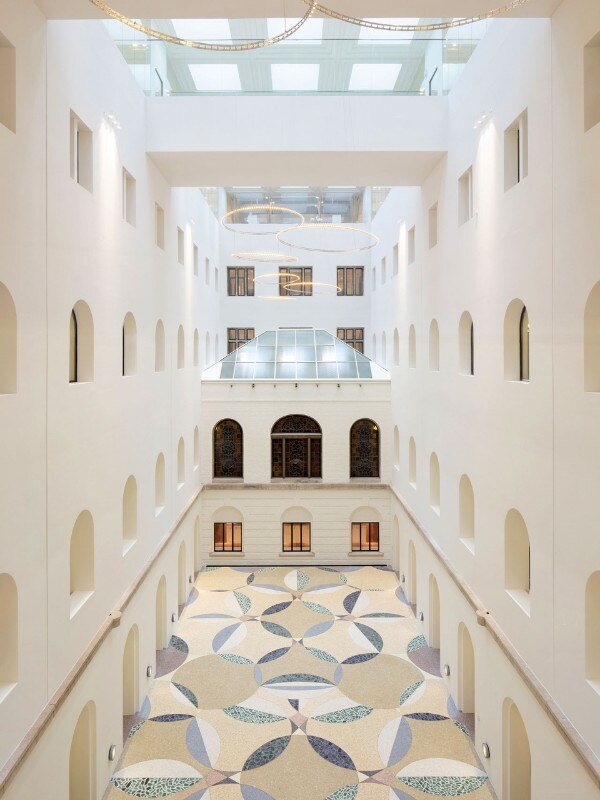 B30 – Bezuidenhoutseweg 30, The Hague, The Netherlands
Program: office building
Architect: KAAN Architecten (Kees Kaan, Vincent Panhuysen, Dikkie Scipio)
Design team: Tjerk de Boer, Timo Cardol, Kevin Claus, Sebastian van Damme, Paolo Faleschini, Raluca Firicel, Cristina Gonzalo Cuairán, Walter Hoogerwerf, Marlon Jonkers, Hedwig van der Linden, Loes Martens, Marija Mateljan, Giuseppe Mazzaglia, Maurizio Papa, Ismael Planelles Naya, Christian Sluijmer, Koen van Tienen
Contractor: Breijer Bouw & Installatie
Construction advisor: Pieters Bouwtechniek
Restoration advisor: Braaksma & Roos Architectenbureau
Technical installations advisor: Breijer Bouw & Installatie
Installations: Breijer Bouw & Installatie, Rotterdam; Deerns, Rijswijk Building physics, fire control and acoustics: Deerns, Rijswijk
Financial advisor: RebelGroup
Lighting design: Studio Rublek
Mosaic design artist: Rob Birza
Completion: 2017