6a architects has completed Cowan Court at Churchill College, University of Cambridge. The 68-room hall of residence is the first completely new court to be built since the early years of the college, which was founded as a memorial to Sir Winston Churchill in the 'white heat of technology' of the early 1960s.
Cowan Court has three storeys, forming a square court with the same footprint as the existing courts in the college. In its overhanging floors, the jettying timber recalls the concrete bands across the facades of the existing courts, while its shadow measures the progress of the sun across the façade. Each of the facades is curved like the entasis of a classical column. Traditionally in Cambridge courts staircases serve and define vertical communities of rooms. In Cowan Court, cloisters perform that function, encouraging circulation towards a social space at the centre of the building, incorporating enclosed landscaped woodland. The rooms around the central cloister frame views outwards, towards Churchill's extensive open playing  fields and tree-lined landscape.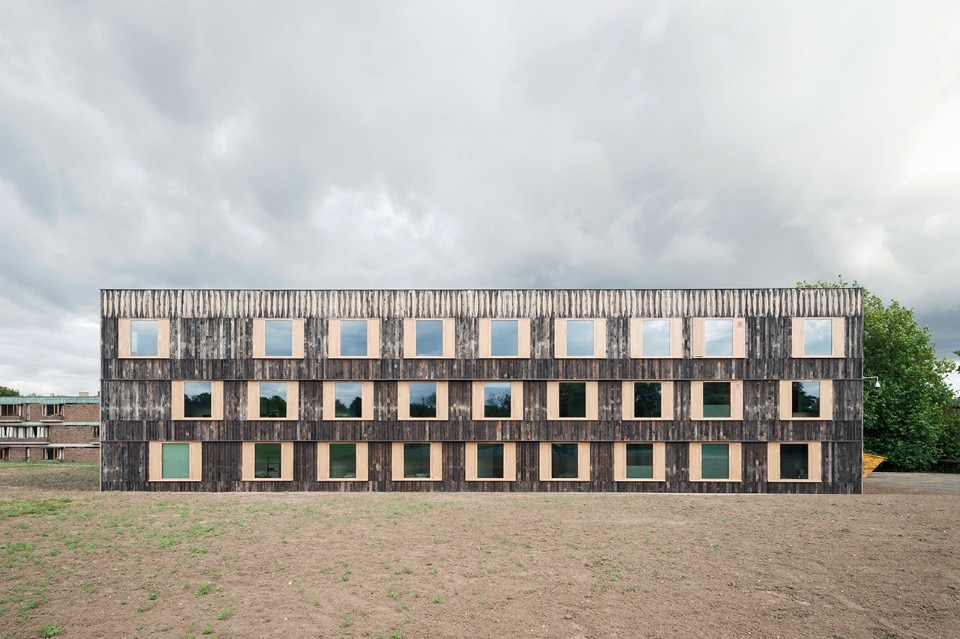 The untreated reclaimed oak cladding echoes the textured board-marked concrete in the original college as well as the colour of its brick. New pale oak adds refinement to the lining of the cloister and the triple glazed windows. The materiality of Cowan Court forms part of an ambitious environmental strategy. Passive ventilation, triple glazing and super insulation reduce the amount of energy consumed both in construction and in use, while solar electricity and rainwater collection will lower the energy requirements even further.

Cowan Court
Program: student housing
Architect: 6a architects
Structural Engineer: Price & Myers
Environmental Engineer: Max Fordham
Quantity Surveyor: Gleeds
Landscape: Jonathan Cook Landscape Architects
Contractor: SDC Builders Ltd
Completion: 2016