On a gritty stretch of Venice Boulevard in Los Angeles, the PSPMLA office sits on a previously vacant 235 sqm infill commercial parcel. Dubbed the "Light Box" for its simple geometry slotted in acknowledgement of the natural solar conditions, the 200 sqm office for a boutique property management firm discretely slips into the streetscape of tightly packed auto body shops, neon sign fabricators, digital printers, and various light commercial businesses. The design expands upon the urban texture of the street, while also carving out a bright, naturally illuminated respite for the office staff and their clientele.
The office's interior is organized into three zones of program: the double height ground floor area contains the primary circulation and the staff seating; the ground floor of the wood insertion is populated by the waiting room, conference room, two management offices, and the restrooms; and the mezzanine holds additional staff workrooms and storage areas.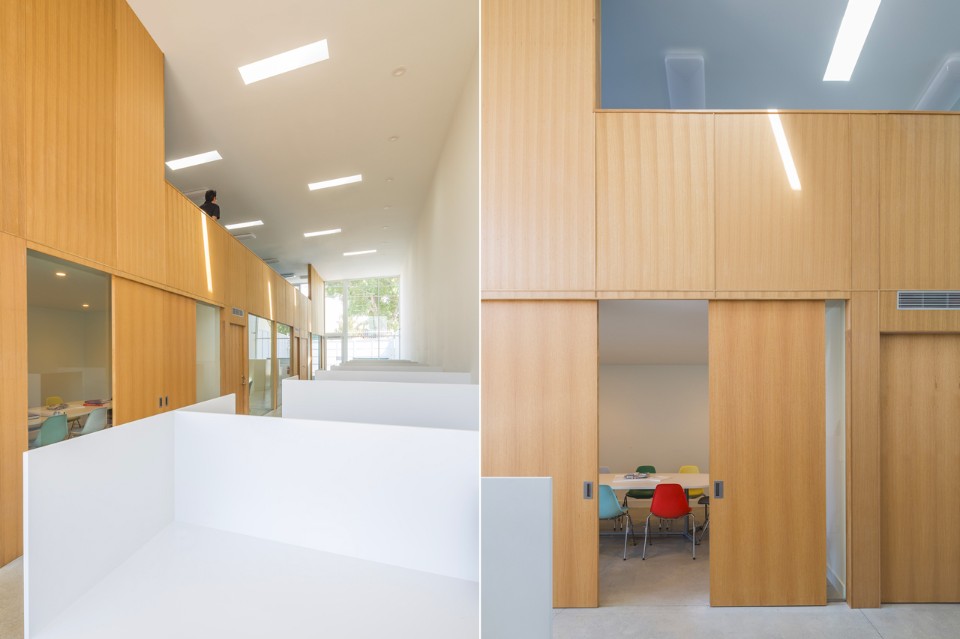 In response to the contrasting goals of an open and naturally lit, yet secure and private working environment, the "Light Box" is fitted with an array of skylights within the ceiling slots at the roof and a perforated steel screen at the Venice Boulevard facade. The skylights register the time of day through the constantly changing light on the wood interior. In addition, the scale and orientation of the facade screen provides diffused lighting in the afternoon and presents an illuminated edifice by night to safely light the sidewalk and bike parking at the street. 

PSPMLA Office, Los Angeles
Program: office
Architect: Aaron Neubert Architects
Design team: Aaron Neubert, David Chong, Jeremy Limsenben, Xiran Zhang
Structural engineer: Gordon Polon Consulting Engineers
Contractor: Bulson
Area: 200 sqm
Completion: 2016