With the residential building Highland Hall, Mexican firm Legorreta continues its collaboration with Steinberg and the Stanford University in California, after having designed the Schwab Residential Center in 1997 for the college's Graduate School of Business.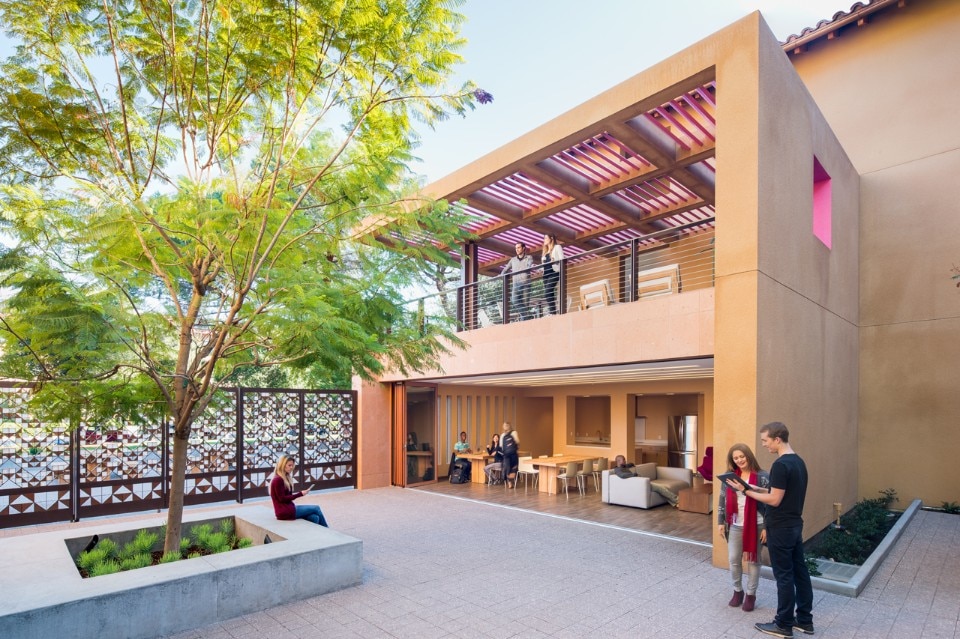 The 14,000 square meters building is developed on four floors and provides 200 beds with service areas and common spaces for diverse public activities. Located in the Serra street, it serves as an academic corridor, that connects to the Schwab Residential Center through a mall located north of the new building, merging with the local urban landscape.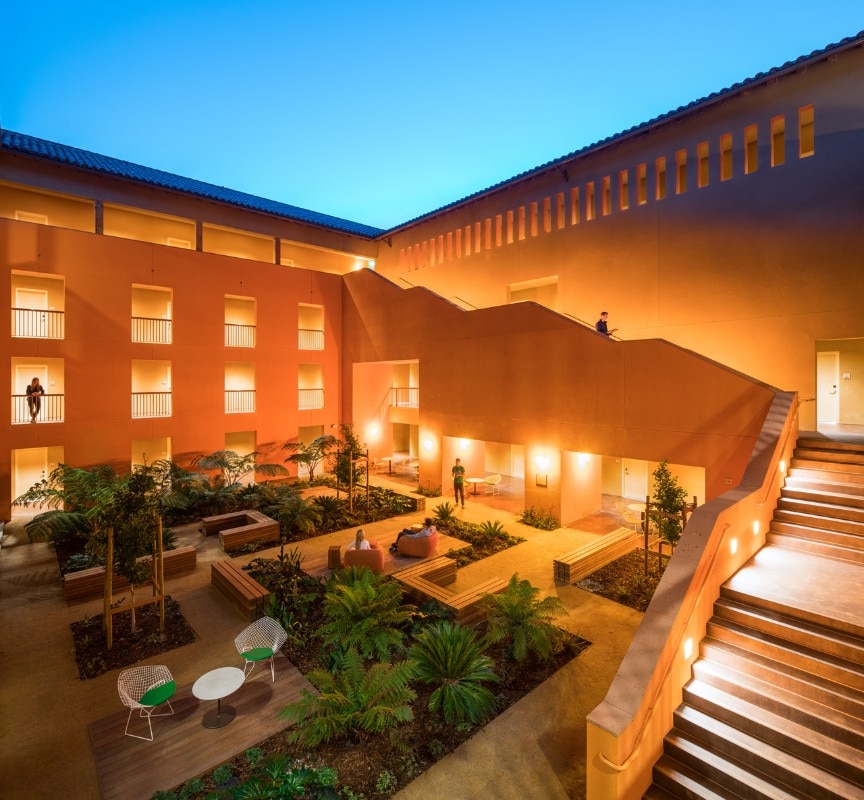 The two key elements of the design are the courtyards, aligned on the East-West axis with those of the Schwab's, and the walkway from North to South, which serves to connect the two residential buildings with the "Knight" Management Center. The new building is divided into three sections where a variety of multipurpose areas are located, with seating spaces, kitchens and dining rooms, both indoor and outdoor.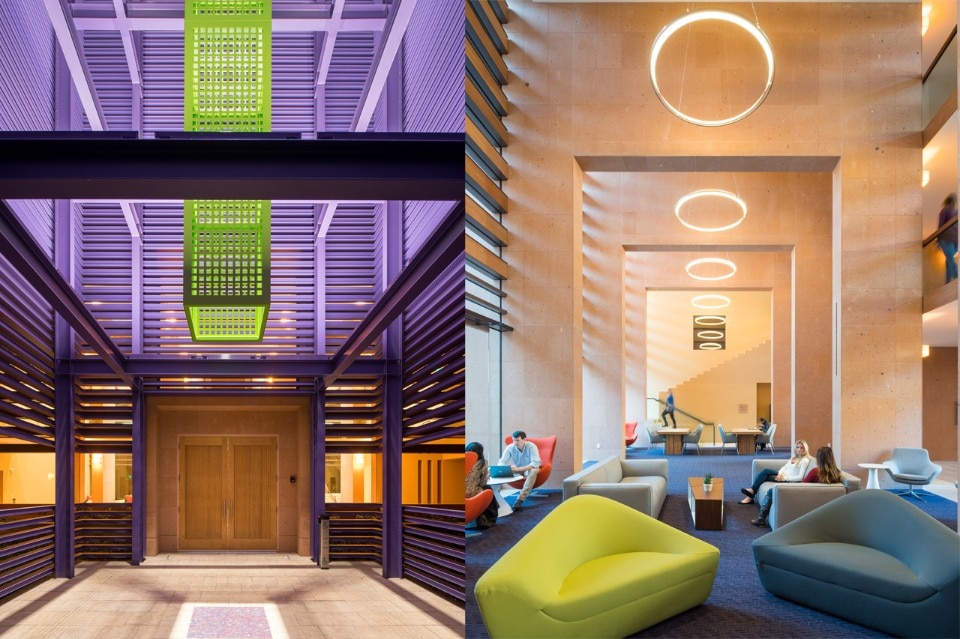 The access tower to the Highland Hall is 12.5 meters high and is situated in the entry plaza to the East side of the complex, thus emphasizing the relationship with the current residential building. On the rear, the Lobby Lounge is a key reception space and serves as a connection to the main courtyard and the different levels of the complex.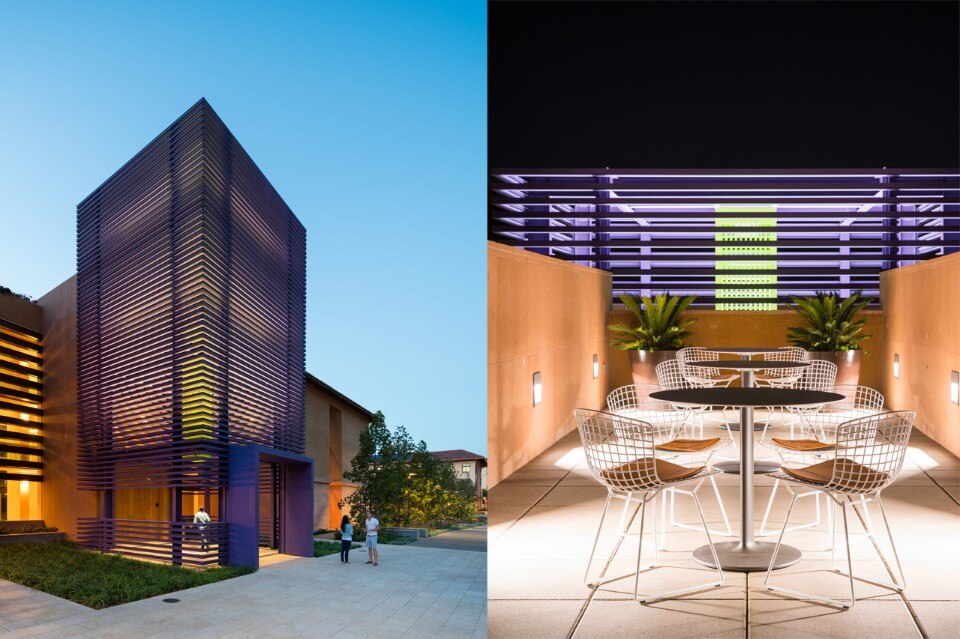 In the main courtyard there is a sculptural staircase with an art piece, that consists of a fountain and a glazed ceramic mat, designed by sculptor artist Adán Paredes. Similarly, the inclusion of artistic interventions embrace the Contemplative and Events courtyards with the participation of two other Mexican artists: Pilar Climent and Frida Escobedo, with pieces that are built into the architecture that will provide character to the new building.

Highland Hall , Standford University, Stanford, California
Program: college residential building
Architects: Legorreta
Team: Víctor Legorreta, Miguel Almaraz, Adriana Ciklik, Carlos Vargas, Miguel Alatriste, Tania Bárcena, Daniel Rosselló, Brenda Mendoza, Paulina Gutiérrez, Lourdes del Val, Rebeca Cors, Maggy Carral
Associate and executive architect: Steinberg
Steinberg team: Rob Steinberg, Ernest T. Yamane, Jonathan Chao, Mani Farhadi, Maggie Zhang, Frank Sheng
Landscape: Tom Leader Studio
Structural engineering: KPFF Consulting Engineers
Mechanical engineering: Design/Build
Electrical engineering and plumbing: Schematic
Acoustics: Charles M. Salter Associates, Inc.
Lighting: J S Nolan + Associates Lighting Design, LLC
Main contractors: Devcon Construction Incorporated, Therma Corporation, Sprig Electric, W.L. Hickey Sons, Inc
Area: 14,000 sqm
Completion: 2016